---
10:08
Analyst: Mueller investigation looms over White House
Investors are also speculating whether the midterms could intensify the legal pressure on the White House.
For the last 18 months, special counsel Robert Mueller has been investigating whether there was collusion between Donald Trump's presidential campaign and the Russian government to affect the 2016 election, and whether obstruction of justice has taken place
There's been little news from Mueller recently, but analysts believe the probe could burst back into the headlines after the elections. Many US newspapers have reported that Trump advisor Roger Stone is in Mueller's cross-hairs. In August,
Stone himself suggested he might soon be indicted
.
As The Hill reported last weekend:
Robert Mueller
continues to zero in on
Roger Stone
as speculation builds that the special counsel could take a major overt step in his Russia investigation following the midterm elections next week.
Stone, a longtime adviser to

President Trump

who briefly worked on his campaign, is viewed as central to the question of what, if anything, members of the Trump campaign knew in advance about Democratic emails hacked by Russian operatives and then released by WikiLeaks.
Stephen Innes
of foreign exchange trading firm
OANDA
says investors should keep a close eye on the Mueller probe:
The markets are understandably fidgety given the next 48 hours of headline risk....
However, flying under the radar is that these midterm elections carry a sizable legal risk for the GOP which could dent investor confidence as we will likely hear much more from Robert Mueller sooner rather than later.
Updated
Asian markets mostly rose Tuesday as focus turned to the US midterm elections, which could impact Donald Trump's presidency, while Apple suppliers suffered on reports the tech titan had cancelled plans to ramp up output of its new iPhone.
09:26
All eyes are on the US mid-term elections today, says currency expert Kit Juckes at French bank Société Générale.
He writes:



Opinion polls point to policy gridlock with a GOP Senate and DEM House, limiting the scope for further fiscal stimulus as the support from current measures fades.
That's the corner-stone of what feels like a consensual view that growth will slow, and rate speak (near 3%) in late 2019, supporting the dollar now, but pointing to a turn in its trend in the second half of 2019.
Juckes says there are two scenarios which would really rock the markets [reminder, the Republicans currently hold the upper and lower houses of Congress]
DEM Senate and DEM House: This would be the most dollar bearish scenario, trigger fears of a lame duck presidency and potential impeachment proceedings. While the Fed would continue the tightening path, political confrontation in Washington would weigh on the dollar.
GOP Senate and GOP House (least likely): An all-Republican Congress is the scenario would elicit the strongest market reaction, with the dollar rallying on expectations of further fiscal stimulus.
Updated
09:15
As Donald Trump never tires of pointing out, the US stock market has surged by around 40% since his shock election win two years ago.
That's largely due to the tax cuts which the president pushed through last year, which boosted company profits. That's catnip to Wall Street (other Trump policies, such as his anti-immigration rhetoric, don't move the markets)
That fiscal stimulus is also inflationary, meaning the US Federal Reserve is under pressure to keep raising US interest rates.
So, a strong night for the Democrats could spark a dollar selloff, explains
Jasper Lawler of London Capital Group:



Dollar bulls are looking for a Republican win, which will supportive of more of Trump's expansionary fiscal policies being pushed through. A Democrat win, and the resultant political deadlock is considered more bearish for the US dollar and US equities although we expect this to be a short-term reaction.
The unexpected result of a blue wave with Democrats taking both the Senate and the House would likely shock the markets resulting in an aggressive selloff in the greenback and US equities.
It's worth noting that the stock market also had a good run under president Obama:
Updated
09:15
Since you're here … we have a small favour to ask. More people are reading the Guardian than ever but advertising revenues across the media are falling fast. And unlike many news organisations, we haven't put up a paywall – we want to keep our journalism as open as we can. So you can see why we need to ask for your help.
The Guardian is editorially independent, meaning we set our own agenda. Our journalism is free from commercial bias and not influenced by billionaire owners, politicians or shareholders. No one edits our Editor. No one steers our opinion. This is important because it enables us to give a voice to the voiceless, challenge the powerful and hold them to account. It's what makes us different to so many others in the media, at a time when factual, honest reporting is critical.
If everyone who reads our reporting, who likes it, helps to support it, our future would be much more secure. For as little as $1, you can support the Guardian – and it only takes a minute. Make a contribution. - Guardian HQ
09:05
Subdued trading this morning has seen London's main stock index, the FTSE 100, dip into the red
It's accompanied by most other European markets, as traders ponder whether today's US elections will embolden or restrict president Trump.

Updated
08:50
Here's our guide to the midterms:
08:48
Democratic triumph would be 'nightmare for Wall Street'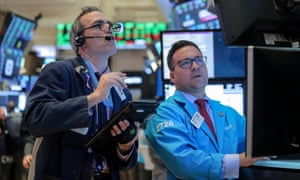 The midterm elections have been a bruising experience for many presidents over the years.
Losing the House of Representatives in 2010 was a major blow for Barack Obama, for example, making it rather harder for him to push his agenda.
Bill Clinton had a similarly bad night in 1994, as the Democrats lost control of the House for the first time in 40 years. That dominance had meant the Republican presidents such as Ronald Reagan and Richard Nixon had lacked a majority on Capitol Hill.
But surprisingly, this situation hasn't been bad for asset prices. Quite the reverse. Shares often rise during times of political deadlock -- after all, there's a reassuring certainty if politicians can't get anything done.
Hussein Sayed,
Chief Market Strategist at
FXTM
, has crunched the numbers, and explains:The combination of a Republican President and a split Congress have produced an average return of 15.7% on the S&P 500 in the 12 months following every mid-term election since 1950. These strong returns suggest that investors prefer a gridlock, a situation when different political parties control the two legislative houses. While such anomalies are difficult to explain, investors may find that a gridlock produces more predictable political outcomes to model and value equities against. In the case of a gridlock, Democrats cannot roll back recent tax cuts, neither they can tighten the Dodd-Frank banking rules. It may just mean that Trump will face more difficulties in passing new laws.
However, in the current tense environment it seems Wall Street will prefer Republicans to retain both legislative houses. That's simply because a new tax cut will be expected to take place, further deregulation, and probably additional fiscal stimulus. While such measures are not necessarily good for the longer run as deficit and debt may get out of control, many investors will take advantage of these policies in the shorter run. Given that the polling industry got it wrong in 2016 and Trump became President, history may repeat itself this time again.
It would be more surprising if Democrats managed to win both houses. This will be a nightmare for Wall Street, as the Trump impeachment threat will become more real, but still, this would require help from some Republicans. Even if he doesn't get impeached, the President will no longer have the power to pass bills and probably lead to pulling back some of his deregulatory actions, which definitely is not liked by corporate America.
Updated
08:24
The Chinese stock market lost ground today, as traders worried that the midterms won't blunt Trump's trade war instincts.
The CSI 300 closed 0.6% lower today, back towards the four-year lows hit last month.
Other markets were in better mood, though, with Japan's Nikkei ending 1% higher and Hong Kong up 0.6%.
08:02
The agenda: midterm nerves grip markets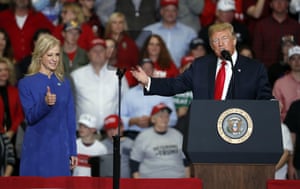 Good morning, and welcome to our rolling coverage of the world economy, the financial markets, the eurozone and business.
There's a buzz of election fever in the markets, as Americans prepare to head to the polls in the midterm elections.
As usual, the midterms are partly a referendum on the White House's performance, potentially strengthening or loosening a president's grip on the levers of power.
Investors around the globe are watching nervously to see whether the Democrats can seize control of the lower House of Representatives. Polls suggest they've got a good chance. Republicans, though, will
probably
maintain their grip on the Senate.
A good night for the Democrats could allow them to block Trump from further tax cuts and other fiscal stimulus. They could also try to restrict his ability to launch destabilising trade wars with other nations (although the president has plenty of unilateral powers here too).
That could weaken the dolla
r (as it removes some pressure to raise interest rates), bringing relief to emerging market currencies.
A Democrat-controlled House could (and surely would) also launch fresh investigations into the president's conduct, casting the shadow of impeachment over the White House. That could send
stocks sliding on Wall Street
.
But if the Republican vote holds up, Trump would be re-energised to continue pushing his America First strategy -
creating more volatility in the markets,
and possibly intensifying the trade dispute with China.
So currencies, stocks and bonds around the world will be affected by where millions of Americans put their cross today.
Tom Fitzgerald,
co-manager of the Amity International Fund at
EdenTree Investment Management
explains:
So far, Republican control of the legislative powers – the House of Representatives and the Senate – has made possible President Donald Trump's large fiscal package and his deregulation agenda, as well as protected him from various ongoing investigations. An election outcome favourable to the Republicans, maintaining both the House and Senate, could set the global economy and markets on a very different path at a time when both Europe and China are showing signs of weakness. In such a scenario, President Trump would have broader policy options, including on the fiscal front and the ability to carry on with his deregulation agenda. The market could perceive this scenario as the most pro-growth, as it would raise the chances of larger tax cuts and additional spending.
In contrast, in a scenario of favourable election results to the Democrats, giving them control of the House and Senate, President Trump would have very limited policy options for the rest of the legislature. As further fiscal easing may not be possible, President Trump might focus policy efforts on the trade war against China or implement trade threats against the EU. Europe would therefore be negatively affected by such shocks, given the large impact of car tariffs on Germany and Europe.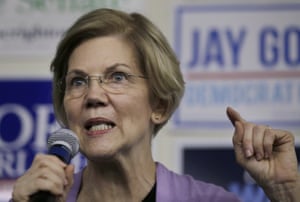 Also coming up today
New surveys of purchasing managers at service sector companies across the eurozone are released. They're expected to confirm that growth slowed in October, matching the slowdown at UK services firms that was reported yesterday.
But there's better news from Germany this morning; factory orders rose by 0.3% in September, stronger than expected.