UK Economy | Inflation Rate | UK Inflation Drives The Fastest Fall in Real Pay Recorded | August 16, 2022::
Source:
bbc.com
---
By Michael Race
Business reporter, BBC News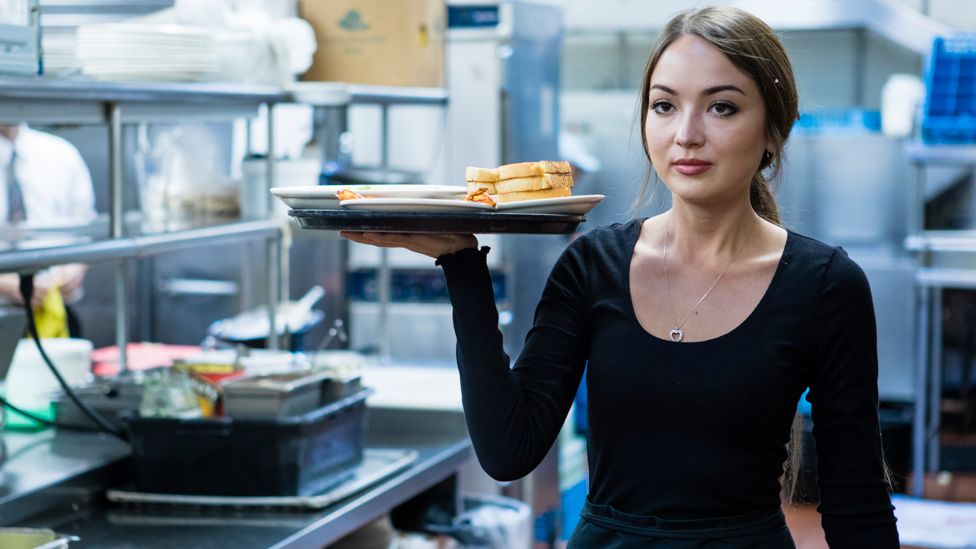 Pay has fallen further behind the rising cost of living, according the latest official data.
While average wages rose 4.7% between April and June, that was outpaced by inflation - or price rises - which is growing at a much faster pace.
As a result, the "real value" of pay fell by 3%, according to the Office for National Statistics.
Household budgets are being hit by soaring energy bills as well as higher food and fuel costs.
The rise in prices has fuelled the UK inflation rate to a 40-year high. The latest inflation figure, due out on Wednesday, is forecast to be higher.
The gap between pay growth and inflation is the biggest since records began more than 20 years ago.
Darren Morgan, director of economic statistics at the ONS said the "real value" of pay was continuing to fall. "Excluding bonuses, it is still dropping faster than at any time since comparable records began in 2001," he said.
The data also highlighted a gap between public and private sector wage growth.
Private sector wages grew by 5.9% while those working in the public sector saw pay growth of 1.8% - which Mr Morgan said is the "largest difference we have seen for 20 years".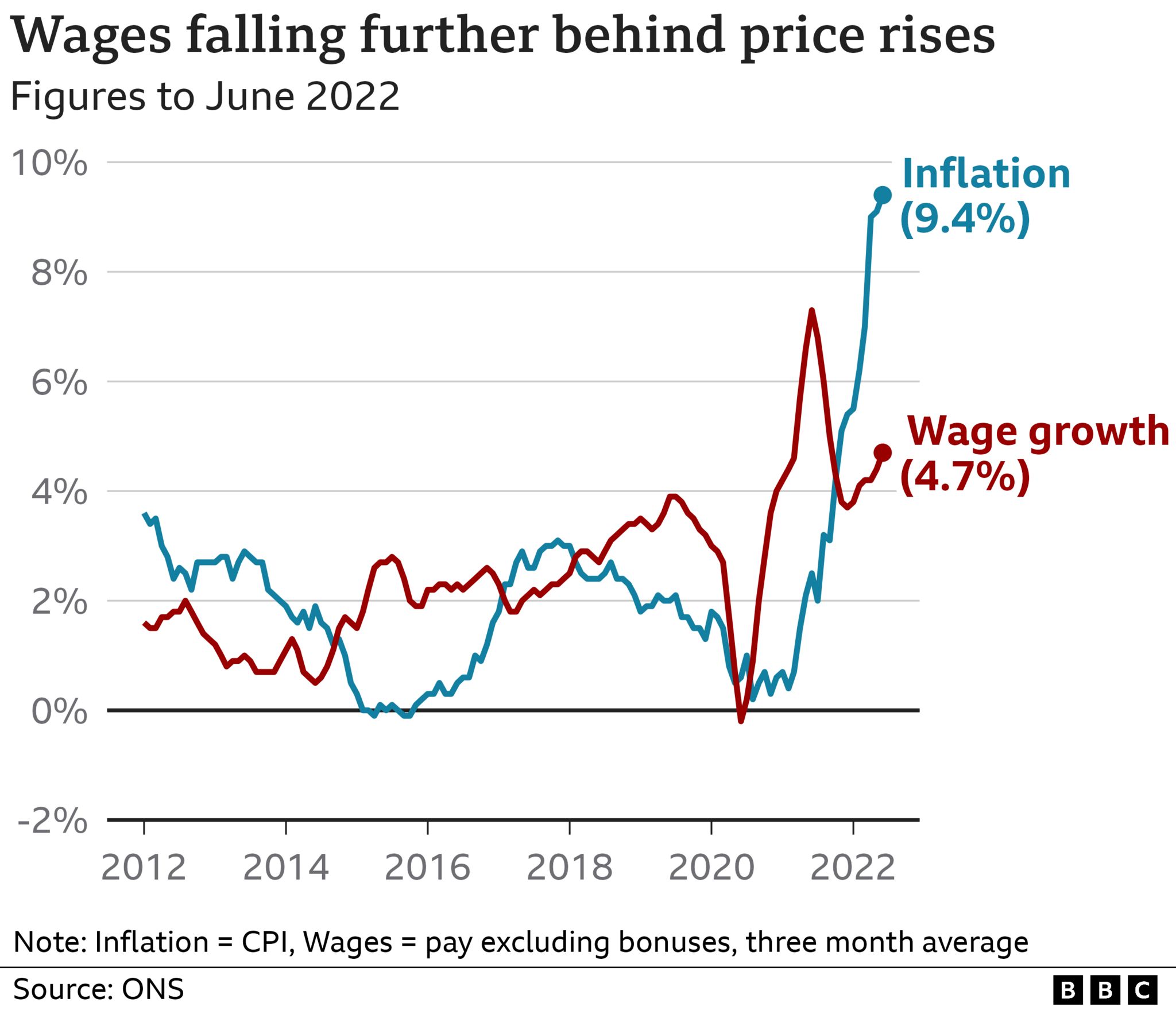 The rising cost of living has prompted calls from workers and unions for pay rises, with some sectors, such as the rail industry, taking strike action in recent weeks.
More than 40,000 railway workers, who are members of the RMT union, are set to go on strike this Thursday and Saturday, but disruption is also expected on Friday because normal services may take time to resume.
However, most wage increases awarded were below the current rate of inflation of 9.4%, with ministers arguing large rises could cause inflation to remain higher for longer.
The Bank of England recently lifted interest rates by the largest amount in 27 years to 1.75% in a bid to cool rising prices. It also warned that the UK economy will fall into recession towards the end of this year as prices for gas and electricity continue to rise.
Nye Cominetti, a senior economist at the Resolution Foundation, said Britain was witnessing the biggest pay squeeze since the Queen's Silver Jubilee in 1977.
"The scale of this pay pain is even deeper than official figures suggest too, as pay growth estimates are still artificially boosted by the effects of the furlough scheme last year," he said.


It says something about the extremity of inflation that the average pay rise is still not enough to keep up with price rises.
The key now will be what happens to inflation next year. If price inflation slows down as hoped, then pay rises may once more outstrip price rises. That's better for workers' living standards.
But the Bank of England will be worried that it means higher pay will itself become a cost fuelling inflation and that pay will have to rise by even more to make up for that - the much-dreaded 'wage-price-spiral' so that inflation takes a lot longer to get back to the 2% target.
Expect an interest rate rise in September, and it might be more than a quarter of a percentage point.

Julie Marson, minister at the Department for Work and Pensions, said the government recognised people were "struggling with rising prices".
"Being in stable employment is one of the best ways for people to get on, but we're also providing £1,200 direct payments for millions of low income households as part of our £37bn package of support to help with the cost of living," she said.
Shadow Work and Pensions Secretary Jonathan Ashworth said the fall in real wages was "further proof that the Tories have lost control of the economy".
"Because of the Tories' failure on the economy, families face plummeting real wages and soaring energy bills. Yet, this Zombie Government is offering no solutions to the cost of living crisis," he said.
Separately, the ONS also revealed that quarterly job vacancies fell for the first time since 2020. Between May and July, they dropped by 19,800 to 1.274 million.
Though the ONS points out that since vacancies fell to an all-time low between April to June 2020 in the beginning months of the Covid pandemic, they have increased by 945,000.
Overall, the ONS said the unemployment rate held at 3.8%, while the employment rate for people aged 16 to 64 decreased slightly to 75.5%.
The number of people classed as economic inactive, not in or seeking for work, was unchanged between April to June at 21.4%. The over-50s make up the majority of people who have left work since the start of the Covid-19 outbreak.
'Finding staff is a nightmare'
Neil Carberry, chief executive of the Recruitment & Employment Confederation, said the "overall picture" in the jobs market was " still positive for those looking for work or to change jobs to raise their pay".
But he said firms were still struggling with staff shortages, which he claimed would "constrain growth and drive inflation".
Louise Juggins, who runs the Crow Bar in Felixstowe, is one of many business owners struggling to recruit staff, which she said had affected her summer trade.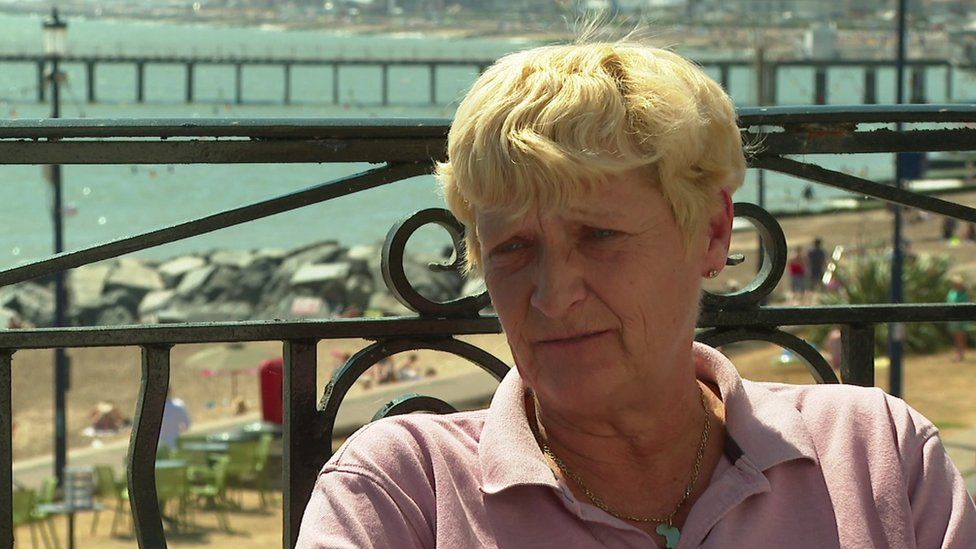 "We could certainly be taking more than we are if we were doing food seven days a week and I'd got more staff so we could put the facilities out there," she said.
"We're not putting tables out on Mondays and Tuesdays at the moment purely because I haven't got the staff to do so".
While Trevor Mangan who runs TJ Painting and Decorating in Alton, said: "It's an absolute nightmare trying to find decent people, there's so much work around so people don't want to spend the time learning the trade.
"It really holds back a small business growing, more work is there but I just haven't got the people I trust to do it so can't take it on."