6-7 minutes - Source:
BBC
---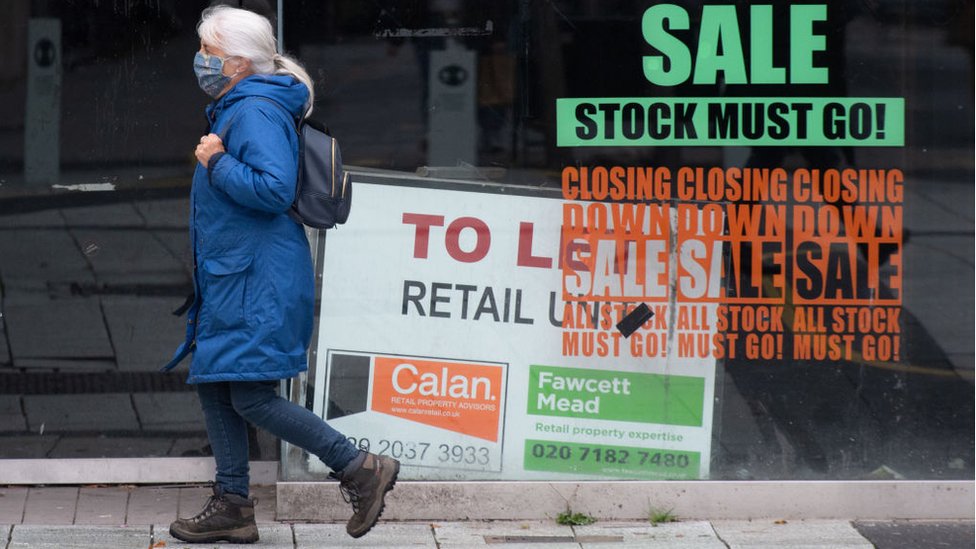 The UK unemployment rate has surged to its highest level in over three years as the pandemic continues to hit jobs.
The unemployment rate grew to 4.5% in the three months to August, compared with 4.1% in the previous quarter.
It comes as the government prepares to impose tough local lockdown rules that will force some businesses to close, potentially leading to more job losses.
Jonathan Athow, the ONS's deputy national statistician for economic statistics, said there had been a "sharp increase" in those out of work and job hunting since March.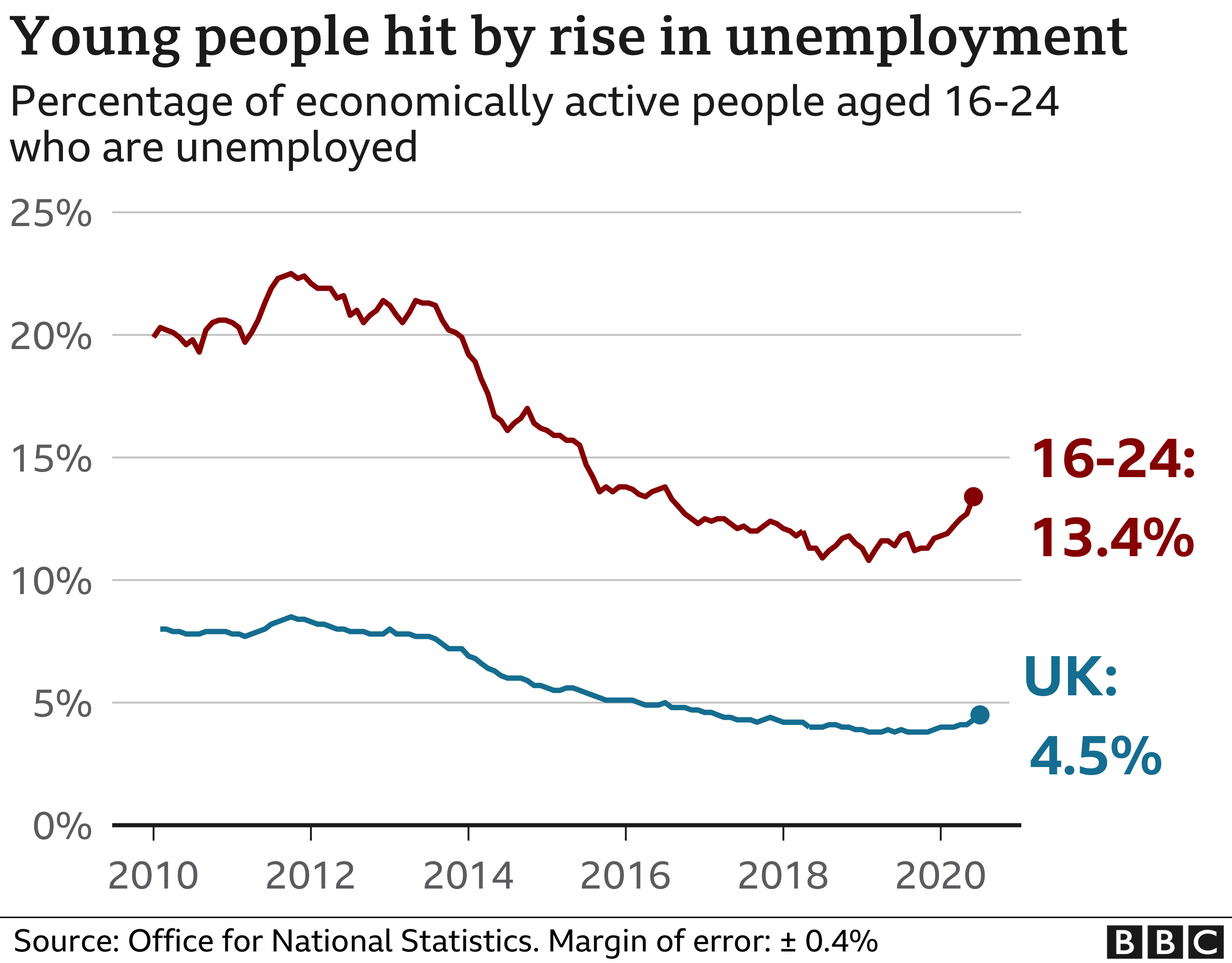 "Overall employment is down about half a million since the pandemic began and there are particular groups who seem to be most affected, young people in particular," he told the BBC's Today programme.
"[Of those out of work] about 300,000 are aged 16-24, so about 60% of the fall in employment... that's really disproportionate."
Mr Athow said the large number of redundancies had been focused on sectors such as hospitality, travel and recruitment.
According to the ONS, an estimated 1.5 million people were unemployed between June and August, while redundancies stood at 227,000.
The number claiming work related benefits, meanwhile, hit 2.7 million in September - an increase of 1.5 million since the beginning of the crisis in March.
Most expect unemployment to rise further after the government's furlough scheme is replaced with a less generous wage support package in November.
Analysis from Citibank suggests the unemployment rate could hit 8.5% in the first half of 2021 - a level not seen since the early 1990s.
Commenting on the latest unemployment figures, Chancellor Rishi Sunak, said: "I've been honest with people from the start that we would unfortunately not be able to save every job. But these aren't just statistics, they are people's lives.
"That's why trying to protect as many jobs as possible and to helping those who lose their job back into employment, is my absolute priority."
He said for those who do lose their job, there would be new opportunities through apprenticeships, traineeships and the £2bn Kickstart scheme, as well as extra work search support.
'You're competing with the whole of the UK'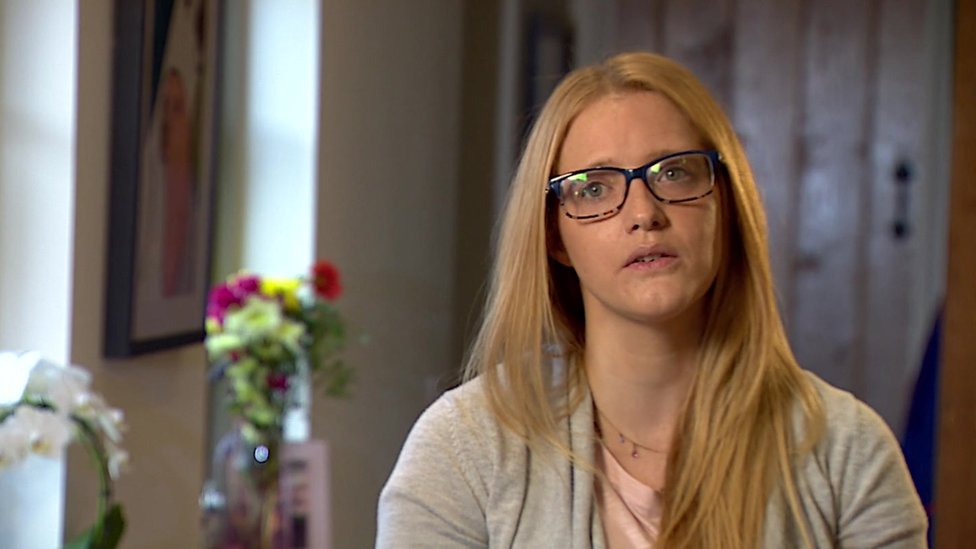 Sophia Royle was a project manager working for an e-learning firm. She was put on furlough in May, but then made redundant at the end of August.
"The jobs market is now flooded with people that have been made redundant and are looking for jobs," she says.
The problem is that because of the changing nature of the market, she is no longer just competing against people who live locally.
"A lot of these jobs are remote. They're online," she says. "That means you're competing with the whole of the UK."
Sophia and her partner bought a new house in Gloucestershire last November, so she is worried about the mortgage.
She is also six months pregnant, which she found out just after going on furlough. She only qualifies for statutory maternity leave, which she will start receiving in December.
"I've stopped looking for jobs, because how can I approach someone with that piece of news, that I'm not going to be around in six weeks' time?" she says.
Covid fallout 'intensifying'
From this week tougher local restrictions will force pubs, bars and other hospitality and leisure businesses in England to close in the most infectious areas, as has already happened in parts of Scotland.
The government has offered to pay two thirds of workers' wages if their employer has to shut, but trade union body the TUC has said this falls short of what is needed.
"Wage replacement should be 80% for businesses who have to shut," said TUC general secretary Frances O'Grady.
"We need a more generous short-time working scheme for firms which aren't required to close but will be hit by stricter local restrictions. And self-employed people in local lockdown areas need help too."
Paul Dales, chief UK economist at Capital Economics, said the new restrictions, combined with the end of furlough in October, would push unemployment up.
"The fallout from the Covid-19 recession is intensifying. What's more, the prospect of the latest Covid-19 restrictions leading to the economic recovery stalling, if not going into reverse, means worse lies ahead."

The headline jobs numbers are beginning to catch up with grim jobs numbers elsewhere. Unemployment above 1.5 million and the rate at 4.5% represent considerable rises over the third quarter, and three year-highs, though still relatively low by international and historic standards.
The redundancy numbers were up in the quarter to August by a record, partly reflecting the start of the phased withdrawal of the furlough scheme.
There were some signs that the government's attempt to reopen and boost the economy had some impact. Payroll numbers stabilised, up a little, though still 629,000 down on March. Vacancies were up too during the month of "Eat Out to Help Out".
So these numbers reflect both the headline numbers catching up with the grim reality of the jobs market since the shutdown - but also a bump to certain parts of the economy in August. The numbers will continue to get tougher from here.
'Keep busy when you are looking for work'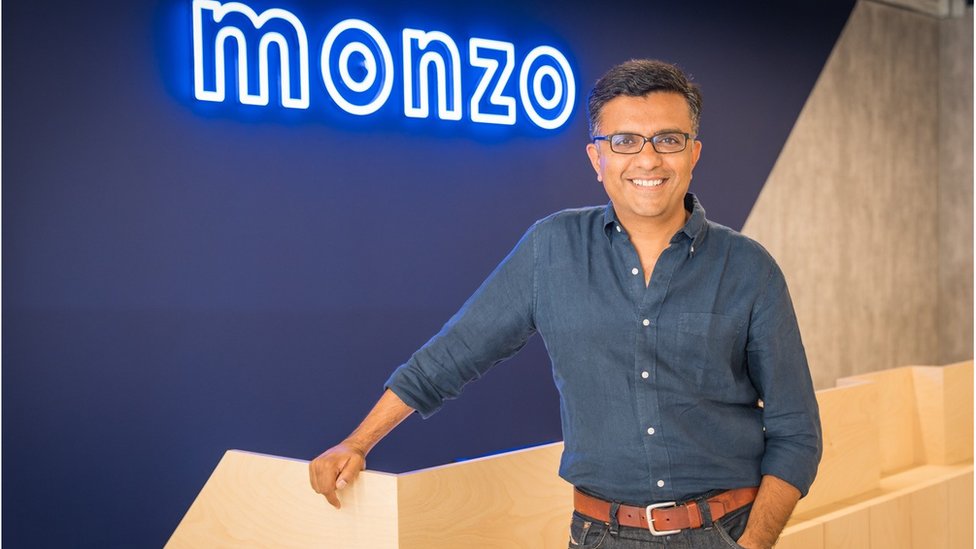 TS Anil, the boss of Monzo Bank, advises anyone out of work and looking for a job to thoroughly research the company they want to work for.
"At Monzo, we're focused on innovating and improving banking for everyone. We want to find people who have the same sense of purpose and drive for what we do. That's what can make you stand out."
For those stuck on furlough or shielding, he advocates keeping occupied. "Keeping busy with a hobby or through learning a new skill at this time can be good for your self-worth and mental health."
Mr Anil also suggests getting someone to look at your job applications for you: "A fresh set of eyes can really help."
Enable Ginger
Cannot connect to Ginger Check your internet connection
or reload the browser
Disable in this text field
Edit
Edit in Ginger
Edit in Ginger
×