News | Business | Airlines: EasyJet plans thousands of job cuts
4-5 minutes - Source:
BBC
---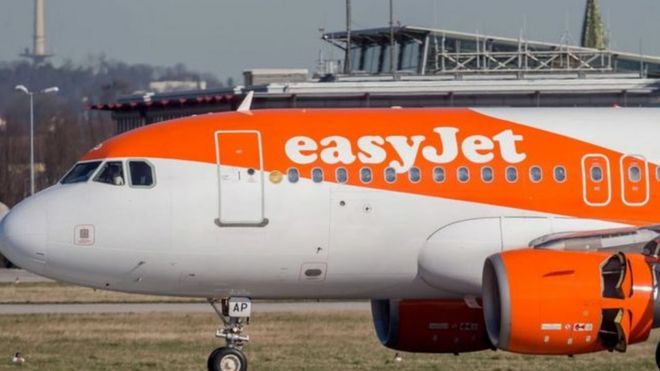 EasyJet is to cut up to 30% of its workforce as it struggles to cope with the collapse in demand for air travel caused by the coronavirus pandemic.
The airline did not say exactly how many jobs would go, but it employed 15,000 people at the start of 2020.
Pilots' union Balpa reacted angrily, describing the move as an "ill-considered knee-jerk reaction".
EasyJet, which has big operations at Gatwick and Luton airports, confirmed it would restart flights on 15 June.
However, it said that levels of market demand seen in 2019 were not likely to be reached again until 2023.
It added that in the coming days, it would launch an employee consultation process on the planned job cuts.
It grounded its entire fleet in March as global travel came to a near-halt.
'Difficult decisions'
"To effect the restructure of our business, EasyJet will shortly launch an employee consultation process on proposals to reduce staff numbers by up to 30%, reflecting the reduced fleet, the optimisation of our network and bases, improved productivity as well as the promotion of more efficient ways of working," the firm said.
EasyJet chief executive Johan Lundgren said: "We realise that these are very difficult times and we are having to consider very difficult decisions which will impact our people, but we want to protect as many jobs as we can for the long-term.
He said the airline was planning to reduce the size of its fleet and would continue to cut costs.
"We want to ensure that we emerge from the pandemic an even more competitive business than before, so that easyJet can thrive in the future."
Other airlines have already announced job cuts and restructuring programmes as they fight to stay in business. These include:
The travel industry's hopes of reopening for business as global lockdowns ease have been dealt a blow by the UK government's plan to introduce a 14-day quarantine for all arrivals.
From 8 June, people entering the UK from abroad, including returning holidaymakers, will be told to isolate for 14 days or face a £1,000 fine.
In a letter to the Home Secretary, Priti Patel, hotels and holiday firms said the policy would reduce visitor numbers and could make it harder for Britons to travel abroad.
'Kick in the teeth'
"EasyJet staff will be shocked at the scale of this announcement and only two days ago, staff got a 'good news' message from their boss with no mention of job losses, so this is a real kick in the teeth," said Brian Strutton of Balpa.
"Those staff have taken pay cuts to keep the airline afloat and this is the treatment they get in return. EasyJet has not discussed its plans with Balpa, so we will wait and see what impact there will be in the UK," he added.
"EasyJet's own projections, though on the pessimistic side, point to recovery by 2023, so this is a temporary problem that doesn't need this ill-considered knee-jerk reaction."
EasyJet reaffirmed that
it would be introducing security measures
to protect against the spread of coronavirus when it resumes flights.
These include requiring passengers and crew to wear masks and not offering on-board meals.
The airline said it would release half-year results, covering the six months to the end of March, on 30 June.