---
09:10
( Approximately Time)
Worst ever slump in eurozone activity
Just in: The eurozone's private sector shrank at an unprecedented rate last month, led by Spain and Italy.
Data firm Markit's eurozone composite PMI, which tracks activity across its private sector, has slumped to 13.6 for April, down from 29.7 in March.
That's a record low, showing the worst ever slump in growth.
Companies reported that exports and new business fell very sharply, while job losses accelerated.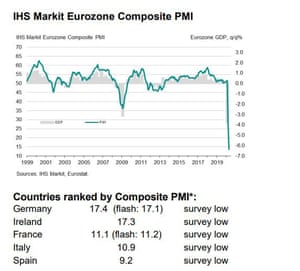 Chris Williamson, Chief Business Economist at IHS Markit, says the decline is 'shocking', and warns that countries will struggle to recover quickly:



"The extent of the euro area economic downturn was laid bare by record downturns in every country surveyed in April, with output falling at unprecedented rates across the region's manufacturing and services sectors.
With a large part of the region's economy shut down while COVID-19 infections spiked higher, the economic data for April were inevitably going to be bad, but the scale of the decline is still shocking. The survey data are indicative of GDP falling at a quarterly rate of around 7.5%, far surpassing the worst decline seen in the global financial crisis. Jobs are also being lost at a rate never previously seen.
Hopefully, with coronavirus curves flattening and governments making moves to ease lockdown restrictions, many sectors should start to see output and demand pick up. The process will be only very gradual, however, as governments juggle between reviving economies and preventing a second wave of infections. Most companies will inevitably need to work at levels well below full capacity and sectors such as retail, travel, tourism and recreation – already the hardest hit – will continue to be badly affected by social distancing.
08:58
Ocado is continuing to profit from the Covid-19 pandemic.
The online grocer has reported a 40% surge in UK revenue so far this quarter, up from 10% growth in the first three months of 2020.
Demand surged as the lockdown began, creating an 'unprecedented' level of demand from customers keen to avoid venturing to the shops.
It says:



Growth in Retail Revenue in the Second Quarter to date is 40.4% up on last year, compared to 10.3% growth in the First Quarter.
The number of items per basket appears to have passed its peak but remains high, as more normal shopping behaviours have returned, and the share of fresh and chilled products in the mix, relative to ambient, is also returning to normal.
Shares in the online grocer hit £17.44 this morning, a new record high: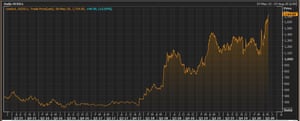 08:58
Unlike many news organisations, we chose an approach that means all our reporting is free and available for everyone. We need your support to keep delivering quality journalism that's open and independent. Every reader contribution, however big or small, is so valuable.
For as little as £1 you can support us – and it only takes a minute. Thank you.
08:49
Ouch! Spain's service sector has also suffered its worst monthly slump on record, with its PMI sliding to a mere 7.1 in April, from 23 in March.
That shows an "unprecedented" drop in activity.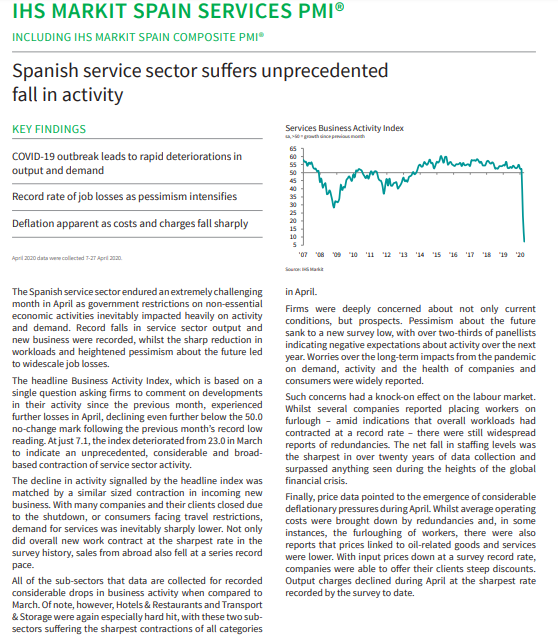 08:47
India's Services PMI falls off a cliff
India's service sector is shrinking at an unprecedented rate, due to its Covid-19 lockdown.
The Indian service sector PMI, which measures activity across the sector, has taken an almighty tumble -- dropping to just
5.4
from
49.3
in March. An extraordinary plunge, on an index where 50 points shows stagnation.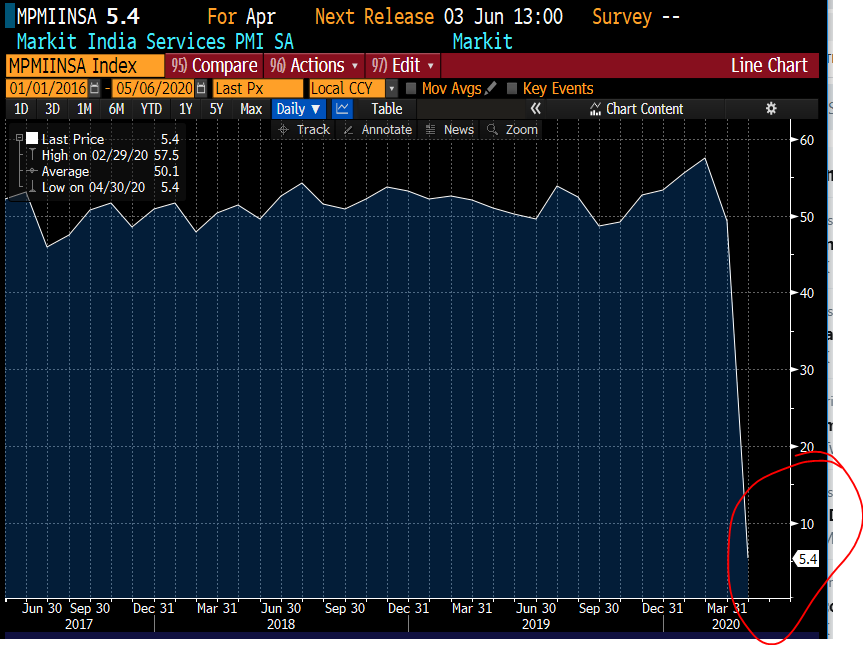 Markit, which compiles the data, says it's the worst plunge since it started measuring India's economy 14 years ago, as businesses were closed and citizens ordered to stay at home.
Joe Hayes of Markit says it shows India's economy is suffering a severe contraction:



Historical comparisons with GDP data suggest that India's economy contracted at an annual rate of 15% in April.
It is clear that the economic damage of the COVID-19 pandemic has so far been deep and far-reaching in India, but the hope is that the economy has endured the worst and things will begin to improve as lockdown measures are gradually lifted.
A single-digit PMI is quite remarkable - its hard to believe any country has posted a worse reading before:
08:22
ITV furloughs 800 staff as ad revenues slump

Mark Sweney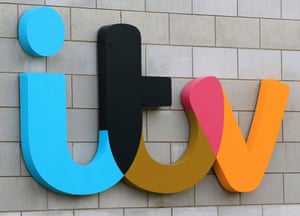 ITV has revealed the scale of the impact of the coronavirus, by furloughing 800 staff as advertising slumped 42% last month.
The broadcaster said it will reduce overhead costs by £60m this year, an increase in its previously announced £30m, and has withdrawn its final dividend for 2019.
Other actions include furloughing 800 staff, about 15% of ITV's UK workforce, mostly in ITV Studios after TV and film production was shutdown nationwide in mid-March.
The broadcaster has also reached an agreement with its pension trustees and tax authorities to delay at least £150m of payments due by June, to the second half and into 2021.
ITV, which earlier this week announced that its flagship summer programme Love Island will be cancelled this year, said that it is working on a "phased approach to office re-entry" and a "return to production protocol" to re-start programme production.
Carolyn McCall
, chief executive of
ITV
says:
"We are now very focused on emerging from this crisis in a strong position, continuing to offer advertisers effective marketing opportunities and making preparations to restart productions safely."
ITV said that total viewing hours were up 2% in the year to the end of March, while viewing of shows on streaming service ITV Hub was up 75% year-on-year to 169m hours.
08:19
BMW: Sales hit by coronavirus pandemic
German carmaker BMW has also highlighted the economic cost of Covid-19 this morning.
BMW
has reported a 20% tumble in vehicle deliveries in the first quarter of 2020, including a 30% slump in China.
It points out that the international motor market crumbled this year:



The worldwide spread of coronavirus has left international automobile markets in an extremely weak overall condition after the first three months of the year. Initially, events were dominated by a slump in registrations in China in February and March.
However, all other major automobile markets subsequently reported declines, some of them drastic, especially from March 2020 onwards.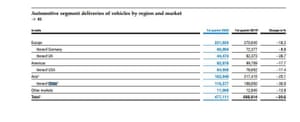 BMW also issued a profit warning last night, saying the pandemic was causing more damage than it expected. It explained:



"The decisive factor for the adjustment is that the measures to contain the coronavirus pandemic are lasting longer in several markets and are thus leading to a broader negative impact than was foreseeable in mid-March.
It is therefore apparent that delivery volumes in these markets will not – as was previously assumed - return to normal within a few weeks. The highest negative impact is expected in the second quarter of 2020."
07:50
Germany's economy ministry blamed the dramatic fall in orders on the global economic shock of Covid-19, and warned that the situation will worsen.
In a statement, it says:
"It is to be expected that production will decline sharply from March onwards due to corona"
This chart confirms that March's slump is the worst since reunification:
07:46
Demand for heavy-duty German tools, machinery, vehicles and other equipment slumped particularly sharply in March.
Orders for these capital goods fell over 22%, while intermediate goods [used to make something else] fell 7.5%. Consumer goods, though, only dropped 1.3%.
07:34
Introduction: German factory orders plunge over 15%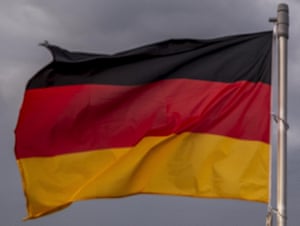 Good morning, and welcome to our rolling coverage of the world economy, the financial markets, the eurozone and business.
The economic gloom in Germany has deepened this morning, with the biggest slump in factory orders since reunification.
German factory orders plunged by 15.6% in March alone, new figures show, as its economy started to lock down to handle the coronavirus pandemic. This appears to be the worst slump since the data series began in 1991.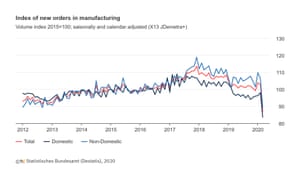 On an annual basis, orders were 16% lower than in March 2019 - with a slump in demand from other German companies, and from customers abroad.
Statistics firm Destatis explains:



Domestic orders decreased by 14.8% and foreign orders fell by 16.1% in March 2020 on the previous month.
New orders from the euro area went down 17.9%, and new orders from other countries decreased by 15.0% compared with February 2020.
This is even worse than expected - economists had forecast a 10% drop in German factory orders. Another sign that Europe's economy is suffering its worst downturn in decades.
More details to follow...
Also coming up today
We get new surveys of
Eurozone
service sector companies, and UK building firms, this morning -- likely to confirm that output slumped at unprecedented rates in April.
Later today, US payroll operator ADP will publish its monthly estimate of how many private sector jobs were created last month - and it's likely to be horrific. Economists predict that more than
20 million jobs
were lost across America last month during the pandemic.
The agenda
9am BST: Eurozone service sector PMI for April
9.30am BST: UK construction PMI for April
1.15pm BST: ADP survey of job creation in the United States last month
3.30pm BST: Weekly oil inventory figures
Updated