By The Visual and Data Journalism
---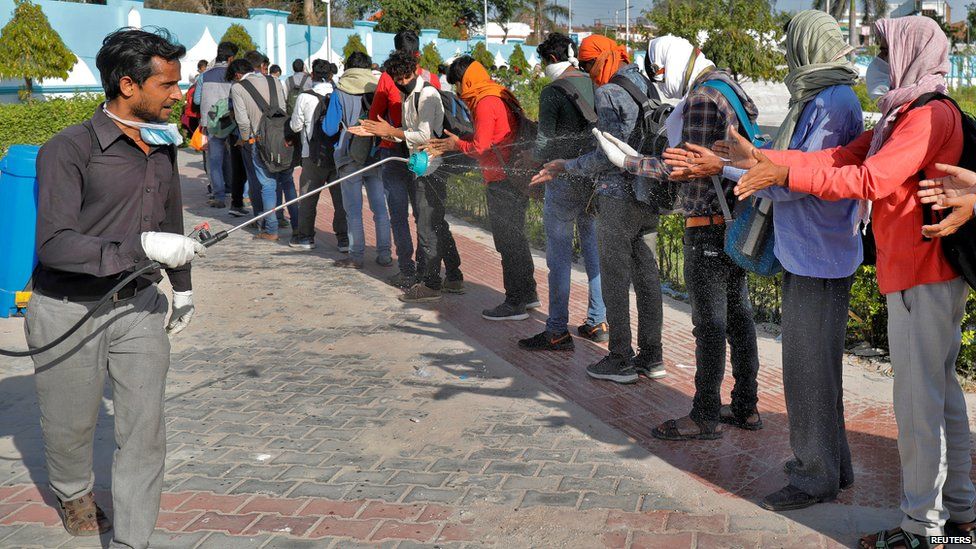 There are now more than 860,000 confirmed cases of
coronavirus
in 180 countries. At least 42,000 people have died from the disease.
The United States now has more confirmed cases than any other single country, including
China where
the disease emerged in December 2019.
Europe has also recorded hundreds of thousands of infections, with Italy and Spain worst affected.
This series of maps and charts will help you understand what's going on.

How many deaths and recoveries have there been?
The virus is spreading rapidly in many countries.
The US overtook China on 26 March and now has double the number of confirmed cases, according to figures collated by Johns Hopkins University.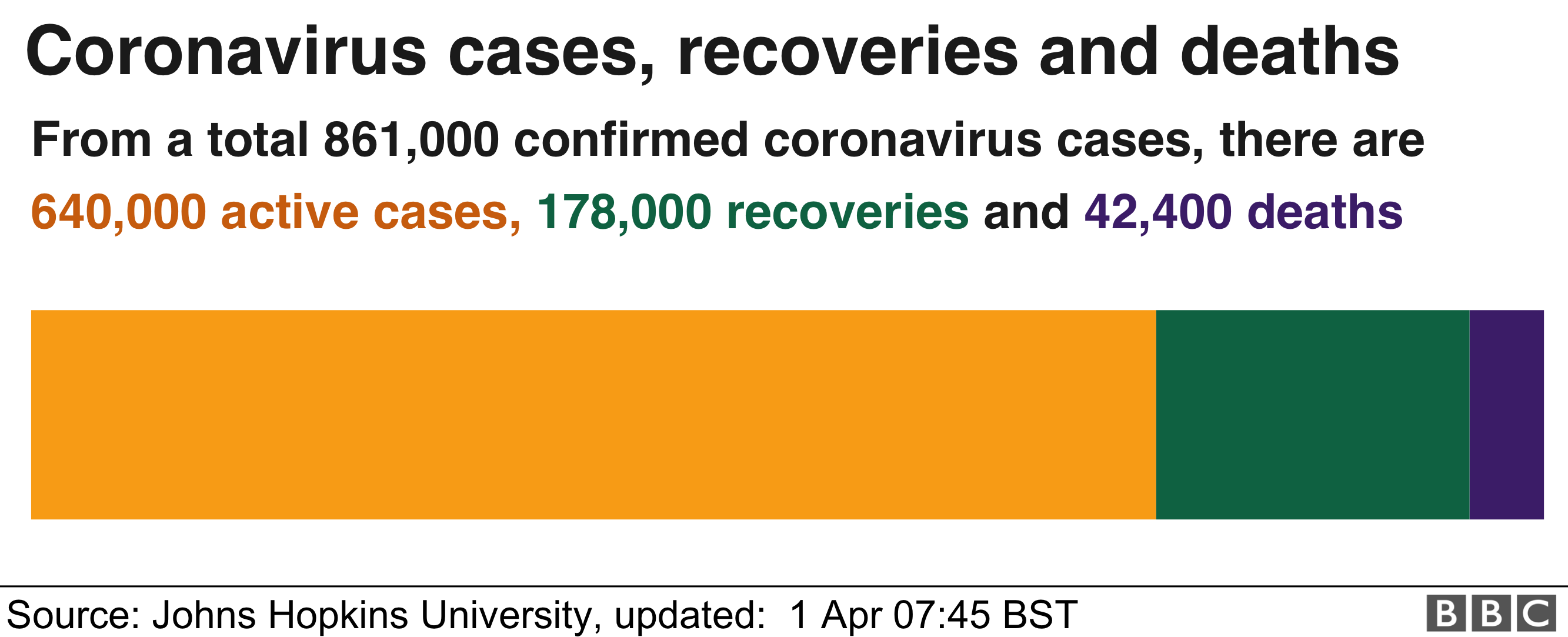 Around 3,300 people died in the Chinese outbreak - but Italy, Spain and France now have higher death tolls.
The outbreak was declared a global pandemic by the World Health Organization (WHO) on 11 March. This is when an infectious disease is passing easily from person to person in many parts of the world at the same time.
The WHO said it took more than three months to reach the first 100,000 confirmed cases worldwide, but only 12 days to reach 200,000, four days to reach 300,000, three days to reach 400,000 and another five to reach 700,000.
China says it has now all but stopped the spread of the disease and the authorities have started to allow some access to Wuhan, the city in Hubei province where the outbreak began.
After more than two months of isolation, people are allowed to enter the city by train - but not leave.
The true figure for the number of people with
coronavirus
is thought to be much higher as many of those with milder symptoms have not been tested and counted.
South Korea, where a major outbreak began in February, has also seen its number of cases fall in the last couple of weeks.
But badly affected countries like Italy, Spain and the US are still ramping up measures to try to slow down the spread of the virus.
Governments across the world have halted flights, locked down towns and cities and urged people to stay at home.
India and Saudi Arabia have begun strict lockdowns, while similar restrictions on the movement of people have been put into place across Europe.
President Putin of Russia, which has seen 1,800 cases, called for a "non-working week", to try to slow the spread of the disease.
Europe struggling to slow the spread
European countries have seen steep rises in infections and deaths.
Italy has the highest death toll of any single country in the world, with more than 12,000 deaths.
Spain has reported nearly 8,500 deaths while the number of confirmed cases is approaching 100,000.
The Spanish government, which declared a state of emergency on 14 March, has further tightened its lockdown telling non-essential workers to stay at home for two weeks.
In Italy, there are cautious hopes that the country may have started to turn a corner, with data in recent days suggesting that the infection rate is slowing.
The majority of deaths have occurred in the northern Lombardy region, which contains the city of Milan. Hospitals there are reportedly at breaking point and retired doctors and nurses have been asked to return to work.
Italy has been locked down since 12 March, with nearly all shops, bars, hairdressers, restaurants and cafes closed. The lockdown will now run until 12 April.
In Germany, where there have been more than 70,000 cases and 775 deaths, a leading health scientist has suggested that 'immunity certificates' could be given to people who have recovered.
In the UK, there have been more than 25,000 confirmed cases and at least 1,789 people have died.
A global comparison shows the UK, US and other European countries are all experiencing faster death rates than China and South Korea.
Prime Minister Boris Johnson announced a clampdown on 23 March, urging people to stay at home to avoid unnecessary transmission of the disease.
Mr Johnson is midway through a period of self-isolation after testing positive for the virus on 27 March.
Cases rising quickly in the US
With nearly 190,000 confirmed cases - 76,000 in New York state alone - the US has more infections than any other country.
At more than 4,000, the US death toll has also passed China's official figure of 3,309.
Around three out of four Americans are now living under some form of lockdown as states increase efforts to curb the outbreak.
President Donald Trump has said federal
coronavirus
guidelines, such as social distancing, will be extended across the country until at least 30 April. He had previously said they could be relaxed in mid-April.
Nationwide measures mean people must continue to avoid non-essential travel, going to work, and eating at restaurants or bars. Gatherings are limited to groups of under 10 people.
Stricter restrictions apply to millions in some of the worst-hit states.
The outbreak is having a major economic impact, with figures showing the number of people without jobs surging to a record high of nearly 3.3 million as of 28 March. The previous record was set in 1982, when unemployment claims hit 695,000.
American Airlines, one of the world's richest carriers, has said it will apply for $12bn (£9.7bn) in government aid.
Millions are living under restrictions on their movement
India is one of the latest countries to enforce a lockdown, meaning its 1.3 billion residents are now forbidden from leaving their homes for a few weeks at least.
That means more than a quarter of the 7.8 billion people in the world are now living under some form of restrictions on their movement and social contact due to the
coronavirus
.
People in major cities like London, Barcelona and New York are now moving around far less than they were a few weeks ago,
according to data
from the travel app Citymapper.
The data also shows that while Milan in northern Italy has been locked down for several weeks now, many other cities have only been restricting movement in recent days.
While movement is also down in the South Korean capital Seoul, the city hasn't ground to a halt like European capitals despite facing huge numbers of
coronavirus
cases - a sign of the country's decision to focus on widespread testing and contact tracing rather than social distancing.