---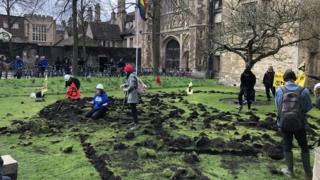 Climate activists have dug up a lawn outside a Cambridge University college over its role in a major development in the Suffolk countryside.
Extinction Rebellion members said the action at Trinity College was taken against the "destruction of nature".
Activists then took dug-up mud to a local Barclays Bank branch.
Innocence Farm in Trimley St Mary has been part of plans, involving Trinity, for a lorry park. The college said it supported work to fight climate change.
A Cambridgeshire Police spokeswoman said the force was liaising with the college and that "a crime has been recorded for criminal damage".
A spokeswoman for Barclays Bank confirmed activists carrying wheelbarrows full of mud had spread it across the banking hall of its St Andrew's Street branch.
She added the branch had been kept open and staff ensured customers were safe.
Activists, who also chained themselves to an apple tree on the college's front lawn, said they "were careful to ensure that the digging took place a safe distance from the tree so as not to cause any damage to it".
The local group also claimed on Twitter the college invested more money in oil and gas companies than any other Oxbridge college.
Derek Langley, a member of Extinction Rebellion Cambridge, said: "The idea that a rich institution like Trinity College, which tells the
world it
is serious about tackling this crisis, is looking for profit from environmental destruction is quite simply astonishing."
Local businessman Dr Tim Norman described the action as "
counter-productive
vandalism".
He said: "[It] seemed to confuse the tourists too, as it wasn't clear what they were doing it for."
She added: "Academics at Trinity are actively engaged in research to understand and develop solutions to climate change, and taking practical steps forward."
The spokeswoman added the college supported the university's
Cambridge Zero
project, which was launched in November and led by Dr Emily Shuckburgh, one of the UK's leading climate scientists.
A Barclays spokeswoman said: "We
recognise
that climate change is one of the greatest challenges facing the world today, and are determined to do all we can to support the transition to a low-carbon economy, while also ensuring that global energy needs continue to be met."
Members of the group have also been taking part in a
week-long road blockade in the city
- prompting police to use emergency powers to shut off
roads
.
Last week a meeting had to be abandoned when a
protester abseiled into the council chamber.