Martin Farrer
---
01:53
All infected people in Wuhan being 'rounded up'
In
China
, the fight to contain the virus is continuing despite encouragement that the number of new cases has fallen below 2,000 for the first time since January.
The Global Times newspaper reports that a "dragnet style" operation is under way in Wuhan, the
epicentre
of the outbreak, to make sure all those infected are "rounded up".
The operation was ordered by the city's new party chief, Wang Zhonglin, on Sunday and aims to be completed in three days. Big data and AI would be used to assist the operation.
Here is what the news outlet reported
yestedray
:
The three-day campaign aims to fulfill five objectives:
have all suspected victims receive
nucleic acid tests; round up all infected patients; check all patients with fever; put under quarantine anyone who has had close contact with patients; and ensure all communities and villages implement 24-hour closed-off management measures.
Updated

01:35
It is not all gloom and doom in the economics department. It seems that in Hong Kong, where toilet paper is running short, some manufacturers are doing quite well. The Hong Kong-listed paper maker Vinda has seen its shares rise 41% this year.
This follows an
armed raid on a truck load of toilet rolls in Hong Kong
amid panic-buying of necessities.
01:24
Canada to evacuate citizens from Diamond Princess
A flight has left Canada
to evacuate its citizens aboard the Diamond Princess
in Yokohama, Canada's chief public health officer has said in the last hour.
Dr Theresa Tam said Canada would evacuate asymptomatic Canadians and they would undergo a 14-day quarantine at
Cornwall airbase
in Ontario.
It follows similar moves by the US and Australia to evacuate people from the ship on which 454 people have been infected with the virus.
Updated
01:13
Asian stock markets have seen a dip this morning after
Apple's announcement
that the outbreak was
causing
shortages of the iPhone and that it would fail to meet its revenue target for this quarter.
The
Nikkei in Tokyo fell 0.6%
this morning and the
ASX200 was down 0.2%
in Sydney.
Seoul was down 0.56%
. Chinese and Hong Kong markets open shortly.
Apple's announcement follows
a profit waring from Cathay Pacific on Monday
. The Hong Kong-based airline, already hit hard by the city's protest movement, has cancelled 40% of its flights this month and next because of the virus.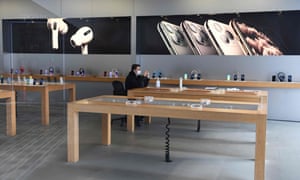 BHP
, the world's biggest mining company, said that it might have to cut its growth forecasts for the year if the outbreak is not contained in the March quarter.
But
...
stock
markets have weathered the
coronavirus
outbreak without too much alarm because investors have bet that central banks, led by
China
, will pump enough stimulus back into their economies to make sure things stay on an even keel.
The US Federal Reserve cut interest rates last year and that has helped fuel a boom in the US
economy which
is also helping to shrug off fears about a China slowdown.
00:59
There are rumbling concerns that passengers who were allowed to leave the cruise ship MV Westerdam in Cambodia may yet be infected with the virus.
UK officials are trying to contact Britons who disembarked after experts said the checking process may not have been handled properly. One person tested positive after leaving the vessel, which was refused by five countries due to concerns that passengers were infected.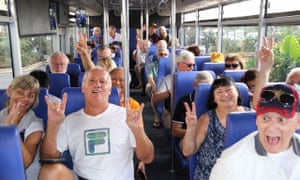 Mark Harris, a professor of virology at the University of Leeds, said: "If you have got people who are infected at an early stage they might not test positive, they might not show any symptoms but they could go on to develop full-blown disease."
Check out our full story here:

00:33
The latest figures show that more than 12,000 people have recovered from the infection out of a total of more than 73,000 who have contracted it.
We have to assume that many more will recover if we factor in the latest comments by the head of the World Health Organization.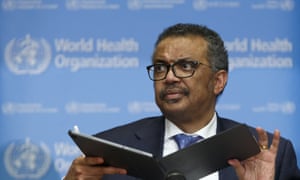 Speaking in Geneva, Tedros Adhanom Ghebreyesus said data from
China
had helped form a "a clearer picture of the outbreak" and that it appeared that four out of five people infected would recover. It was not as deadly as
Sars
or Mers, he said, adding:
More than 80% of patients have mild disease and will recover, 14% have severe
disease including
pneumonia and shortness of breath, 5% have
critical disease including
respiratory failure, septic shock and multi-organ failure, and 2% of cases are fatal,. The risk of death increases the older you are.
Our health editor, Sarah Boseley, has the full story here:

00:22
98 new deaths recorded in China
Those national health commission figures have been released in the last few minutes.
98 new fatalities were recorded on Monday, the commission said on Tuesday morning, taking the death toll in mainland
China
rose to
1,868.
There were 93 deaths in Hubei, 72 of them in the capital Wuhan where the outbreak started.
Across mainland China, there were
1,886 new confirmed infections
on Monday, bringing
the total so far to 72,436
, the commission said.
00:12
Welcome to our rolling coverage of the Covid-19 outbreak, which we can start by relaying the latest figures from the health commission in Hubei.
It said on Tuesday morning that
93 more deaths were recorded on Monday
, taking the total in the stricken province to 1,789.
Another 1,807 cases were added
as well for a total in the province of 59,989.
Those numbers are lower than the figures from
Sunday
(100 deaths and 1,933 new cases) so will give some encouragement to China's efforts to
lockdown
its citizens and contain the spread. But these are, of course, only the figures from the health commission and must be treated with some caution.
We haven't got the national figures from
China
yet but
we expect them to be out soon.
The other key
developements
are