---
The council has put the blame at the feet of Royal Mail, Royal Mail has blamed the council and the Electoral Commission has told me it is not their concern. Their casual approach to this problem has been really hard to stomach. If it was just my ballot lost in the post it would be one thing, but my wife's as well as other complaints from Ceredigion postal voters makes me wonder if any of them were actually dispatched.

Maggie, who works on an administrative team in Poole, said that because her postal vote hadn't arrived she'd had to take time off work to make sure she could vote in her constituency of Mid Dorset and North Poole. She said:
I got in touch with the electoral office in Dorchester in Dorset who told me that they would reissue the postal pack but if that doesn't arrive this morning, I'm going to have to drive from where I live in Wimborne to Dorchester (23 miles) to collect the documentation that will allow me to vote in person at home.
I've had to take a half-day off work and obviously pay for the petrol – but I think it's very important to vote in my constituency today. This is a particularly important election and it's possible my vote could make a difference where I live.

James Aufenast lives in north London but was supposed to be submitting a proxy postal vote to Bath and North East Somerset on behalf of his sister Julia, who lives in Hong Kong. He said:
My sister is really concerned about what is happening in the UK right now despite having her own problems in Hong Kong. She was keen for me to vote for her by proxy (postal vote) and we organised well ahead of time. However, Bath and NE Somerset Council failed to send out the voting forms in time. In a marginal constituency where every vote counts, she feels she has been deprived of her democratic right at a crucial time.
I feel culpable too as it was up to me to organise and I have let her down. Obviously the responsibility lies with Bath, but I think the reason I am so upset is because it feels like a huge amount is riding on this election.

Aufenast said that when he contacted the local council to chase the issue up, they told him he was not the first person to have called in.
The council said in a response to his query:
We have received a lot of calls from electors that have not received poll cards and postal votes. It's a combination of a national election and the Christmas post that have created a Royal Mail fiasco.
Labour
campaigner, said people wanted to vote during daylight hours.
It gets dark at 4.30pm. It has been really, really constant.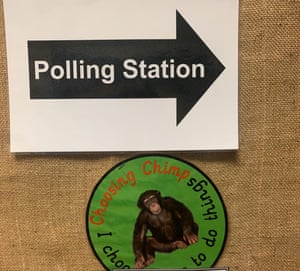 Rob Priest, a history lecturer living in south London, took a photo of his local polling station:
A church, food bank, and polling station at the All Nations church on Poynders Road in Clapham. One thing I have been energised by this year is teaching students who are voting for the first time – almost all of them weren't able to vote in the referendum and I get the sense they are taking it very seriously.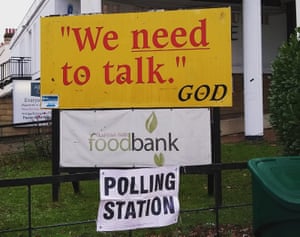 Charlie Hamilton loved the sign spotted by her colleague, Sam Picknell, at Plaistow polling station, West Sussex.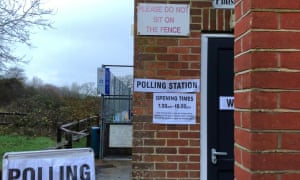 Labour
or Conservative could mean for the UK. With Brexit dominating, should Boris Johnson, Michael Gove and Jacob Rees-Mogg (who Severgnini calls "the sons of Thatcher") regain power, then they will be tempted to transform Britain into "a pirate ship off the coast of Europe".
He adds:
It would be a serious mistake. It is no longer the times of pirate Sir Francis Drake: the European fortress is robust and the defenders have powerful cannons. We are repelled by the idea of shooting - metaphorically - at our English friends. But, if they force us, we'll do it.
Updated