---
09:10
Back in the UK, Marks & Spencer has admitted it is "making up for lost time" after yet another poor performance in clothing sales (down 5.5% in the last six months)
M&S suffered some serious supply chain problems this year, leading to empty shelves and racks (and
the sacking of fashion boss Jill McDonald
). Today, CEO Steve Rowe has insisted it is seeing "a positive response" from shoppers, and suggested clothing sales are turning around.
Here's the full story:
M&S shares are up 4.4% this morning, as traders take heart from Rowe's upbeat comments.
09:01
To Masayoshi Son's credit, he isn't ducking the WeWork issue.
Speaking to journalists in Tokyo, SoftBank's CEO admits that he blundered by pumping so much money into the office rental company, which had to be bailed out last month.
Son says:

"The perception is that SoftBank is being dragged down into the quagmire of WeWork."
"I am looking back with true regret about the mistaken investment moves that I have made."
But Son also insisted that WeWork, which leases offices and desk space, can have a bright future.
Associated Press has the details:
In a presentation, Son said WeWork was losing money from initial construction and design costs but, with time, property will become profitable.
A reporter asked how WeWork was an internet company when it was real estate, a question that has been on many minds on WeWork. But Son said internet technology is incorporated into WeWork's concept. WeWork focuses on offering office space to startups.
Son also argued that it's common for new companies to start out with losses, including those considered successes such as Amazon and Facebook, and they were able to eventually grow.
SoftBank has said it has ample cash to handle the WeWork woes.
"There is no storm, and things are under control," he said, although he smiled when the crowd responded with giggles.
09:01
Unlike many news organisations, we chose an approach that means all our reporting is free and available for everyone. We need your support to keep delivering quality journalism, to maintain our openness and to protect our precious independence. Every reader contribution, big or small, is so valuable.
For as little as $1 you can support us – and it only takes a minute. Thank you. Make a contribution - The Guardian
The Japanese investment powerhouse on Wednesday reported its first quarterly operating loss in 14 years -- about $6.5 billion --after writing down the value of a string of marquee investments. It swallowed a charge of 497.7 billion yen ($4.6 billion) for WeWork, whose spectacular implosion turned the once high-flying shared-office startup into a Silicon Valley punchline.
Updated
08:26
SoftBank suffers huge losses after WeWork and Uber disappointment
Jasper Jolly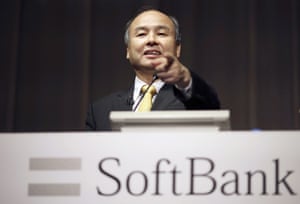 SoftBank Group, the Japanese tech investor, has slumped to a massive quarterly loss after the
valuations of US companies WeWork
and Uber plunged, my colleague Jasper Jolly writes.
The company,
run by billionaire investor Masayoshi Son
, made an operating loss of 704bn yen (£5bn) in the three months to the end of September, in results published on Wednesday.
The loss comes after a dreadful quarter for the tech companies backed by Son's venture capital funds, the $100bn Vision Fund and the smaller Delta Fund.
SoftBank's operating loss was due to the "decrease in the fair values of investments including Uber and WeWork and its three affiliates" held by SoftBank's Vision Fund and Delta Fund, it said. The two funds together made a quarterly loss of 970bn yen.
Son acknowledged his judgement around the $10.3bn investment in WeWork was not right, and admitted his
faith in WeWork founder Adam Neumann
was misplaced, in a presentation to investors on Wednesday.
Son said he turned a blind eye to Neumann's bad side over issues such as corporate governance and that he had learned a harsh lesson, according to Reuters. He added that WeWork was not a sinking boat, despite a need to cut spending.
WeWork's parent, the We Company, was forced to abandon an initial public offering of its shares on US stock markets at the end of September after investors queried the massive valuation given to the office space rental company. SoftBank then led a $9.5bn bailout of WeWork, and
founder Adam Neumann was forced out
. The debacle wiped $7.8bn from WeWork's valuation, SoftBank said.
Shares in Uber, which listed in May, fell to a new record low on Tuesday as it posted yet another loss, despite beating revenues estimates. Some investors in its stock market float will on Wednesday be able to sell their shares for the first time, when a lock-up period expires.
Son's net worth has plunged by about $6bn since July, when it peaked at about $20bn, according to the
Bloomberg Billionaires Index
, which tracks billionaires' wealth. That left Son with $13.8bn on Tuesday.
The difficult quarter could complicate Son's efforts to raise a second Vision fund if investors question his high-risk strategy of making significant bets on big-spending, young companies. Preparations for a "full-scale launch" are still underway, SoftBank said.
08:14
Economists are hailing

today's rise in German factory orders.
Oliver Rakau of Oxford
Economics
says the 1.3% monthly increase is 'solid', but may not prevent the economy falling into recession.
Viraj Patel, strategist at Arkera, says it's an encouraging sign for the eurozone economy.
Bloomberg's Yuko Takeo says Germany's factory sector is showing welcome signs of life:
A rebound in German factory orders is adding to signs that the euro-area economy has passed the worst of its recent troubles.
Demand rose 1.3% in September, far exceeding estimates of a 0.1% gain. The first increase in three months was driven by a solid pickup in investment and consumer goods, with demand from outside the euro area providing a particular boost.
The euro rose after the report and traded at $1.1076 at 8:54 a.m. Frankfurt time.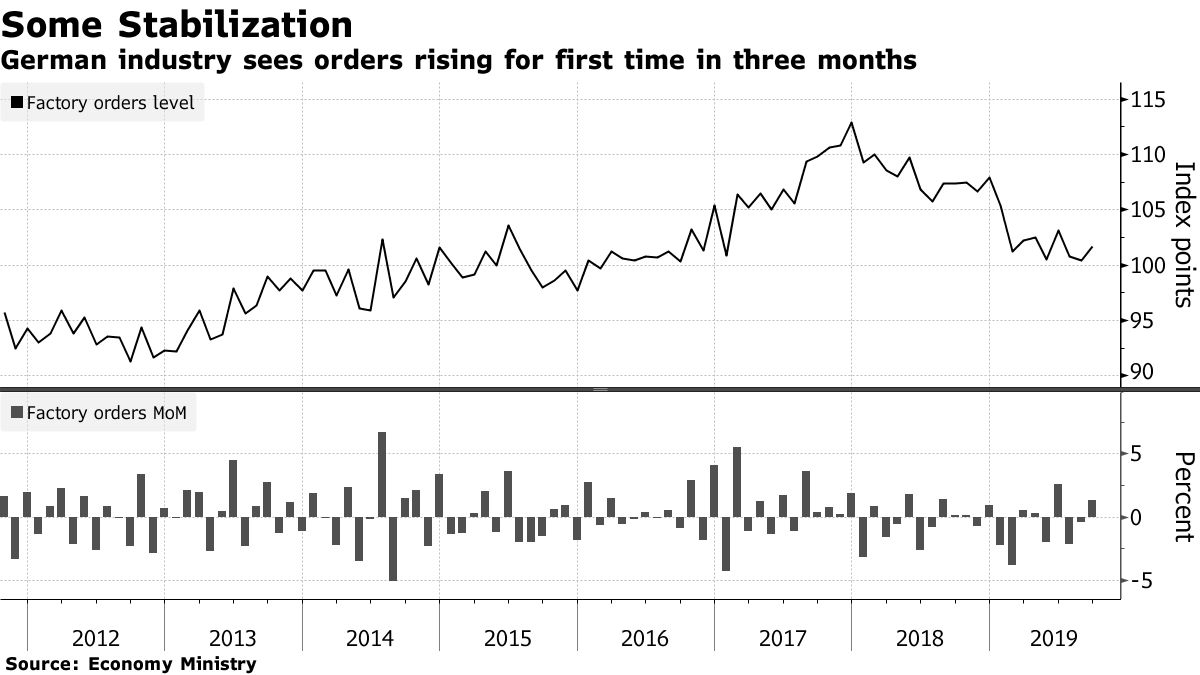 07:41
Introduction: German factory orders are up!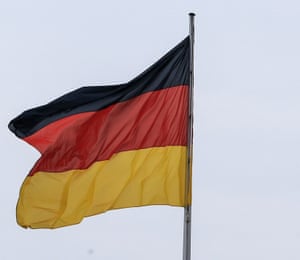 Good morning, and welcome to our rolling coverage of the world economy, the financial markets, the eurozone and business.
Is
Germany
turning a corner? After many months of gloom, Europe's largest economy may finally be bottoming out.
German factory orders jumped by 1.3% month-on-month in September, comfortably beating expectations of a 0.1% rise.
That follows a 0.6% decline in August, and is one of the best months for German manufacturing this year (although that's not difficult!)
The pick-up in demand was driven by orders within Germany, and from countries outside the eurozone.
Destatis, the statistics body, explains:
Domestic orders increased by 1.6% and foreign orders rose 1.1% in September 2019 on the previous month. New orders from the euro area were down 1.8%, new orders from other countries increased 3.0% compared to August 2019.
Encouragingly, orders for expensive, heavy-duty machinery and equipment rose strongly.
Destatis says:
In September 2019 the manufacturers of intermediate goods saw new orders decrease by 1.5% compared with August 2019. The manufacturers of capital goods showed increases of 3.1% on the previous month. For consumer goods, a rise in new orders of 0.8% was recorded.
Encouraging stuff. But on an annual basis, sales were still 5.4% lower than in September 2018.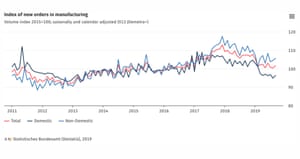 This may not prevent Germany falling into recession, but it does offer hope that growth could pick up again soon.
Also coming up today
Over in Japan, technology investor Softbank has just posted a whopping operating loss of ¥700bn for the last quarter (almost £5bn), due to disappointing bets on companies such as WeWork and Uber.
That's a stark reversal on the ¥706bn profit in July-September 2018, and much worse than the ¥48bn loss which analysts expected.
SoftBank chief Masayoshi Son is presenting the report now, and admitting that "we are in a rough sea"...
The latest surveys of eurozone purchasing managers are expected to show that Europe's services sector continued to grow last month. But with manufacturing shrinking, the euro economy remains subdued.
After a few days of gains, stocks are dipping today. Equity indices in Asia have dropped back, and a weakish open is expected in Europe.
Traders are now questioning whether a US-China trade pact is achievable, with Beijing pushing Washington
On the corporate front, UK retailer
Marks & Spencer
has just posted a 17% drop in profits as clothing sales continue to slide - down another 5.5%!
BMW
and
Adidas
are also reporting financial results (more shortly...)
The agenda
9am GMT: Eurozone service sector PMI for October
10am GMT: Eurozone retail sales for September
3.30pm GMT: US crude oil inventory figures
Updated