---
Posted:
Summary
Indian gold imports reached just 37.7t in July 2019 – 49% lower than the same month last year
The domestic gold price was 2.3% higher in July compared to June; 23% higher y-t-d
The custom duty on gold was unexpectedly raised by 2.5% in the Union Budget on 5th July
With elevated domestic gold prices and a higher custom duty, the discount in the local gold market reached a peak of US$28/oz in July
Volatile prices and weak physical demand encouraged healthy gold futures trading on MCX: volumes touched a high of 46.8t in July
No support for consumer demand
Following weak domestic retail demand in June, gold demand suffered a big blow in July: the custom duty on gold was unexpectedly increased by 2.5% to 12.5% in the Union Budget. Demand received no support from the domestic price either. The spot gold price (995 fineness) maintained its positive trajectory and breached the Rs 35,000/10gm level on 19th July – the highest gold price on record. The price finished the month 2.3% higher than at the end of June, and year-to-date has increased 23%. Economic indicators, such as IIP and domestic vehicle sales, also further pointed towards a slowing economy, adding to the woe.
With the elevated domestic gold price and a higher custom duty, there was understandably little demand for gold in July. During the seasonally quiet period for Indian gold demand, the discount in the domestic market widened further, to a peak of US$28/oz in July – the biggest discount since August 2016 (
Chart 1)
.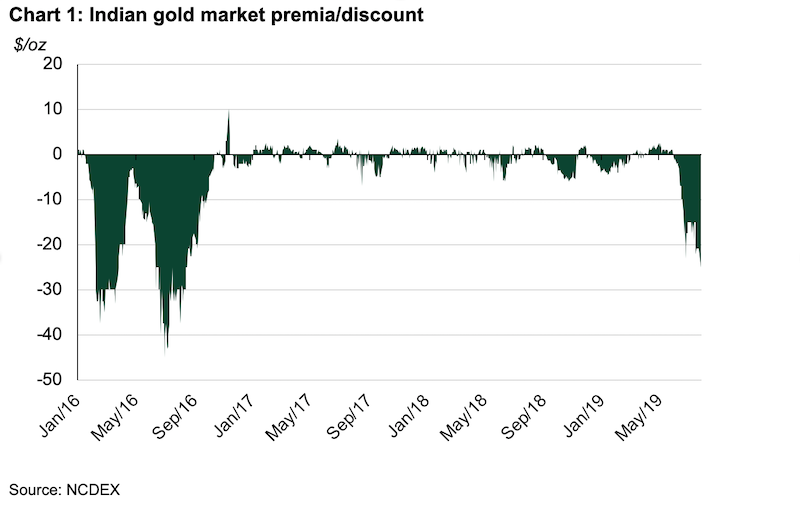 Imports declined m-o-m
Indian gold imports totalled 37.7t in July 2019 – 49% lower y-o-y and 39% lower m-o-m (Chart 2). The higher custom duty and elevated gold price level were the primary reasons for the lower levels of imports. Imports were further dampened by muted demand from rural communities, who diverted their spending towards the sowing of Kharif crops 1.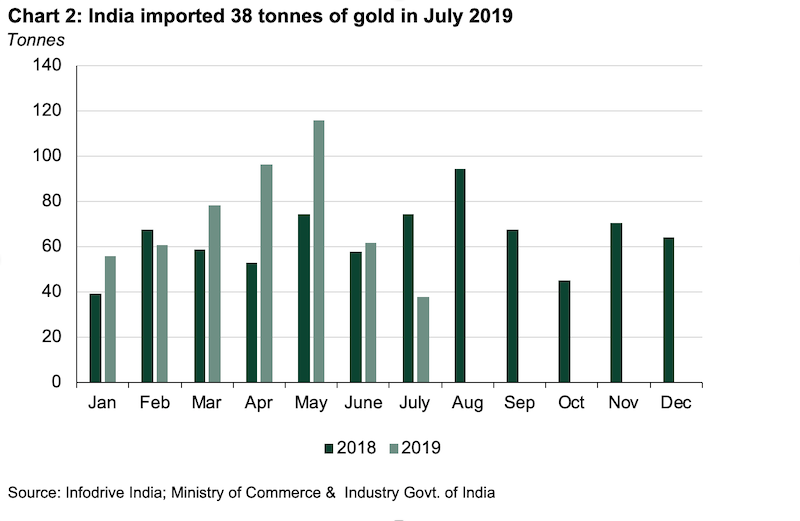 Breaking down July imports, bullion accounted for the lion's share (Chart 3). A total of ten banks imported 7.4t of bullion during the month, while six refineries imported a meagre 3.4t of gold doré (fine gold content). Including jewellery exports and round-tripping estimates, net gold imports in July were 10.6t, some way off the 55.2t seen in July 2018. 2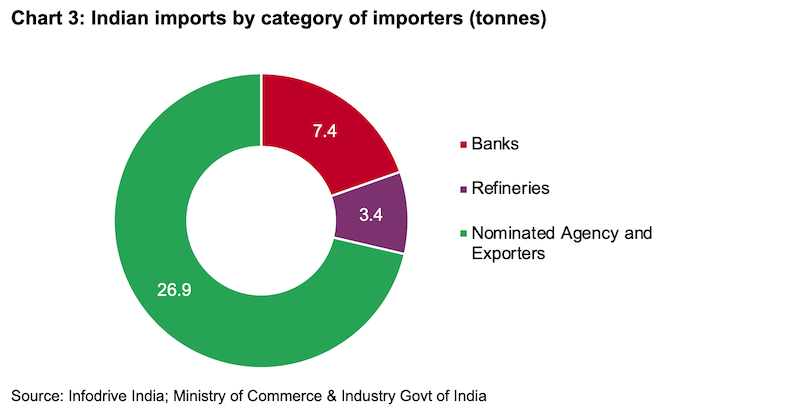 Most of the bullion was sourced from Switzerland (69%) and the UAE (19%) in July. But gold doré imports came from a wider range of sources, including Africa, Middle East and Latin America. The prominent gold doré exporting countries to India were Tanzania, Saudi Arabia and Bolivia – accounting for a combined 82% of gold doré imports in July (Chart 4).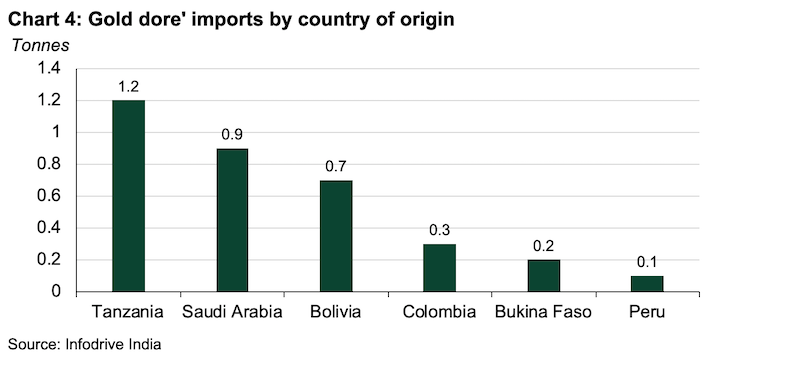 Record trading volumes on MCX
Driven by the volatile domestic gold price and the widening spread between futures and spot prices, trading volumes on MCX reached an all-time high of 46.8t on 5th July (more than three times the average volume of 15.2t in June) (
Chart 5
)
3
. Weak physical demand also encouraged future trading on MCX. The trading volume on 5th July was the highest trading volume level since 13th June 2013.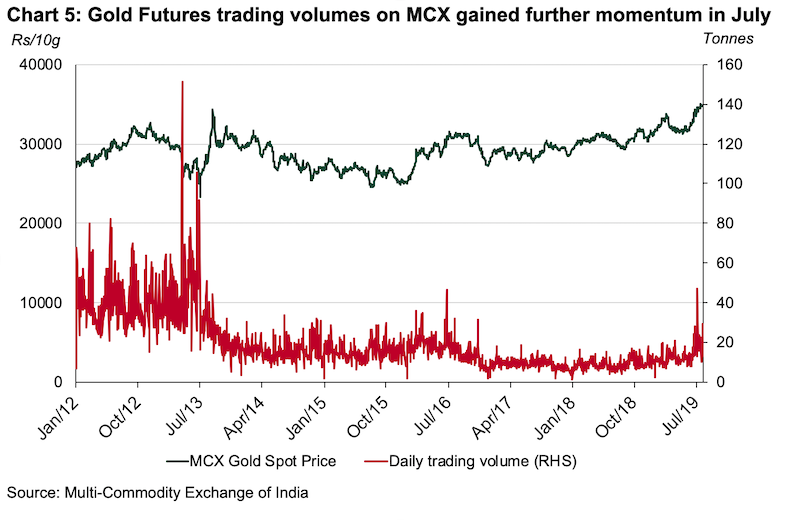 Monsoon is progressing well
Having delayed its arrival, the monsoon began on a weak note in June, ending the month at 33% below the long period average rainfall (LPA). But the monsoon gained momentum in July, ending at just 9% below the LPA and has further gained strength in August. As of 28th August, the monsoon rainfall is 1% above the LPA, with Kharif crop sowing now just 2.3% lower than last year
(Chart 6)
4
. A normal monsoon and healthy Kharif sowing bodes well for rural gold demand in Q4 2019.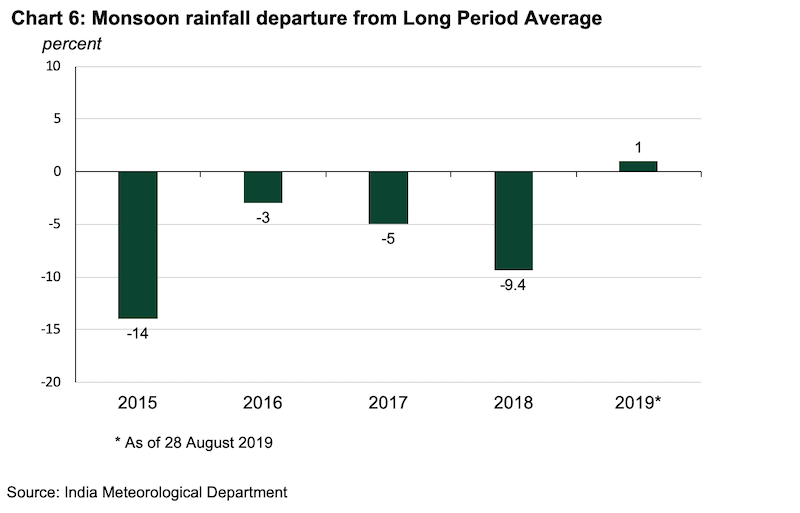 Outlook for August 2019
Aligned with rising international gold price, the domestic gold price in August breached the Rs38,000/10gm level to reach a high of Rs38,795/10gm - an increase of 12% from end of July price. At these price levels, and during the seasonally quiet Q3, gold imports and demand are expected to remain muted in August and September.
Footnotes
Kharif crop season sowing season is from June to October. The seeds are sown at the beginning of Monsoon season and crops are harvested at end of Monsoon season.
Round-tripping is the act of exporting gold, be it jewellery, bars or coins, with the sole purpose of melting it down before re-importing it back to the original exporting country.
The difference in spot and futures price widened to Rs300/10 gm providing an arbitrage opportunity for traders- where they bought gold in the spot market and sold it at profit on MCX
Monsoon rainfall is taken from India Meteorological Department and Kharif crop sowing is from Ministry of Agriculture with data as of week ending on 23 August