---

The Judiciary panel's 24-16 vote Wednesday was the latest move in an escalating clash with an administration that is refusing House Democrats' demands for documents and testimony. President
Donald Trump
said last month that "we're fighting all the subpoenas," and more Democrats are starting to consider impeachment proceedings against him.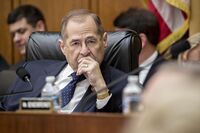 "We are now in a constitutional crisis," Judiciary Chairman Jerrold Nadler told reporters after the vote, adding that impeachment may not be the best answer. "There can be no higher stakes than this attempt to arrogate all power to the executive branch away from Congress, and more importantly, from the American people."
Nadler accused the administration of seeking to "stonewall" Congress's oversight of the Mueller report on Russian election interference and possible obstruction of the probe by Trump.
Nadler said the contempt resolution would go to the House floor "rapidly," though he didn't know if it would be as soon as next week. He said Democrats will take the matter to court after the full House vote. "We will win this court fight," he said.
Trump is asserting executive privilege over the materials subpoenaed by the committee, including the full Mueller report, White House press secretary Sarah Huckabee Sanders said hours before the committee vote.
"Faced with Chairman Nadler's blatant abuse of power, and at the attorney general's request, the president has no other option than to make a protective assertion of executive privilege," she said in a statement.
Wednesday's Judiciary Committee vote came after the panel's staff and Justice Department officials failed to reach an agreement a day earlier.
Justice Department spokeswoman Kerri Kupec said in a statement that the department had engaged in "good faith" negotiations but that Nadler "short-circuited these efforts" by proceeding with the contempt vote. That "forced the president to assert executive privilege to preserve the status quo," Kupec said.
Barr sent Trump a letter Wednesday asking him to "make a protective assertion of executive privilege."
Barr said he was making the request because the Judiciary panel "demands all of the special counsel's investigative files, which consist of millions of pages of classified and unclassified documents bearing upon more than two dozen criminal cases and investigations, many of which are ongoing."
Barr has been willing to allow only a few members of Congress and staff to view a fuller version of the report, under the condition that they don't share what they learn with other members of Congress or the public. Barr also declined Democrats' demand that he seek a court order allowing him to give Congress grand jury material from the Mueller investigation.
The Judiciary Committee also is seeking testimony from Mueller, and Wednesday's assertion of executive privilege has no direct bearing on the special counsel's ability to testify, said a Justice Department official who spoke on condition of anonymity.
Separately, the Republican-led Senate Intelligence Committee subpoenaed Donald Trump Jr., the president's eldest son, to answer
additional questions
about his earlier testimony for the panel's bipartisan Russia probe, a person familiar with the matter said Wednesday.
The administration on Tuesday told former White House Counsel Don McGahn not to comply with a subpoena from House Democrats to turn over documents. Over the weekend, Trump tweeted that Mueller shouldn't testify to Congress, and on Monday, Treasury Secretary Steven Mnuchin refused a request to turn over Trump's tax returns.
Nadler said the decision to defy all subpoenas was "an attack on the essence of our government."
"Now is the time of testing whether we can keep a republic or whether this republic is destined to change into a different or more tyrannical system of government," the chairman said.
The Judiciary Committee's top Republican, Doug Collins of Georgia, accused Democrats of taking a "cynical, mean-spirited, counterproductive and irresponsible step."
A committee report issued to back up the contempt finding said Congress "urgently requires" the full Mueller report to determine how to proceed, and to provide checks and balances on the president. "Otherwise, the president remains insulated from legal consequences and sits above the law," the report said.
Nadler had made an offer to Barr last week after the attorney general declined to comply with a subpoena for the full report.
The House Intelligence Committee has also sought access to the Mueller report. Late Wednesday, the committee issued a subpoena for the counterintelligence materials in Mueller's report, as well as the underlying evidence.
The Justice Department "repeatedly pays lip service to the importance of a meaningful accommodation process, but it has only responded to our efforts with silence or outright defiance," House Intelligence Chairman Adam Schiff said in a statement. "Today, we have no choice but to issue a subpoena to compel their compliance. If the department continues to ignore or rejects our requests, we will enforce our request in Congress and, if necessary, the courts."
White House advisers say cooperating with Democrats provides little advantage as many voters have already made up their mind about Trump's character. Records from Trump's business or time as president could reveal damaging information for Democrats to use against him.
But the effort to turn Trump's potential liabilities into a 2020 election advantage carries risks. The president's refusal to turn over documents could lead voters to conclude he has something to hide and focus attention on the Mueller investigation, which painted an unflattering picture of Trump even if it didn't result in a criminal indictment.
— With assistance by Chris Strohm, and Shannon Pettypiece
Source: Bloomberg