Markets
We're kicking off a new week. I'm Jessica Menton, breaking down the latest in markets.
Global trade remains in focus as investors watch to see whether the Dow can snap a four-week losing streak. Futures are dropping ahead of the opening bell.
On the earnings front, Home Depot, Target and Foot Locker are among notable retailers opening their books later in the week.
Global stocks were mostly lower on Monday, as investors continued to weigh the impact of souring U.S.-China trade negotiations.
Trade Concerns Are Boosting Volatility Bets
By Ira Iosebashvili and Gunjan Banerji
As a renewed bout of trade worries roils global stocks, a growing number of investors are betting that markets will stay erratic.
In a sign that investors are shifting how they react to markets, some are abandoning "buy and hold" postures and pouring money into bets that would take the edge off a sharp drop in markets or profit from higher volatility.
Others are trading more frequently to take advantage of increased price swings, backing away from assets that may be vulnerable to turbulence or warning clients about the possibility of big declines in their portfolios.
These types of approaches were largely unpopular during the market's decade-long bull run. Investors were happy to hang onto shares and tended to avoid strategies that cut into their profits, such as keeping a large cash allocation or maintaining expensive hedges.
Now, many are convinced that an aging bull market, persistent uncertainties over global trade and growth and the increasing dominance of machine trading will lead to more frequent
eruptions of volatility
. They point to selloffs that gripped markets at the beginning and end of 2018, as well as the swings of recent weeks.
"This is unlike any other time in the markets over the last several years," said Don Dale, a founder at Equity Risk Control Group overseeing options strategies.
Investors have shown interest in products that tend to profit when volatility rises.
For example, assets held in those types of exchange-traded products hit a record high of $3.1 billion in May, according to FactSet data. People
piled into bets
that volatility would fall in early 2018, trades that backfired spectacularly when turbulence hit.
As markets have swung, investors have also turned to the relative safety of government bonds. They have sent the yields on 10-year Treasurys, which fall as bond prices rise, near their lowest levels of the year.
In another sign that traders are wagering on volatility, they've turned to options on the Cboe Volatility Index, or VIX, recently sending volume to the highest since February 2018.
Investors pulled $19.5 billion out of global mutual and exchange-traded funds in the week ended May 15, while bonds added $5.1 billion for their 19th week of inflows, according to a Bank of America Merrill Lynch analysis of data from fund tracker EPFR Global.

Of the more than 90% of companies in the S&P 500 that have reported first-quarter earnings, 76% have delivered earnings per share above the mean estimate, according to FactSet. Earnings have exceeded expectations by 5.4%, which tops the five-year average of 4.8%.

On this day in 1999, eToys, a startup internet retailer, went public on the Nasdaq. Initially expected to be priced at $10-$12 per share, the stock was underwritten at $20 and quadrupled before the opening bell rang. Shares roared to a high of $85 before closing at $76.56. Just 19 months later, on February 26, 2001, the company announced that it would file for bankruptcy.
The Chicago Fed National Activity Index for April will be released at 8:30 a.m. ET.
Fed Chairman Jerome Powell headlines a full slate of central bank speakers: Atlanta's Raphael Bostic gives welcoming remarks at a financial markets conference at 8:25 a.m., Philadelphia's Patrick Harker speaks at Management Science's 65th Anniversary at 9:30 a.m., New York's John Williams gives welcoming remarks at a "Fed Listens" roundtable at 1 p.m., Vice Chairman Richard Clarida speaks about the Fed's policy strategy review at 1:05 p.m., and Mr. Powell speaks about assessing risks to the financial system at 7 p.m.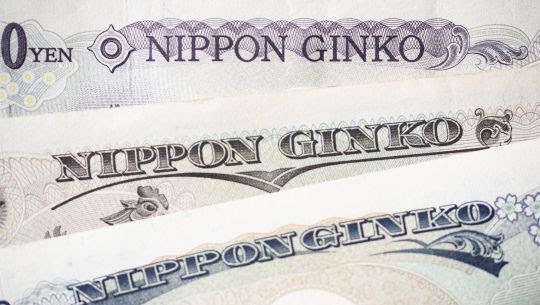 Recent stock-market volatility has boosted appetite for the Japanese yen and other traditional havens. PHOTO: Keith Bedford/Bloomberg News

What We've Heard on the Street
"Takeout stocks plunged on Friday after Amazon announced an investment in a fast-growing meal-delivery startup. But investors may need to look elsewhere for the real victims of all the cash flowing into a sector that epitomizes the promise and profligacy of Silicon Valley."
—Heard on the Street columnist Stephen Wilmot