---
09:39
Quite a striking graph here from the German unemployment data, published earlier.
The unemployment rate in the EU's largest economy rose to 5%, slightly above the consensus expectation of 4.9%. The below graph, from
Pantheon Macroeconomics
' chief
Eurozone
economist,
Claus Vistesen
, shows the monthly change in unemployment.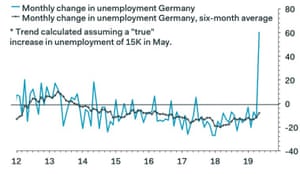 It isn't quite as bad as it looks because of a statistical reclassification of some workers, says Vistesen, but the trend is for rising unemployment.
Unemployment claims, corrected for this one-off hit, rose by 10-to-15K. This isn't surprising. German GDP growth has slowed sharply in recent quarters, the [purchasing managers' indices] have been warning about falling employment in manufacturing and the IAB's unemployment index has deteriorated.
We think today's report could well be the beginning of a more sustained increase in German jobless claims.
The solid German employment picture will not spontaneously combust this year, but the rate of improvement will deteriorate significantly, reflecting the gruelling slowdown in manufacturing.

09:29
Tesco shares are struggling this morning (down 2.8%) after the latest data from Kantar indicated that its market share has fallen.
Tesco's market share fell from 27.7% to 27.3% in the 12 weeks to 19 May, while Sainsbury's and Asda (
still stinging from the collapse of their merger
) also saw drops in market share to 15.2% each.
Indeed, Sainsbury's saw sales drop by 1.7% during the period compared to the same time last year.
Here are the full figures – just look at the march of the discounters, Lidl and Aldi: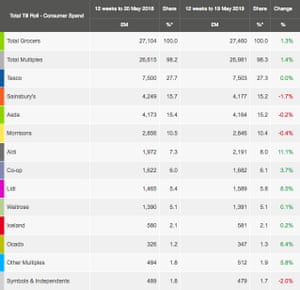 09:29
We're doing something different … and we'd like to explain why. Our journalism now reaches record numbers around the world and more than a million people have supported our reporting. Unlike many news organisations, we haven't put up a paywall – our journalism remains accessible to all, so more people have access to accurate information with integrity at its heart. This is The Guardian's model for open, independent journalism.
Our model enables people to support us in a way that works for them. Readers' support safeguards our essential editorial independence.
Make a contribution - The Guardian
Some news with something of a read-across to British Steel, one of the big corporate stories of last week: the world's largest steelmaker has cut production in Europe because of weak demand.
ArcelorMittal cut steel production in its main market, Europe, for the second time this month, blaming weak demand and high imports,
Reuters reported
. The company said it would reduce primary steel production at its facilities in Dunkirk, France and Eisenhuettenstadt, Germany.
For British Steel this weak demand could make it harder to find a willing buyer, after the exit of private equity investors Greybull Capital.
Government officials working on the liquidation of British Steel have spoken to 80 potential bidders. Yesterday they said "multiple parties" had expressed an interest in taking on all or part of the business.
A British tech float for your delectation this morning: rail tickets website Trainline is planning to list next month.
The company plans to raise £75m in its June initial public offering. Private equity owner KKR is looking for a valuation of as much as £1.5bn, according to Reuters – meaning the company would join the select ranks of Britain's tech unicorns (with a valuation of more than $1bn/£790m).
Founded more than 20 years ago, Trainline sells tickets from 220 rail and coach carriers across 45 European and Asian countries on its website and mobile app, generating net ticket sales of £3.2bn in the fiscal year 2019.

08:46
Confirmation that stocks have fallen across the board in Europe.
France's Cac 40 is the worst performer, while Spain's Ibex has also suffered. The FTSE 100 is down by 0.9%.

08:26
And meanwhile, the UK has the spectacle of a Conservative leadership election for the next few weeks while a caretaker prime minister prepares for the exit.
Let's see how long this "
clean campaign pledge
" lasts. One of the signatories is already making (euphemism alert) four-letter digs at a rival – so that's going well.
Overseeing Britain's political ructions in parliament will be the speaker of the house, John Bercow, who has pledged to stay on in the role – despite previous expectations he was about to leave.
The speaker told the Guardian it was not "sensible to vacate the chair" while there were major issues before parliament, in a move likely to enrage MPs backing a no-deal
Brexit
.
Rare earths are truly in focus today: shares in Rainbow Rare Earths have jumped by 11% after China's barely veiled threat to use its hold on the supply of the valuable minerals in the trade dispute with the US.
China
is not known as a commodities superpower – it is still notably dependent on imports of oil and gas – but what it does have it appears determined to use as leverage in the battle with Trump's White House.
The value of rare earth metals comes in advanced electronics particularly for their magnetic properties.
Here's a handy list of them
.
08:13
European stock markets have taken a heavy tumble as well at the open.
The FTSE 100 and FTSE 250 are both down by 0.7%.
Germany's Dax is down by 1%, France's Cac 40 is down by 1.2%, and the broad Stoxx index has lost 0.85% in early trading.

08:04
Introduction: Asian shares stumble as trade dispute sets nervous tone
Good morning, and welcome to our rolling coverage of the world economy, the financial markets, the eurozone and business.
There is not much positive feeling around on markets this morning, with macroeconomic fears and trade tensions in the air. Asian markets have fallen, with Japan's Topix down by 0.9% and Hong Kong's Hang Seng index down by 0.35%.
Yields on benchmark government bonds (which move inversely to prices) have fallen as investors have pivoted to safety. The US 10-year Treasury bond fell to as low as 2.226%, its lowest level since September 2017.
It is fairly easy to understand the nervy feel, with the trade dispute between the US and
China
still very much in focus. Chinese newspapers today signalled that rare earths could be the next front in the trade dispute. Commentaries suggested the country could use its dominant position as a supplier of the valuable minerals to the US in the trade dispute with Donald Trump's White House.
Here's the editor of the state-controlled Global Times:
In the EU, Italy has been adding to nerves, with strong words from
far-right deputy prime minister Matteo Salvini
suggesting that he may be up for another stand-off over running a budget deficit – a grim prospect for investors.
The arm wrestle over who will take the top jobs began yesterday, with France's Emmanuel Macron pointedly snubbing Angela Merkel's preferred (centre-right) candidate for European Commission president, Manfred Weber. The European Central Bank is the other (arguably more) important job that will be up for grabs.
Macron and the centrist ALDE group could be kingmakers in the European parliament, with a decision due at the next leaders' summit on 20-21 June.
The agenda
8am BST: European Central Bank speech by Jens Weidmann
8:30am BST: European Central Bank speech by Yves Mersch
8:55am BST: Germany unemployment rate (May)
9am BST: European Central Bank financial stability review
9am BST: Italy consumer confidence (May)
3pm BST: Bank of Canada interest rate decision