---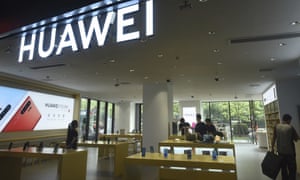 Good morning, and welcome to our rolling coverage of the world economy, the financial markets, the eurozone and business.
The economic clash between the US and China has ratcheted up another notch, following the news that Washington has hit
Huawei
with a serious trade blacklist.
The telecoms giant, and 70 of its affiliates, has been added to America's
"Entity List"
- a move that bans the telecom giant from buying parts and components from American companies without official approval.
This is a significant move, which will significantly restrict Huawei's ability to manufacture some of its goods. It could effectively be blocked from buying crucial components such as semiconductors from firms such as Qualcomm.
Any US company must now apply for a licence to sell technology to the Shenzhen-based telecoms company.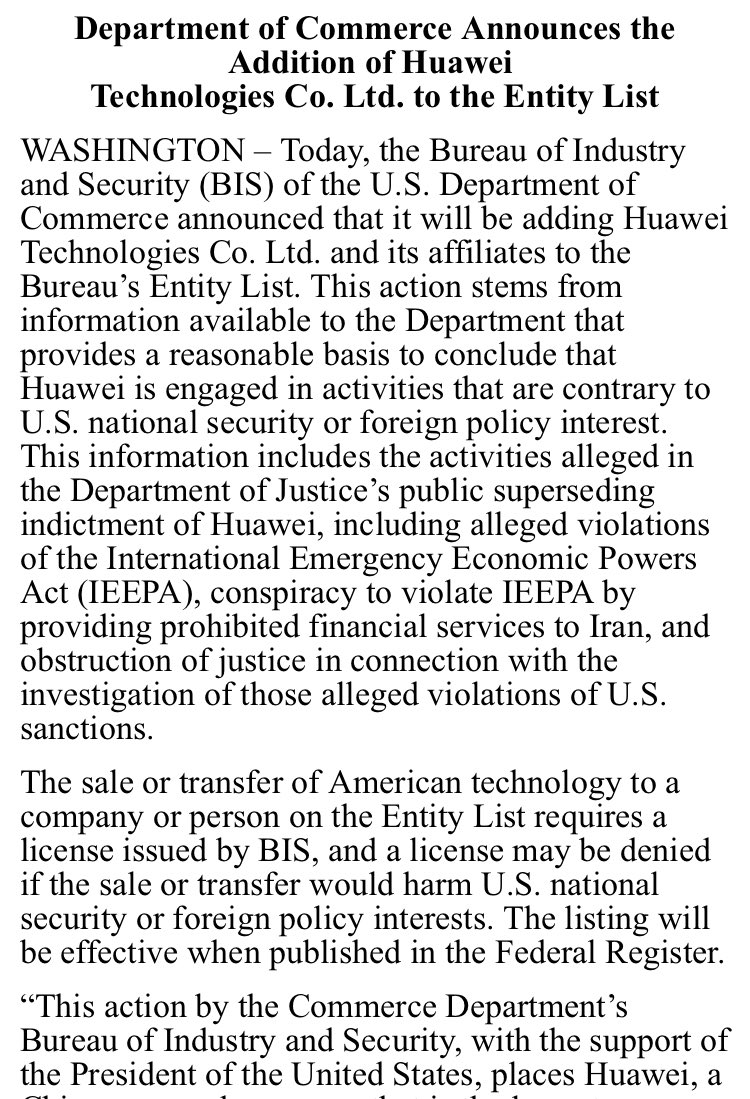 Commerce Secretary Wilbur Ross said the decision will:"prevent American technology from being used by foreign owned entities in ways that potentially undermine U.S. national security or foreign policy interests."
Huawei has also effectively been banned from selling its kit into the US market, with the White House citing security concerns.
The executive order, signed by Donald Trump, declares a national economic emergency. It gives the US government the power to ban the technology and services of "foreign adversaries" deemed to pose "unacceptable risks" to national security — including from cyberespionage and sabotage.
The move risks fuelling the escalating trade spat between the two superpowers. China's government has slammed the move as "unreasonable....disgraceful and unjust".
The move has caused some jitters in the market; MSCI's index of Asia-Pacific shares outside Japan has slipped close to a four-month low.
Japan's
Nikkei
has shed 125 points, or 0.6%, to 21,062, as trade tensions worried traders. South Korea's
KOSPI
index suffered badly, falling by 1.35% -- its electronics industry would suffer from a deeper trade war.
Adam Cole of Royal Bank of Canada says there's a risk-off feel in the markets today.
Source: The Guardian
Trump's move to restrict Huawei's access to US markets has further soured the US-China trade relationship. US companies will also require licenses to sell key technology to Huawei.
More reaction to follow....
Also coming up today
New eurozone trade figures may show the impact of the current trade conflicts on European firms. Last month the region ran a €17.9bn trade surplus with the rest of the world, partly thanks to export powerhouse Germany.
We also find out how many new home-building projects started in America last month, and how many people signed on for unemployment benefit last week
In the City, holiday firm Thomas Cook has just posted a £1.5bn loss (!), including a £1bn writedown on the value of its UK operations. It warns that political uncertainty and the Brexit crisis is deterring people from booking holidays.
National Grid (facing the prospect of nationalisation under Mr Corbyn) and Burberry are also updating shareholders.
The agenda
10am BST: Eurozone trade figures for March
1.30pm BST: US housing and weekly jobless claims data
Source:
The Guardian