---
09:44
However, Stuart Apperley, head of UK automotive at Lloyds Bank Commercial Banking, says there are some reasons to take the numbers with a pinch of salt.
Car production figures have fallen for 11 consecutive months, but the latest plunge compared with the same month last year is likely to be a one-off. He said:On the face of it these figures make for stark reading, but things may not be as bleak as they first appear. A significant dip in output has always been on the cards for April as a result of the planned summer factory shutdowns being brought forward. With this in mind, we expect a clearer picture to emerge in the coming months when the impact of the shutdowns has worked its way through.
There is no avoiding that the UK's car industry remains particularly susceptible to any vulnerabilities the wider economy faces. It also has its own challenges – from record levels of stockpiling to falling confidence affecting demand on the continent, and China's continued slump in sales.
09:41
Unite, Britain's biggest union, said the government should stop playing "dangerous electoral games with people's jobs" by threatening a no-deal Brexit in light of the car production fall.
Steve Turner, Unite's assistant general secretary for manufacturing, said the figures were not a huge surprise – given that it was well documented that carmakers had rescheduled shutdowns to coincide with a potential no-deal Brexit on 29 March. However, the same uncertainty persists now that the
departure date has been delayed until 31 October
.
The continued Brexit uncertainty "will simply delay or divert desperately needed investment decisions, causing further anxiety across the auto sector, its workforce, supply chain and communities," Turner said.It will be a travesty for the economy and a betrayal of a workforce that has positioned the sector as the jewel in the crown of UK manufacturing if we see our jobs go to competitor countries where those governments get the importance of their role in underpinning their manufacturing industry.
No serious candidate to be prime minister should be promising to plunge out of our biggest trading partner with no deal because this would devastate manufacturing communities.
09:35
There's some reaction coming in to the big economic news that came in overnight: the slump in car production in April due to Brexit shutdowns.
Car production plunged by nearly half in April as factories shut down to prepare for a Brexit date that never came, prompting
renewed anguish from the UK motor industry
at the "untold damage" done by prolonged uncertainty,
writes the Guardian's Rob Davies
.
In a slump that the Society of Motor Manufacturers and Traders (SMMT) described as "extraordinary", 70,971 vehicles rolled off the production lines in April, down 44.5% from 127,970 in the same month of last year.
You can read more here:
Let's take another look at FirstGroup, which is the biggest riser on the FTSE 350 (up by 5%) following its announcement that it plans to sell Greyhound, which runs intercity coaches in the US.
British people may know FirstGroup for its trains and buses in the UK, but the company is seeking to focus in the future
on its North American school bus and contract bus businesses.
As well as the start of the Greyhound sale, FirstGroup also announced that it is "pursuing structural alternatives" to separate its British bus operations – which have a fifth of the market outside London.
However, FirstGroup said there are "limited synergies" between the UK bus operations and the rest of the company, so it wants to offload the business and get more value for shareholders.
09:22
Shares in the publisher of the Daily Mail have risen by 8% after it reported stronger-than-expected profits.
Daily Mail and General Trust recorded statutory profit before tax of £50m in the six months to the end of March. While this was down from £113m in the same period last year, the company said that underlying profits (excluding one-off impairments) rose by 19%.
DMGT said its consumer media division – which includes the Mail newspapers and the MailOnline, as well as the Metro – was the driver of the adjusted profits rise. MailOnline revenues rose by 16% year-on-year on an underlying basis, although revenues from the newpapers fell by 5%.
08:55
Perhaps more interestingly, Ramsden also suggests that markets may be too sanguine about the risks facing them – and that when investors finally wake up to the dangers it could make for more dramatic market moves.
The key piece of evidence he cites is the divergence between policy uncertainty and the Vix – the so-called fear index which measures the volatility of trading on the S&P 500.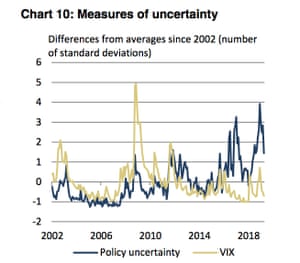 Ramsden said:The Vix has risen far less than the policy uncertainty index in recent months, suggesting market participants see relatively little risk of major disruption. It has picked up a little in the recent data as US-China trade tensions intensified, but has also fallen back to below historical averages.
This apparent disconnect does not necessarily mean that markets are complacent – the policy uncertainty index might be more sensitive to short-term political developments, while market indices could also be factoring in a belief that monetary policy might be able to offset the impact of shocks. But if market participants are underestimating the extent of political risks materialising, that suggests the potential for sharp price corrections if those shocks do come about.
08:46
Dave Ramsden, the Bank of England deputy governor with a mandate for markets and banking, is currently making a speech on "resilience" following the financial crisis.
First up, on Brexit he is unsurprisingly cautious. Ramsden would want to wait and see on the effects of a no-deal
Brexit
before changing monetary policy.
A no-deal Brexit – with no transition to trade on World Trade Organisation rules – is "unarguably [the] biggest risk to the UK economy and UK financial stability", he said.
But Ramsden (an outside shot at the top job once Mark Carney leaves) also reiterated the Bank's position that the financial sector would be resilient (there's the title) to the shock.
Shares in De La Rue – the loser in the battle to make the UK's post-Brexit blue passports – have fallen to their lowest level since September 2005 in early trading after the departure of the chief executive.
De La Rue has lost 22%, trading at 356p, after boss Martin Sutherland stepped down amid a 77% plunge in pre-tax profits.
The company, which also makes banknotes, lost a highly publicised battle for a £490m contract to print the UK's post-Brexit passport in 2018. The contract went to Franco-Dutch company Gemalto.
You can read more here:
Chancellor Philip Hammond's days in the UK's top finance job may be numbered, given Theresa May's imminent departure as prime minister – and the palpable dislike of Brexit-backing MPs for his support for remaining in the EU.
He appears to be enjoying a little more freedom, given comments this morning to Sky News suggesting he could not serve in a no-deal
Brexit
cabinet. He said:I couldn't support a government policy stance that said as a matter of choice we are going to pursue a no-deal exit.
Hammond – who says he has never defied the Conservative whip in 22 years as an MP – also did not rule out voting against a Tory government to block no deal. He said:The national interest trumps party interest. If I am presented with a difficult choice, I will act with what I believe will be the best interests of the country.
08:02
The FTSE 100 is up by about 0.1% at the open across Europe, while the Euro Stoxx 600 has gained 0.2%.
France's Cac 40 and Spain's Ibex index are both up by 0.4%.
07:57
Introduction: China accuses US of "naked economic terrorism" on trade
Good morning, and welcome to our rolling coverage of the world economy, the financial markets, the eurozone and business.
Some economists are uneasy with describing an economic dispute as a "trade war". But when senior diplomats – usually so, well, diplomatic – start throwing around terms like "terrorism", investors generally take note.
Provoking trade disputes is "naked economic terrorism", a senior Chinese diplomat said on Thursday, in a clear escalation of rhetoric which signals that there is likely a long way to go for
investors awaiting an easing of tensions
.
When asked about the trade war with the United States in Beijing, Chinese vice foreign minister Zhang Hanhui gave a clear message on the country's willingness to fight back. According to Reuters, he said:We oppose a trade war but are not afraid of a trade war. This kind of deliberately provoking trade disputes is naked economic terrorism, economic chauvinism, economic bullying.
Concerns over trade have weighed on markets so far this week, provoking steep stock market falls yesterday after
rare earth minerals
appeared likely to become the latest front in the dispute. With two more trading days left in May, the S&P 500 is heading for a loss of 5.5% – its first monthly loss since December.
Asian markets were for the most part in negative territory (with the exception of South Korea's Kospi 200 index, which gained 1%) on Thursday. Japan's Topix and Nikkei 225 indices fell by 0.3%, while the CSI 300 index, which tracks the biggest companies traded in Shanghai and Shenzhen, fell by 0.8% at the time of writing.
In corporate news, British transport company FirstGroup is planning to sell off its Greyhound bus operator in the US as well as reviewing options for its UK bus arm. Future commitments to the British rail industry will also be dependent on the government's attitude, it said, amid pressure from investors to
ditch UK trains altogether
.
And Watches of Switzerland, which sells what it says on the tin, priced an initial public offering at 270p. That would value Britain's biggest watch-vendor at about £647m, while raising £220m.
The agenda
8:30am BST: Speech by Bank of England's Dave Ramsden
1pm BST: Brazil GDP growth rate (first quarter)
1:30pm BST: US GDP growth rate second estimate (first quarter)
Updated