Markets
Welcome back. Amrith Ramkumar here with you setting up the week ahead as investors look to the start of first-quarter earnings season.
JPMorgan and Wells Fargo kick things off on Friday, with S&P 500 companies expected to report their first
drop in quarterly profits
from a year earlier since 2016.
We'll also get fresh inflation data this week and a look at minutes from the Federal Reserve's last meeting.
Futures are slipping, after stocks
moved closer
to fresh highs with another advance Friday. The S&P 500 sits 1.3% below its September record.
Plus, our
Ira Iosebashvili
explains why some investors are chasing greater returns in emerging-market assets.
Global stocks traded slightly lower as investors weighed last week's rally, following progress in U.S.-China trade talks and strong U.S. employment figures.
Investors Seek Higher Yields in Emerging Markets
By Ira Iosebashvili, markets reporter
A cautious shift from global central banks is sending investors hunting for big paydays in emerging-market currencies, despite concerns that global growth may continue to slow.
Many are employing a strategy known as the
carry trade
, in which an investor borrows in a low-yielding currency to roll the funds into a higher-yielding emerging-market asset, such as local bonds, and pockets the difference.
Emerging markets are a popular target for carry traders because they often offer yields that are much higher than those found in developing countries.
For example, Turkey's three-month deposit rate, which traders use to calculate returns on carry trades, stood at 28% on Friday, while Russia's was at 7.9%. The analogous rate in the U.S. is at around 2.6%.
An investor borrowing in dollars and buying Turkish assets hopes to collect a yield of more than 25% over three months, without accounting for moves in the underlying currencies and transaction costs.
The trade's popularity is another example of how recent signals from the world's biggest central banks have encouraged investors to embrace riskier strategies.
Expectations that interest rates are
unlikely to rise
have made high-yielding emerging-market currencies more appealing. Meanwhile, a calm stretch in markets has allowed investors to collect yield without worrying about losing gains to unfavorable currency fluctuations.
Carry trades can backfire if markets turn rough, though, sometimes erasing weeks of gains in a single trading session. The Turkish lira dropped during a bout of investor jitters last month, although it has recovered some of its losses. Argentina's high yields have been undercut by its steadily falling peso.
Many carry traders are watching for signs that growth is
continuing to ebb
despite central bankers' efforts to contain the slowdown, a development that would likely push many to lower positions in riskier assets.
So far, the signals have been mixed: manufacturing data for China and the U.S. improved in March and U.S. hiring bounced back after a weak showing in February.
A separate risk is a rebound in U.S. economic performance that bolsters the case for the Fed to tighten monetary policy again. Higher interest rates tend to dent the allure of emerging-market assets, while also making it harder for countries with dollar-denominated debt to service their loans.
"For emerging markets, the sweet spot is somewhere in the middle," said Ed Al-Hussainy, senior interest rate and currency analyst at Columbia Threadneedle.
After tumbling 1.9% on March 22, the S&P 500 rose 3.3% in the two weeks ended Friday, its best two-week stretch since mid-January. The benchmark is on a seven-day winning streak, its longest such run since October 2017, when it rose for eight consecutive days.

U.S. crude oil climbed for the fifth consecutive week last week, its longest stretch of weekly advances since November 2017. Oil hit a five-month high on Friday and is now up 39% for the year. Hedge funds and other speculators lifted net bets for the sixth consecutive week during the week ended April 2, according to the latest Commodity Futures Trading Commission data.

About $7.7 billion flowed out of global equity funds during the week ended Wednesday, bringing the year-to-date outflow total to $87 billion, according to a Bank of America Merrill Lynch analysis of data from EPFR Global. About $11.4 billion flowed into bond funds, bringing the 2019 inflow total to $98 billion.
U.S. factory orders for February are expected to fall 0.5% from the prior month. The figures are scheduled for 10 a.m. ET.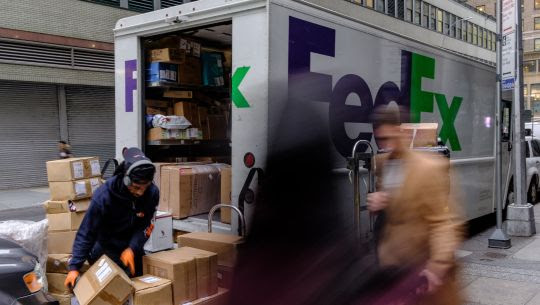 FedEx Corp. is among corporations that has recently cut their full-year profit forecasts as a result of challenging market conditions. PHOTO: CHRISTOPHER LEE/BLOOMBERG NEWS

What We've Heard on the Street