Markets
Good morning, I'm Jessica Menton, here with your daily market update.
As stocks wrap up the final trading day of the month, I explore why small-cap shares are facing a critical test.
Global stocks wavered after Wall Street hit a new closing high, raising questions about how much longer the rally can continue.
Dollar's Climb Could Boost Small-Cap Stocks
The broader market could benefit from a small-cap rally, some investors say
A resurgence in the dollar potentially bodes well for one group that has struggled to reclaim record territory after last year's rout: small-cap stocks.
The Russell 2000 index of small-capitalization stocks remains 8.2% below its August record, while larger peers have recently topped their all-time highs following a bruising fourth-quarter selloff. The S&P 500 and Nasdaq both tallied new records on Monday, while the Dow Jones Industrial Average sits 1% away from its October closing high.
But a
recent bounce
in the U.S. dollar and
tepid inflation
could help boost small-cap stocks, which are more tied to the domestic economy than their larger counterparts. Meanwhile, Federal Reserve officials are widely expected to
leave interest rates unchanged
at their meeting this week, which could help small companies. As interest rates climb, so do the cost of the loans small businesses carry.
Small caps, which typically have a market value of about $2 billion or less, are at an important juncture.
The Russell 2000, which has climbed 19% this year, is outpacing the S&P 500's 17% rise. Although the Russell 2000 rebounded in early 2019, it has
struggled
to stay above 1600, a key resistance level. How small-cap stocks perform in the near term could be a telling sign for the trajectory of the broader market this year, some analysts said.
Eric Marshall, portfolio manager of the Hodges Fund, which includes both large and small companies, said the firm has bought small-cap stocks this month across a broad array of sectors including financials, consumer discretionary, technology and health care.
"We do think you can find opportunities in small caps, in particular some of the beaten-down financial stocks, technology in both software and semiconductors, as well as some of the more cyclical areas like homebuilding," Mr. Marshall said.
A rise in the dollar has made some analysts more optimistic. Small caps are more insulated from a stronger dollar than larger companies because their revenues are more likely to come from inside the U.S. Meanwhile, larger multinationals have more exposure overseas, making foreign revenues smaller when converted back to dollars.
The dollar climbed to its highest level of the year last week, boosted by better-than-expected economic data. The WSJ Dollar Index, which gauges the U.S. currency against a basket of 16 others, slipped 0.1% Monday to 90.81. Since the dollar first hit a fresh 2019 high on April 23, the Russell 2000 has climbed 2.5%.
To be sure, small-cap stocks still look pricey to some investors. The Russell 2000 trades at 35.6 times projected earnings over the next 12 months, higher than its 10-year average of 29.7, according to FactSet. The S&P 500, meanwhile, is trading at 19.2 times projected earnings, up from its 10-year average of 17.6.
Heading into Tuesday's trading, the S&P 500 and the Nasdaq this year have climbed 17% and 23%, respectively, putting both indexes on pace to notch their largest four-month percentage gains since December 2010. The Dow has climbed 14% so far this year and is also on track for its biggest four-month percentage rise since January 2018.

Alphabet shares slid 7% on Monday in after-hours trading after the Google parent posted first-quarter revenue of $36.3 billion, roughly $1 billion short of forecasts. If the losses hold through the close of today's trading, it would mark the stock's largest percentage loss since October 2012, when it dropped 8%.

On this day in 1999, Priceline.com, which had gone public at $16 a share exactly one month earlier, closed the day at $162.38—giving the internet company a one-month return of 915% and a total market value of $23 billion. But it was all downhill from there. Priceline ended up trading for less than $6 per share by October 2000. The company rebranded itself as Booking Holdings in 2018 and is once again one of the move valuable American tech companies.
Germany's consumer-price index for April is out at 8 a.m. ET.
The U.S. employment-cost index for the first quarter is expected to increase 0.8% from the prior quarter. The figures are out at 8:30 a.m.
The S&P/Case-Shiller home-price index for February, out at 9 a.m., is expected to rise 2.8% from a year earlier.
The Chicago purchasing managers index for April, slated for 9:45 a.m., is expected to tick up to 58.8 from 58.7 a month earlier.
The Conference Board's consumer-confidence index for April, released at 10 a.m., is expected to rise to 126.0 from 124.1 a month earlier.
U.S. pending-home sales for March, also out at 10 a.m., are expected to rise 1.5% from the prior month.
President Donald Trump is set to meet with House Speaker Nancy Pelosi, Senate Minority Leader Chuck Schumer and other Democrats for talks on infrastructure spending at 10:30 a.m.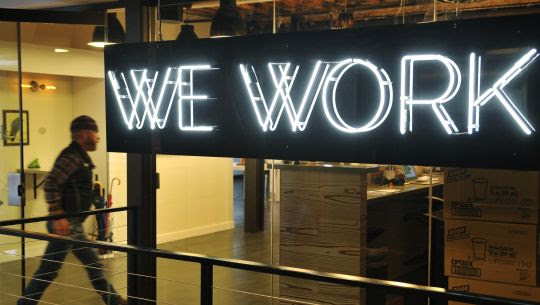 WeWork, which subleases office space on a short-term basis to a variety of companies, previously reported a loss last year of $1.9 billion on revenue of $1.8 billion. PHOTO: MANDEL NGAN/AGENCE FRANCE-PRESSE/GETTY IMAGES

What We've Heard on the Street