Markets
Rise and shine. I'm Jessica Menton, here with the latest premarket action as the week kicks off.
Investors are eyeing quarterly earnings from Alphabet after the closing bell. Apple, Qualcomm, McDonald's, CVS Health and Pfizer are among the notable companies opening their books later in the week.
Investors will also get a fresh reading on consumer spending this morning. Meanwhile, the Fed will release a policy decision Wednesday, and the monthly jobs report is on tap Friday.
Meantime, our
Daniel Kruger
explains why slowing economic growth overseas has resulted in a growing number of negative-yielding bonds.
Global stocks softened ahead of a policy statement from the Federal Reserve and economic figures this week that could help investors to confirm or dispel recent fears of a global slowdown.
Amount of Negative-Yielding Bonds Surges on Economic Fears
By Daniel Kruger, bond market reporter
A growing number of investors are paying governments in Europe for the privilege of holding their bonds.
The amount of negative-yielding government bonds outstanding through 2049 has risen by 20% this year to about $10 trillion, the highest level since 2016, according to data from Deutsche Bank Securities.
The expanding pool of such bonds—which guarantee that a buyer will receive less in repayment and periodic interest than they paid—highlights how expectations for growth in much of the developed world have deteriorated.
Negative yields
also mean it will be difficult for developed economies to revive growth should they enter a recession, with historically low interest rates still in place. The European Central Bank's deposit rate is currently -0.4%, and policy makers this year ended bond purchases that were intended to boost growth and inflation, adding trillions of euros of government and corporate bonds to the ECB's balance sheet.
"It's just not a great starting point to already have negative interest rates," said Torsten Slok, chief economist at Deutsche Bank Securities. "It's getting more and more difficult for policy makers to respond to headwinds."
Policy makers upended expectations for a rate increase later this year, and lowered growth and inflation expectations
, suggesting negative interest rates will remain in place well into the future. In March, the ECB
slashed its forecast
for real gross domestic product growth this year to 1.1%, from 1.7% just three months ago, and its forecast for consumer-price inflation to 1.2% from 1.6%.
Europe's growth problems are evident in two of its largest economies. In Germany, where growth has stalled, officials plan on running a budget surplus rather than stimulating growth by running a budget deficit. This is a problem because the country—Europe's largest economy—could choke off growth in the rest of the region. By contrast, in Italy, officials have proposed borrowing more, adding to an already heavy debt burden, to kickstart
persistently slow growth
.
The discrepancy highlights the conflicts that can arise from having a monetary union but not a fiscal union and a political union, said Gershon Distenfeld, co-head of fixed-income at AllianceBernstein.
Still, Mr. Distenfeld has bought German government debt at negative yields, while
hedging the euro
against the dollar to make the trade more profitable.
"One day people are going to wake up and say, 'What was I doing buying five-year German debt at negative yields?'" he said. "But that may not happen in the next year."
The Dow has climbed 5.7% since November, putting the blue-chip index on course to end the six-month November to April span higher for a 10th consecutive time. That would mark the longest streak since the Dow posted 16 consecutive gains in that stretch from 1985 to 2000.

About $1.9 billion flowed into government-bond funds during the week ended April 24, the biggest net inflows in three months, according to a Bank of America Merrill Lynch analysis of figures from fund tracker EPFR Global.

Amazon extended its weekly winning streak to seven consecutive weeks Friday, its longest streak since January 2009. If the e-commerce giant extends its winning streak this week, it would be the longest weekly winning streak since October 2007.
U.S. personal income and consumer spending for March are expected to rise 0.4% and 0.7%, respectively, from the prior month. The figures are slated for 8:30 a.m. ET.
The personal-consumption-expenditure price index, excluding food and energy, for March is expected to rise 0.1% from a month earlier and 1.7% from a year earlier. The data are also expected at 8:30 a.m.
The Dallas Fed manufacturing survey for April, due at 10:30 a.m., is expected to rise to 10.0 from 8.3 a month earlier.
China's official purchasing-managers index for manufacturing in April is expected to edge down to 50.4 from 50.5 a month earlier. The figures are due at 9 p.m.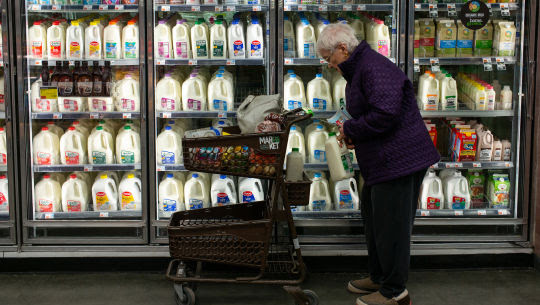 Companies ranging from Kleenex maker Kimberly-Clark Corp. to Tide detergent producer Procter & Gamble Co. have raised prices for core products in part to offset their own rising costs. PHOTO: ROBERT NICKELSBERG/GETTY IMAGES

What We've Heard on the Street
"Just because Exxon Mobil and Chevron can doesn't mean they should. The two oil giants' spending in the heart of America's oil patch is growing, in a split from smaller peers. Their size means they will have an easier time masking weakening returns."
—Heard on the Street columnist Lauren Silva Laughlin