Markets
Hello. I'm Amrith Ramkumar, getting you set for Tuesday trading.
Futures are edging down after a
quiet start to the week
. Investors are looking ahead to tomorrow's inflation data and Fed minutes following the S&P 500's eighth consecutive advance.
Before we see if that winning streak can continue, I explain how the S&P 500 information-technology sector has risen to a fresh record faster than major indexes.
Global stocks mostly ticked higher on Tuesday, after the Trump administration took a step toward imposing tariffs on imports from Europe.
Historic Start to 2019 Pushes Tech to New Peak
Investors have embraced software and chip stocks early in the year.
A group of the largest technology companies just hit an all-time high, highlighting investors'
renewed faith
in software and chip companies after a fourth-quarter rout.
The S&P 500 information technology sector posted its first record close since early October on Monday, climbing for the seventh time in the last eight sessions.
The group of 68 tech stocks notched a fresh closing record slightly faster than its broader brethren: the S&P 500 is 1.2% below its last record, while the tech-laden Nasdaq Composite is 1.9% off its last peak.
As investors have
flocked back
toward fast-growing companies early this year, technology shares have been among the best performers.
The S&P 500 technology group is up 23% in 2019, compared to a 16% advance for the broader index. That's the sector's best start to a year ever, according to Dow Jones Market Data.
With the U.S. and China closing in on a trade agreement and the Federal Reserve showing caution on further interest-rate increases, investors have once again favored companies that have consistently lifted sales in recent years.
Those stocks tumbled during last autumn's volatility but are
back leading the way
as investors embrace risk.
"There's a narrower list of businesses that are generating most of the growth today, so those are the ones that have been leading the market," said Michael Lippert, who manages the Baron Capital Opportunity Fund. "I'm not sure that will change."
Monday's record ended the S&P tech sector's longest streak without an all-time high since July 2017.
Before that
, the prior record was 17 years earlier at the height of the dot-com bubble.
Despite tech's almost uninterrupted rise to start the year, some analysts expect first-quarter earnings season to test the group. The S&P tech sector is expected to log an 11% drop in profits from a year earlier and a 1% dip in revenue, FactSet data show.
And because many tech stocks are associated with market momentum, some analysts caution that a setback on trade or downbeat economic data could send the group tumbling once again.
"When people get nervous about the market, those companies pull back," Mr. Lippert said.
Are you buying technology and internet stocks? Let the author know your thoughts at amrith.ramkumar@wsj.com. Emailed comments may be edited before publication in future newsletters, and please make sure to include your name and location.
Correction: Emerging markets are popular targets for carry traders because they often offer yields that are much higher than those found in developed countries. Monday's newsletter incorrectly stated that emerging markets offer yields much higher than those found in developing countries.
A ninth consecutive advance for the S&P 500 today would mark the index's longest winning streak since November 2004, according to Dow Jones Market Data.

About 6.05 billion shares changed hands on NYSE and Nasdaq exchanges Monday, the lowest full-day volume total since September, according to Dow Jones Market Data. Roughly 6.58 billion shares per day changed hands last week, the lowest weekly average volume figure since late November.

On this day in 1998, K-Tel International, which sold compilations of old rock'n'roll songs on late-night TV, announced that it would soon begin selling music over the Internet. The stock, which closed at $6.63 the day before, surged to $67.75 by May 4. Within two years, the stock had been delisted from Nasdaq and traded at about $2 a share.
The International Monetary Fund
releases its World Economic Outlook at 9 a.m. ET. In January, the IMF said the "global expansion has weakened" and
cut its forecasts
for 2019.
The job openings and labor turnover survey for February is out at 10 a.m.
Treasury Secretary Steven Mnuchin
appears before House panels at 10 a.m. and 2 p.m. The official topics are Treasury's budget and the international financial system—but don't be surprised if the handling of
President Trump's tax returns
takes center stage.
Fed Vice Chairman Randal Quarles speaks on financial regulation at 5 p.m. and Vice Chairman Richard Clarida speaks on the Fed's review of its strategy at 6:45 p.m.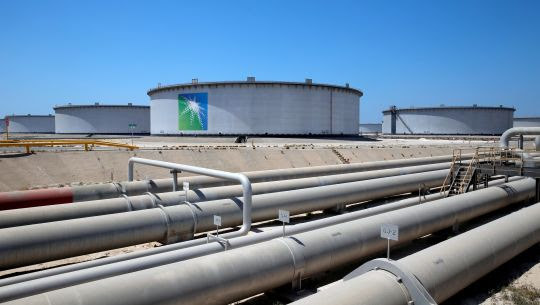 Aramco's Ras Tanura oil refinery and oil terminal in Saudi Arabia. Potential investors have been told that Aramco wants its bonds to yield very close to or less than Saudi sovereign debt. PHOTO: AHMED JADALLAH/REUTERS

What We've Heard on the Street
"Food and drink companies haven't had much stomach for deals recently. The lull is likely temporary, but it also might be getting harder for executives to rally support for blockbuster transactions."
—Heard on the Street columnist Carol Ryan