Markets
Hello. Amrith Ramkumar here previewing Tuesday trading.
It's a jam-packed day of earnings. Twitter, Harley-Davidson, Procter & Gamble, Coca-Cola and United Technologies just posted results, and Lockheed Martin and Verizon's numbers will be released shortly.
Snap and Texas Instruments highlight the group reporting after the market closes.
Stock futures are slightly down after major indexes
wavered
Monday. Following another quiet session, I explain why large intraday swings have disappeared simulataneously from stock and commodity markets in recent weeks.
Global stocks were mostly lower, as oil prices jumped again after a surprise move from the U.S. to curb Iranian oil imports and investors awaited a fresh batch of earnings for clues on the health of the world economy.
Intraday Trading in Risk Assets Grows Quiet
Stocks and commodities have been trading similarly in recent weeks.
An unusual
period of calm
has blanketed trading of stocks and commodities in recent days, befuddling some analysts who had expected activity to pick up at the start of earnings season.
The differences between daily highs and lows for stocks and commodities have slumped to their lowest levels in months as many risky investments have wobbled in April. The lull during trading sessions is the latest sign many investors are cautious after the almost uninterrupted rise in those markets since the start of the year.
A
decline in trading volumes
and outflows from stock funds have also painted a mixed picture of investors' risk appetite, even with the S&P 500 up 16% in 2019 and the S&P GSCI commodity gauge up 22%.
Although the early round of first-quarter earnings reports hasn't been as bad as some analysts had feared, those reports also haven't sparked a fresh round of buying. And some investors say they are skeptical the recent rally will continue to new peaks.
"We're not rushing for the exits here in terms of stocks, but we don't expect much more," said Jeff Garden, chief investment officer at Lido Advisors. "We expect things to take a step back in the coming months."
The gap between the S&P 500's daily highs and lows shrank to 12.6 points on average during the week ended April 12, the smallest such range since mid-August, according to Dow Jones Market Data. It stayed low at 16.9 points last week and was at 13.2 Monday.
The trend has been similar for commodities, which have
rocketed higher
alongside stocks as some analysts project an uptick in economic growth and steady demand for materials.
The average daily range for the S&P GSCI commodity index, heavily weighted toward oil and other energy products, had dropped below 4.5 points in recent weeks for the first time since January 2018 before surging Monday.
The quiet trading comes with many investors struggling to put together a clear picture of economic data
. The result is that many riskier assets are
trading similarly
until investors feel confident about the direction of global growth.
The rolling correlation between the S&P 500 and S&P GSCI index rose to 0.96 last week for the first time since 2011, according to a Dow Jones Market Data analysis of 50-day periods.
Correlation is measured on a scale of minus-1 to 1. A reading of minus-1 means two assets are moving in opposite directions, while a correlation of 1 means they are moving in tandem.
What do you make of the recent lull in trading activity for stocks and commodities? Let the author know your thoughts at amrith.ramkumar@wsj.com. Emailed comments may be edited before publication in future newsletters, and please make sure to include your name and location.
U.S. crude-oil prices rose 2.7% to $65.70 a barrel Monday—their highest close in nearly six months. Oil has now rebounded 45% in 2019. Monday's rise came after the U.S. ended waivers for countries to Iranian crude.

Kimberly-Clark shares rose 5.4% Monday, their largest one-day advance since October 2009. The climb put shares of the consumer-products company at their highest level since June 2017 and followed stronger-than-expected first-quarter results.

On this day in 1996, Bre-X Minerals, an obscure Calgary-based company claiming to have discovered more than 30 million ounces of gold in Indonesia, was listed on the Toronto Stock Exchange. The stock rose to $192.50 within minutes. Over the next year, it turned out that the gold didn't exist. One of Bre-X's executives commited suicide by jumping out of a helicopter, and the company went bankrupt on Nov. 5, 1997.
New-home sales
for March are expected to climb at an annual rate of 650,000, compared with
667,000 last month
. The figures are slated for 10 a.m. ET.
The Richmond Fed manufacturing survey for April is also scheduled for 10 a.m.
Eurozone consumer confidence for April is out at 10 a.m.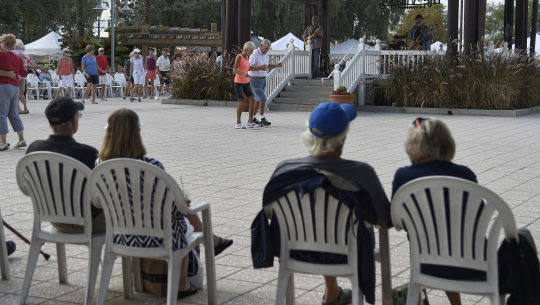 A new report shows 82% of polled retirees are optimistic about their ability to live comfortably in retirement. PHOTO: RHONA WISE/AFP/GETTY IMAGES

What We've Heard on the Street