Markets
Happy Monday. I'm Jessica Menton, getting you up to speed ahead of the shortened holiday trading week.
Stocks are inching toward records. Futures are rising premarket as the S&P 500 sits just 0.8% from its September high. Although U.S. financial

markets

will be closed in observance of Good Friday, it's still a jam-packed week with data on retail sales, industrial production and housing starts on deck.

Earnings season is heating up with more big banks. Investors will hear from Goldman Sachs and Citigroup this morning, followed by Bank of America and Morgan Stanley in the coming days. Other notable companies opening their books this week include Netflix and IBM.

Meantime, health-care stocks have fallen out of favor. Below, I delve into what's been holding back the group this year.
Global stocks were muted after climbing last week, as trade tensions remained a pressure point amid weakening world economic growth.
Regulatory Risks Pressure Health Shares in 2019
Johnson & Johnson and UnitedHealth are set to release earnings Tuesday.
Major U.S. indexes are marching to new highs, despite getting scant help from the S&P 500's best-performing group last year: health-care stocks.
Health care is the worst-performing sector in the S&P 500 so far this year, with shares up 3.8% compared with the broader index's 16% gain.
That marks a stark contrast after health-care stocks emerged as a
market

leader
last summer as technology shares came under pressure, helping push major U.S. stock indexes to fresh highs in the late summer and fall.
Some investors favor health-care stocks when
market
volatility increases because of their relatively steady earnings and dividend payments.
The threat of tighter health-care regulation has also pulled down shares this year. Additionally, Walgreens Boots Alliance this month
lowered
its annual earnings forecast after CVS Health
did the same
in February.
Both health-care conglomerate Johnson & Johnson and UnitedHealth Group, the parent of the nation's largest health insurer, are scheduled to release results Tuesday.
Despite a recent slump in health-care stocks, the sector remains a bright spot on the earnings front. Health-care companies are forecast to report the second-highest profit growth of the S&P 500's eleven sectors in the first quarter, climbing 4% from a year ago, according to FactSet.
In addition to drugstore stocks, health insurers are also sources of recent pain. In February, House Democrats
outlined details
of a Medicare for All bill that would create a new federally financed health system. Concerns over stringent regulation on managed-care businesses have pressured stocks with medicare exposure, with insurers UnitedHealth Group, Humana and Cigna all down double-digit percentages in 2019.
Still, health-care providers within the broader sector are expected to report double-digit earnings growth for the quarter, climbing 15% from a year ago, according to FactSet.
Another area of weakness this year has been pharmaceutical companies. Of the six industries in the health-care sector, the pharmaceuticals group is the only one that is projected to report a decline in earnings growth, FactSet data show.
Investors typically scoop up shares of heath-care stocks for their growth and defensive nature. Some of the largest health-care companies offer investors yield, with a valuation that is less stretched than other yielding-producing corners of the
market
, such as utility stocks.
Health-care shares in the S&P 500 are trading at 15.5 times their forward 12 months of earnings, below with the overall index at 16.77, according to FactSet. As a point of comparison, the utilities sector is trading at 18.41 times their forward 12 months of earnings.
Is the threat of new regulation preventing you from scooping up health-care stocks? Let the author know your thoughts at jessica.menton@wsj.com. Emailed comments may be edited before publication in future newsletters, and please make sure to include your name and location.
About $11.3 billion flowed into investment-grade corporate bonds during the week ended April 10, the second biggest weekly net inflows ever, according to a Bank of America Merrill Lynch analysis of figures from fund tracker EPFR Global.

With 6% of the companies in the S&P 500 reporting results for the first quarter through Friday, 83% have topped earnings-per-share estimates and 59% have beat on revenue expectations, according to FactSet.

On this day in 1998, the New York Stock Exchange implemented its "circuit-breaker" rules that mandated trading halts when the

market

dropped at least 10%.
The New York Fed's Empire State manufacturing survey for April, released at 8:30 a.m. ET, is expected to tick up to 5.3 from 3.7 a month earlier.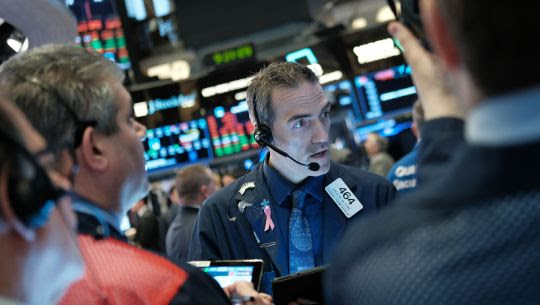 Traders work on the floor of the New York Stock Exchange on April 8. Indexes from New York to China have risen double-digit percentages this year. PHOTO: SPENCER PLATT/GETTY IMAGES

What We've Heard on the Street
Maria Bartiromo: Life Lessons From a Financial TV Icon

Fox Business journalist Maria Bartiromo, the first woman to report live from the floor of the New York Stock Exchange, speaks to WSJ columnist
Veronica Dagher
on her path to success.