Markets
Good morning. Amrith Ramkumar here breaking down the latest market moves.
Stock futures are slipping, after the Dow inched
slightly further away
from last year's record Wednesday. The S&P and Nasdaq edged down from their Tuesday all-time highs.
Facebook and Microsoft are climbing premarket after yesterday afternoon's results, while Tesla shares are sliding. We're also weighing just-released figures from a host of companies including Comcast and UPS. Amazon.com, Intel and Starbucks lead the group reporting after the market closes.
Before we see if the Dow can make a run at a new record, our
Sam Goldfarb
examines the rally in speculative-grade bonds.
Stocks in Europe and several Asian markets slipped on Thursday following a weaker close for U.S. markets and poor economic data from South Korea, one of Asia's biggest exporters.
Speculative-Grade Bonds Surge After Fed Shift
By Sam Goldfarb, bond market reporter
A
sharp rally
in speculative-grade corporate bonds has pushed their average yield below that of comparably-rated loans, an unusual market distortion reflecting an improved economic outlook and the Federal Reserve's retreat from tightening monetary policy.
Bond yields, which move in the opposite direction of prices, typically exceed those of loans because holders of the latter are typically paid first in bankruptcies
. This year, yields on both are down amid a
broad rally
in riskier assets.
Still, yields on bonds are down more in large part because the floating coupons of loans have become less appealing now that the Fed is no longer raising interest rates.
As of April 23, the average yield to maturity of bonds in the Bloomberg Barclays high yield index was 6.51%, down from 8.0% at the end of last year, while the average yield of loans in the S&P/LSTA Leveraged Loan index was 6.53%, down from 7.23%.
Loan yields have exceeded bond yields since March 26, the first prolonged stretch where that has been the case since 2007.
That year, the Fed also halted rate-increases after a long period of tightening monetary policy.
Some consider the extra yield that investors are demanding to hold loans over bonds to be surprising.
Despite a recent uptick in issuance of secured bonds that would be ranked equal to loans in a bankruptcy proceeding, most bonds are unsecured, meaning their holders are at greater risk of losses if the companies that have issued them encounter financial stress.
That is why average loan yields have been lower than average bond yields for the vast majority of time since a market for loans emerged in the 1990s.
What is happening now is "a technical dislocation" in the debt markets, said Frank Ossino, a senior portfolio manager and sector head of the bank loan asset class at Newfleet Asset Management.
Responding to the shifting outlook for interest rates, investors have
pulled cash out
of loan mutual funds and exchange-traded funds for 22 consecutive weeks, leading to a total net outflow of $25.6 billion, according to Lipper. Bond funds, meanwhile, have pulled in a net $3.4 billion over that stretch, including $7.2 billion over the past six weeks.
The PHLX Semiconductor Index climbed 1% Wednesday to a sixth consecutive record close after the latest earnings from Texas Instruments. Semiconductor stocks are now up 38% for the year.

Anadarko Petroleum shares rose 12% Wednesday, bringing their rally since Chevron offered to buy the company earlier this month for roughly $33 billion to 53%. The stock is at its highest level since July. Wednesday's rise came after Occidental Petroleum offered to buy Anadarko for about $38 billion, setting up a possible bidding war.

On this day in 1961, the first patent for an integrated circuit was awarded to Fairchild Semiconductor's Robert Noyce, who later co-founded Intel with Gordon Moore. Today Intel has a market value of nearly $265 billion.
U.S. durable-goods orders for March are expected to rise 0.5% from the prior month. The figures are slated for 8:30 a.m. ET.
U.S. jobless claims, also out at 8:30 a.m., are expected to rise to 201,000 from 192,000 a week earlier.
Natural-gas inventories will be released at 10:30 a.m. Stockpiles are expected to have risen 89 billion cubic feet last week, a much bigger addition than average for this time of year, per the average target of 13 analysts and traders surveyed by the Journal.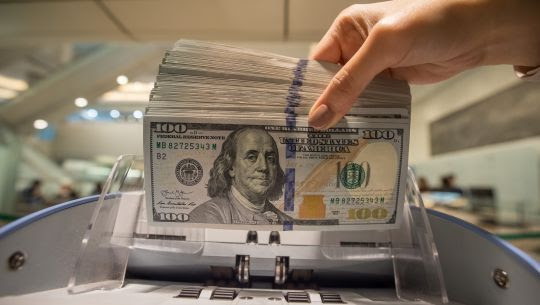 The wager would pay out if the ETF gave up some of its recent gains and fell more than 1% by June. It occurred during a period of strength in the U.S. dollar and weakness in the euro. PHOTO: PAUL YEUNG/BLOOMBERG NEWS

What We've Heard on the Street