Markets
Hello. Amrith Ramkumar getting you caught up on the latest in markets after
another muted session
Monday.
It's pretty quiet on the earnings and economic calendar, with investors looking ahead to tomorrow afternoon's Fed statement. FedEx will post its latest results after today's closing bell.
With the market rally continuing toward the end of the first quarter, I explain why a rare metal used in catalytic converters continues hitting fresh records.
Global stocks advanced on Tuesday as investors awaited key central bank meetings later in the week.
Auto Demand Pushes Palladium to New Highs
The silvery-white metal has rallied 65% since the start of August.
A metal key to filtering car emissions is one of the
best-performing
investments this year, boosted by greater environmental scrutiny of auto makers and signs of a supply crunch.
Prices of palladium—a critical component of the catalytic converters used in gasoline cars—have surged 29% so far this year, extending a rally that started in August to 65%
.
The silvery-white metal recently became
more expensive than gold
for the first time since 2001 and also trades more than $700 above its close relative platinum. Gold and platinum have largely traded sideways in recent months. Palladium has also outpaced the stock market, with the S&P 500 up 13% this year.
Despite some calls that the rally is overextended, auto makers have come under greater regulatory scrutiny to meet emissions standards. That's caused investors to wager demand will continue to be strong, lifting prices.
Palladium hit fresh highs after Fiat Chrysler said last week it is recalling nearly 863,000 vehicles in the U.S. because some didn't meet federal emissions standards
.
Catalytic converters are
among the components
to be replaced as part of the recall. Analysts at Capital Economics estimate the replacements could require about 100,000 ounces of palladium, or roughly 1% of annual global consumption.
"There's such a desperate need for it," said Tai Wong, head of base and precious metals derivatives trading at Bank of Montreal. "It's a market that is in a fairly significant deficit with no real good substitution."
Production out of key suppliers like Russia and South Africa isn't expected to keep up with demand. It is also difficult for analysts to identify obvious supply sources because palladium is a byproduct of other metals such as platinum and nickel.
Adding to the bullish mood: news reports last week said that Russia's Trade and Industry Ministry is considering suspending exports of recycled precious metals scrap for six months starting in May—a move that could potentially exacerbate the supply deficit for palladium.
Palladium demand exceeded supply for the sixth consecutive year in 2018, according to Johnson Matthey.
Some investors have said the high cost of palladium could lead the auto industry
to consider substituting other metals
. But many analysts say the tiny amount of palladium used in gasoline engines makes paying more for the metal more practical than a new process that involves a substitute.
"It's only a relatively small fraction of the cost of the entire vehicle, so you just pass the cost through [to customers]," Mr. Wong said.
The ratio of bullish bets to bearish bets on U.S. crude-oil futures by hedge funds and other speculative investors rose to its highest level since October during the week ended March 12, according to Commodity Futures Trading Commission data. Oil has rebounded 30% this year after last quarter's rout.

A Goldman Sachs basket of shares of companies with lower labor costs has risen 2.2 percentage points more than the S&P 500 this year, the firm said in a recent note. Labor costs account for 5% of sales of the typical company in the group, compared to 14% for the S&P 500.

On this day in 1792, Wall Street crashed for the first time ever, on "Black Monday," as 6% Treasury bonds lost 10% of their value and shares in the Bank of the United States dropped 12%. Speculator William Duer, a friend of Alexander Hamilton, had borrowed too much money and was about to be thrown in debtors' prison, spreading panic through the cobblestone streets of downtown Manhattan.
U.S. factory orders for January are expected to rise 0.4% from the prior month. They will be released at 10 a.m. ET.
President Trump holds a joint press conference with Brazil President Jair Bolsonaro at 1:45 p.m.
The Federal Reserve begins a two-day policy meeting.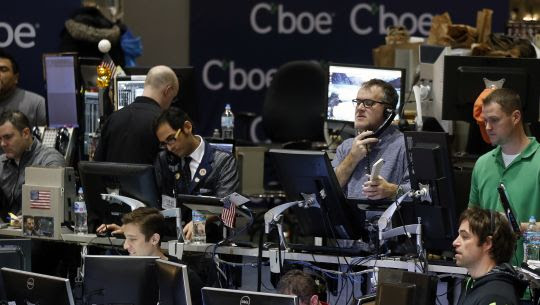 A Chicago Board Options Exchange trading pit. PHOTO: KIICHIRO SATO/ASSOCIATED PRESS

What We've Heard on the Street