Markets
Welcome. Amrith Ramkumar with you setting up Thursday trading after the S&P 500
climbed
to a four-month high yesterday.
Futures are edging down following the S&P's third consecutive advance. Investors are parsing recently released earnings from Dollar General, with Oracle and Broadcom on deck after the market closes this afternoon.
With the benchmark equity gauge now on track for its best quarter since September 2009, I look at which sectors are leading the way.
Riskier Sectors Power 2019 Stock Recovery
Tech companies and cyclical stocks continue to extend their rebound.
Stock sectors that tend to gain when investors are embracing risk or expecting faster growth have performed better as major indexes approach last year's peaks, boosting some analysts' confidence the rally will continue.
Fast-growing
technology and internet stocks, along with sectors tied to economic cycles such as industrial and energy stocks, pushed the S&P 500 to a four-month high Wednesday, helping the benchmark equity gauge erase last week's five-day losing streak.
Analysts are monitoring sector performance as the first quarter comes to an end because outflows from equity funds and major indexes' recent wobbles around key technical levels have raised questions about the durability of this year's rebound.
Sector returns so far this year show investors flocking back toward
riskier corners
of the market. Even during last week's slide, safer sectors also fell and continued lagging behind, giving some analysts confidence that major indexes can hold steady even if the rally pauses again.
"It's been risk-seeking behavior on the upside and risk-seeking behavior on the downside," said Liz Young, director of market strategy at BNY Mellon Investment Management.
Although slowing global growth and uncertainty about trade policy could push investors back toward safety, analysts say the Federal Reserve's pause in raising interest rates has
lifted confidence
in growth and cyclical stocks. The S&P 500 is up 12% for the year.
Meanwhile, health-care stocks—the market's best-performing group last year—have risen 6.2% in 2019, hurt by fears of more stringent regulation.
Other sectors that tend to gain when investors are nervous, the consumer-staples and utility groups, are up 8.4% and 9.6%, respectively.
However, some analysts are confident steady earnings will let those groups catch up to more volatile sectors moving forward.
After S&P 500 companies' earnings grew 20% last year, profits are
expected to fall
from a year earlier in the first quarter of 2019. But the utility and health-care sectors are expected to pace the broader index with modest earnings increases from a year earlier.
Even within sectors, some analysts expect investors to prioritize companies with more consistent revenue increases as signs of a slowing economy mount.
"You're going to start to see the separation between those who can drive growth and those who may not be able to or may be too expensive," said Darrell Cronk, president of the Wells Fargo Investment Institute.
The S&P 500 closed at its highest level since Nov. 7 and 4.1% below its September record Wednesday. The tech-heavy Nasdaq, meanwhile, finished at its highest level since mid-October, 5.7% off its August peak. The Nasdaq is up 15% for the year and on track for its best quarter since the first quarter of 2012.

All 11 S&P 500 sectors rose in a session for the eighth time this year on Wednesday, according to Dow Jones Market Data. A ninth such occurrence would mark the highest quarterly total since the second quarter of 2016, when it happened 11 times.

Options volumes on Boeing shares hit at least a two-year high Tuesday, with some traders looking at a 7% advance in its shares from that day's closing price. Some of the most popular contracts on Monday and Tuesday were bullish calls that pay out if the shares jumped to $400 or $410, according to data provider Trade Alert. The stock closed up 0.5% Wednesday, and options activity remained elevated.
U.S. jobless claims are expected to rise to 224,000 from 223,000. The figures are scheduled for 8:30 a.m. ET.
U.S. import prices for February are expected to rise 0.4% from the prior month. They will also be out at 8:30 a.m.
U.S. new-home sales for January, slated for 10 a.m., are expected to inch up to an annual rate of 622,000 from 621,000 a month earlier.
Natural-gas inventories will be out at 10:30 a.m. Stockpiles are expected to have fallen 209 billion cubic feet last week, more than average for this time of year, according to the average target of 12 analysts and traders surveyed by the Journal.
Treasury Secretary Steven Mnuchin appears before the House Ways and Means Committee at 9 a.m. and the Senate Finance Committee at 1:30 p.m. to discuss the latest White House budget proposal.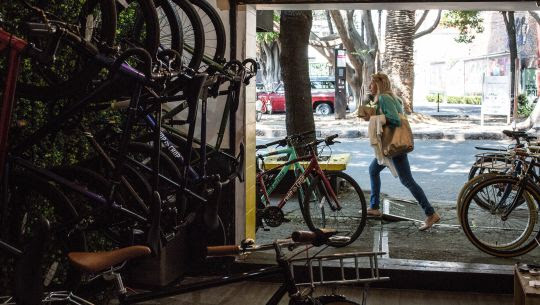 Chop Chop Bikes, a small bicycle manufacturer in Mexico City, borrowed about $50,000 last year from financial technology firm Credijusto after being denied loans from banks./PHOTO: GINNETTE RIQUELME FOR THE WALL STREET JOURNAL
What We've Heard on the Street
"Stock investors have punished Boeing after two deadly crashes involving its 737 MAX jet. But some of its clients in the airline industry look more vulnerable to the fallout."
—Heard on the Street columnist Jon Sindreu