Markets
Greetings. I'm Jessica Menton, here with your daily dose of markets.
Stocks futures are gaining after
stabilizing
Monday. Investors looking for further clues on the health of the economy will be parsing data on consumer confidence and housing starts.
With data on pending-home sales and new-home sales also on the docket later this week, I take a look at how shares of home builders face another test after rebounding this quarter.
Global stocks ticked up Tuesday, extending a moderate rebound after a sharp selloff late last week.
Home Builders Rebound After a Bruising 2018
Mortgage rates have fallen as the spring homebuying season begins.
Shares of home-building companies are on pace for their best quarter in seven years as a drop in mortgage rates has given home buyers a reprieve.
The SPDR S&P Homebuilders exchange-traded fund, which includes building-products and home-furnishing companies, has rallied 17% so far in 2019 and is on pace to snap a four-quarter streak of declines with its best three-month period since 2012
.
The ETF was walloped last year, sliding 29%, including a 15% drop in the fourth quarter amid a broad stock-market selloff. Rising borrowing costs had
held back refinancing
and weighed on the buying market,
slowing
the pace of home-price growth.
But this year, shares of Beazer Homes, Lennar, KB Home and D.R. Horton have all rebounded, soaring at least 20% apiece, while NVR and Toll Brothers have gained 16% and 11%, respectively.
The housing sector has shown signs of life recently as the spring homebuying season gets under way. Sales of existing homes
jumped 11.8%
in February from the prior month, suggesting a decline in mortgage rates has buoyed housing demand.
Lower financing costs have helped boost household confidence, with more consumers willing to buy homes or refinance after staying on the sidelines in recent months, some analysts and economists say.
Interest rates on 30-year mortgages have fallen to 13-month lows, which could help spur demand for home builders. The rate for a 30-year fixed-rate mortgage was 4.28% last week, its lowest level since the week ended Feb. 1, 2018, according to Freddie Mac.
A gradual decline in mortgage rates this year has come amid a slump in bond yields, sparked by a dovish Federal Reserve and renewed investor angst over slowing global growth. The yield on the benchmark 10-year U.S. Treasury note, a barometer for mortgage rates,
settled at 2.418%
Monday, its lowest close since December 2017. Yields fall as bond prices rise.
Still, home builders face challenges such as labor shortages, rising materials costs and a dearth of inventory. Although those issues are expected to pressure margins again this year, they are likely a short-term headwind, according to Iman Brivanlou, managing director and lead portfolio manager at asset manager TCW Group.
The S&P 500 has climbed 12% this quarter, which would mark just the 11th time the broad index has gained more than 10% in a first quarter since 1950. Of the 10 previous occasions, the index has risen 90% of the time the rest of the year. The last time the index fell after posting a 10% or more gain in the first quarter was in 1987, the year of the stock-market crash known as Black Monday.

Of the 105 companies in the S&P 500 that have turned in earnings-per share guidance for the first quarter, 73% have issued projections weaker than consensus analyst expectations, according to FactSet. That's above the five-year average of 70%.

On this day in 1979, OPEC declared following a meeting in Geneva that its members would raise the price of crude oil from $13.34 to $14.55, igniting another round of global inflation.

On Monday, crude prices dipped 0.4% to settle at $58.82 a barrel.
The Philadelphia Fed's Patrick Harker speaks on the economic outlook at 8 a.m. ET, and the San Francisco Fed's Mary Daly speaks about the Fed's inflation target at 3 p.m. ET.
U.S. housing starts for February, released at 8:30 a.m., are expected to slip to an annual pace of 1.21 million from 1.23 million a month earlier.
The S&P/Case-Shiller home-price index for January is out at 9 a.m.
The Conference Board's consumer confidence index for March, released at 10 a.m., is expected to rise to 133.0 from 131.4 a month earlier.
The Richmond Fed's manufacturing survey for March is also scheduled for 10 a.m.
President Trump heads to Capitol Hill for lunch with Senate Republicans, and in the afternoon meets with members of Congress at the White House to discuss trade.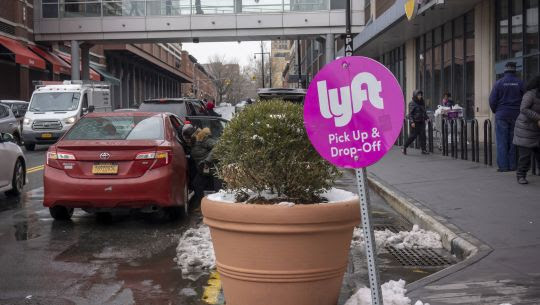 A designated Lyft pickup and drop-off location in Brooklyn, N.Y. PHOTO: RICHARD B. LEVINE/ZUMA PRESS

What We've Heard on the Street