Markets
Hello. Amrith Ramkumar with you setting up Thursday trading.
Futures are nearly flat, after stocks
ended lower
yesterday following a volatile session. We'll get another reading of fourth-quarter GDP and fresh housing data this morning.
Plus, I explain why an upcoming period with fewer corporate share buybacks could cause more market gyrations.
U.S. gross domestic product
is expected to advance 2.2% in the fourth quarter, a downgrade from an
earlier estimate
of 2.6%. The figures will be released at 8:30 a.m. ET.
U.S. jobless claims, also out at 8:30 a.m., are expected to fall to 220,000 from 221,000 a week earlier.
Germany's consumer-price index for March is out at 9 a.m.
U.S. pending-home sales for February, out at 10 a.m., are expected to rise 0.7% from the prior month.
Natural-gas inventories for the week ended March 22 will be released at 10:30 a.m. Stockpiles are expected to have fallen by 39 billion cubic feet, a lower-than-normal drop for this time of year, according to the average forecast of 10 analysts and traders surveyed by the Journal.
The Kansas City Fed manufacturing survey for March, expected at 11 a.m., is expected to slip to 0 from 1 a month earlier.
It's a Fed-tastic day: Vice Chairman Randal Quarles speaks on financial stability at 7:15 a.m., Vice Chairman Richard Clarida speaks on global shocks and the U.S. economy at 9:30 a.m., governor Michelle Bowman speaks on agriculture and community banking at 10:00 a.m., Atlanta's Raphael Bostic speaks on workforce development and income inequality at 11:30 a.m., New York's John Williams speaks in San Juan, Puerto Rico, at 1:15 p.m. and St. Louis's James Bullard speaks on the economy and monetary policy at 5:20 p.m.
Global stocks wavered Thursday as investors weighed whether recent concerns about global growth marked a blip in market sentiment or a permanent turn away from 2019's rally.
Buyback Blackout Could Stoke Further Volatility
Fewer share buybacks from corporations could hurt sentiment, analysts say.
Many companies are entering a period during which they typically buy back fewer shares, another potential obstacle for the 2019 market rebound as the first quarter comes to an end.
Companies
often don't repurchase shares
in the weeks before reporting earnings to avoid accusations of insider trading, removing a key source of demand for shares that has lifted major indexes in recent years.
Half of the S&P 500 is in a so-called blackout period this week, and that figure is estimated to rise to 78% next week and 86% the week of April 8, according to a Goldman Sachs analysis based on the period starting five weeks before quarterly results are released and ending 48 hours after the scheduled date for the reports.
Stock buybacks can
boost share prices
by lowering the number of shares outstanding—driving up per-share earnings even without robust profit growth.
The current blackout period comes with many already anxious about the fragility of this year's stock-market rebound because of
slowing economic growth
around the world.
"Given the shaky ground we're on currently in terms of the uncertainty around economic data and earnings, it would be nice to have the full force of the buybacks behind us," said Mona Mahajan, U.S. investment strategist at Allianz Global Investors.
Even with investors pulling money from stock funds during the fourth quarter and so far this year, buybacks have provided a steady source of demand for equities.
S&P 500 share repurchases from the fourth quarter totaled a record $223 billion, a 63% increase from a year earlier, according to S&P Dow Jones Indices.
However, assessing the impact of the buyback-blackout period is more complicated because there isn't a federally mandated blackout period. Companies are also
still able
to repurchase shares through a SEC rule allowing trading on a preset schedule.
That means repurchases can still occur during a normal blackout period, adding to the uncertainty facing investors still reeling from recent market swings.
While a selloff coincided with the third-quarter buyback-blackout period, stocks began their swift rebound from their Dec. 24 lows even when many companies were weeks away from posting fourth-quarter results.
About 60% of corporate buyback programs aren't affected by blackout periods, JPMorgan Chase analysts estimate.
"While a blackout period is not positive for equities, its impact should not dominate the price action of the market," they said in a recent note.
The 10-year U.S. Treasury yield fell for the sixth consecutive session Wednesday, its longest streak since early December, when the yield fell for eight consecutive trading days. It closed at 2.374% Wednesday, a new 15-month low.

If commodities continue as the market's best-performing asset class, this year will mark the first time they have led the market since 2002, according to Bank of America Merrill Lynch.

On this day in 1985, after 193 years, a sitting U.S. President visited the floor of the New York Stock Exchange for the first time when Ronald Reagan went to ring the bell that opens trading.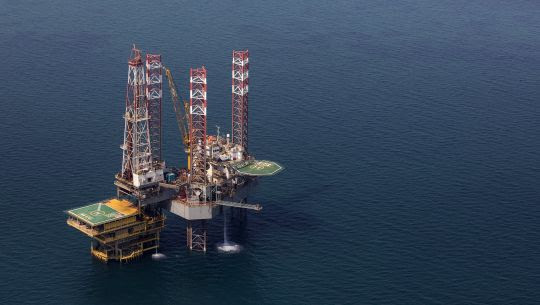 An offshore drilling platform operated by Saudi Aramco in Manifa, Saudi Arabia. PHOTO: SIMON DAWSON/BLOOMBERG NEWS

What We've Heard on the Street