Markets
Congratulations, we've made it to Friday. I'm Amrith Ramkumar, getting you caught up on the latest in financial markets as we wrap up the first quarter.
Global stocks rose at the end of the week as hopes for a fresh round of U.S.-China trade talks outweighed lingering worries that the global economy was cooling.
Friday Inflation Data Could Swing Treasury Yields
By Akane Otani, markets reporter
Rallying government bonds are about to face their next test with fresh data that will show whether inflation firmed at the start of the year.
The Commerce Department is scheduled early this morning to publish its report on personal-consumption expenditures, a gauge of household spending on everything from coffee to healthcare.
Traders closely watch the report, since it's the Federal Reserve's preferred measure of inflation
. Data at the start of March showed the gauge fell short of the central bank's 2% target in 2018 for a
seventh straight year
—strengthening officials' argument to possibly leave interest rates untouched for the rest of 2019.
The combination of a cautious Fed and tame inflation has helped U.S. government bond prices
rise throughout the year
. Inflation is considered a threat to bonds because it chips away at the value of their fixed payouts, so signs that it hasn't raced higher have helped Treasury prices climb.
The yield on the benchmark 10-year Treasury, used as a reference for everything from mortgages to student debt, ended Thursday at 2.389%, hovering around a 15-month low. Yields fall as bond prices rise.
Few are expecting the Commerce Department report to show a significant uptick in consumer prices. Economists expect the data to show prices for goods and services rose 1.9% in January from a year earlier, matching December's 1.9% increase.
That should help keep Treasurys on track for a strong end to the quarter—as well as
boost bets
that the Fed will either hold interest rates steady or lower them by the end of the year.
Federal-funds futures showed on Thursday the market pricing in no chance of a rate increase by the end of the year, according to CME Group. That's a stark shift from last fall, when futures pointed to expectations of about two rate increases.
Still, some analysts believe it's too early to rule out a rebound in inflation, especially with data showing wage pressure picking up. Wages rose in February at the fastest pace in nearly a decade.
While slumping yields suggest the market is pricing in a yearslong period of sluggish inflation, "that's not our base case now, and it's unlikely to become our base case as long as wages are rising above 3.0% and the Fed refrains from further tightening indefinitely," said Thomas Tzitzouris, vice president and head of fixed income research at Strategas, in a note.
Now up 12.3% for the quarter, the S&P 500 is on pace for its best first quarter since 1998. Stocks are on pace for their strongest performance in any quarter since September 2009.

Front-month gold futures fell 1.6% Thursday, their largest one-day slide since mid-August. Prices of the haven metal are up slightly for the year but 4% below February's 10-month high. A steady dollar has hurt gold by making it more expensive for overseas buyers.

On this day in 1989, Michael Milken was indicted on 98 felony charges of violating federal securities laws as head of the junk-bond desk at Drexel Burnham Lambert. Prosecutors disclosed that he earned $550 million in compensation in 1986.
U.S. personal income for February is expected to rise 0.2%. The figures will be released at 8:30 a.m. ET.
U.S. consumer spending for January, also slated for 8:30 a.m., is expected to increase 0.3%.
The personal-consumption expenditures price index, excluding food and energy, is expected to rise 0.2% from the prior month and 1.9% from a year earlier. It is also due at 8:30 a.m.
The Chicago purchasing managers index, for March, due at 9:45 a.m., is expected to inch down to 60.7 from 64.7 a month earlier.
U.S. new-home sales for February are expected to climb to 620,000 from 607,000 a month earlier. The figures are scheduled for 10 a.m.
The University of Michigan's consumer-sentiment index for March, also scheduled for 10 a.m., is expected to stay steady at 97.8.
The Baker-Hughes rig count is slated for 1 p.m.
The New York Fed's John Williams speaks in St. Thomas, Virgin Islands, at 9:25 a.m., the Dallas Fed's Robert Kaplan speaks at the Global Asset Management Education conference at 10:30 a.m. and Fed Vice Chairman Randal Quarles speaks on macroprudential policy at 12:05 p.m.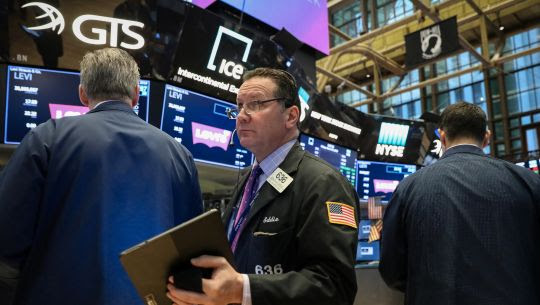 Major U.S. stock exchanges are suing the Securities and Exchange Commission to block an initiative that would limit rebates they can pay to attract investors' orders. PHOTO: BRENDAN MCDERMID/REUTERS

What We've Heard on the Street
"Lululemon's founder and former CEO may once have warned that the athleisure maker's leggings aren't for women of a certain size. That faux pas hasn't mattered much—everyone and their mother is buying."
—Heard on the Street columnist Elizabeth Winkler