By Margaret Talev and Mark Niquette
---
Donald Trump called for bipartisanship in his State of the Union address -- on his terms.
The president offered Democrats nothing in exchange for their votes to build his promised wall on the Mexican border, while he excoriated them for their positions on abortion, blocking his nominees in the Senate and "ridiculous partisan investigations."
In a speech delivered in the interlude between one partial government shutdown and the possible start of another, Trump didn't meet his opposition in the middle so much as lay the groundwork for even more hostilities if they don't concede. He offered no new plan to avoid a second shutdown and drew another line in the sand on his proposed border wall.
"I will get it built," he vowed, without giving Democrats any reason to provide him their votes.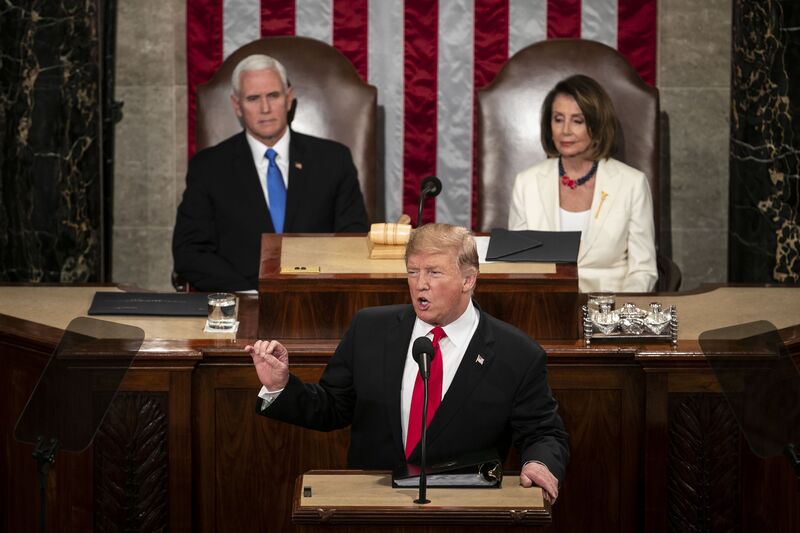 White House aides had promised a gentler Donald Trump in his first address to a Congress partially controlled by Democrats, describing an optimistic speech with the theme, "choose greatness." But what American voters saw, as Democrats line up for the opportunity to challenge Trump's re-election, was a president who cast his position on immigration as a "moral duty," framed his agenda as the will of a public who mostly disapprove of him, and called investigations into his administration and campaign a threat to the economy.
"If there is going to be peace and legislation, there cannot be war and investigation," Trump said, prompting Republican cheers but some audible groans on the Democratic side of the room. One Democrat, Representative Gerry Connolly of Virginia, later called the moment "very Nixonian."
Bipartisan Gestures
Trump didn't directly raise his threat to close portions of the government again. But his insistence that the border wall will be built left open the possibility he'll force another partial federal government shutdown in 10 days -- following the 35-day closing that was the longest in U.S. history -- if Democrats don't concede to his demand for $5.7 billion to continue construction.
He also has threatened to declare a national emergency to test whether courts will allow him to bypass Congress to shift money to the wall.
At times in the speech, the president offered bipartisan gestures. He celebrated "groundbreaking criminal justice reform" and introduced a man who had been released from prison under a law Trump signed last year. He drew standing applause and cheers from Democratic women, dressed in suffragette white, when he observed that a record number of women are serving in Congress.
Most of them are Democrats elected in November in a voter backlash against his presidency.
But he jabbed at his opposition with some of the guests he invited to watch the speech with his wife, Melania: the family of a Nevada couple who were allegedly murdered by an undocumented immigrant last month and a sixth-grade boy bullied because his last name is Trump. Many Democrats shook their heads during Trump's lengthy comments about illegal migration.
He tried out re-election themes, at one point making a sly reference to newly elected Representative Alexandria Ocasio-Cortez of New York, a Democratic socialist who has become a fascination on the right. "We are alarmed by the new calls to adopt socialism in our country," Trump said, vowing that "we renew our resolve that America will never be a socialist country."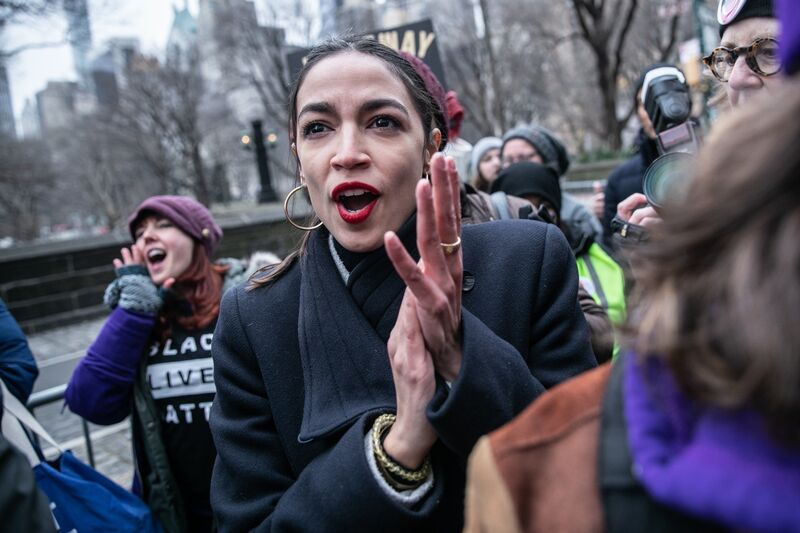 "I had to ask myself: Is this a campaign stop or is this a State of the Union?" Ocasio-Cortez said later on MSNBC.
'Blame Game'
Notable by their absence were obvious olive branches to Democrats that Trump could have extended, but didn't.
He referred to "our obligation" to millions of immigrants in the U.S. but didn't raise the possibility of granting legal status to hundreds of thousands of undocumented immigrants brought to the country as children, the so-called Dreamers. A resolution of their dilemma is a prerequisite for many Democrats to consider significant spending on any kind of physical barrier on the border.
He offered no improvements to Obamacare, let alone assurances he won't further weaken the law through regulation. He said nothing about a middle-class tax cut he abruptly proposed shortly before the midterm elections, then just as abruptly abandoned after Democrats took the House.
Even a vague nod to infrastructure development, a policy with appeal to Democrats, came with no dollar figure attached -- and with a budget deficit approaching $1 trillion, little chance of becoming law.
"It's part of the blame game," Darrell West, vice president and director of governance studies at the Brookings Institution, said of Trump's approach. "If he offers bipartisanship and they don't follow up then he can say they're the extremists, not himself."
The shutdown over funding for the border wall showed that both sides are interpreting their bases as not giving them any flexibility, and both need to appeal beyond their core supporters to win in 2020, said David Winston, a strategist who's advised Republican congressional leadership. Trump's appeal to the political center didn't extend much further than crediting himself for the nation's historically low unemployment rate and growing economy.
He floated a handful of ambitious policy goals that would appeal to a broad swath of Americans: lowering prescription drug prices; ending the HIV epidemic in the U.S.; enacting paid family leave.
But he didn't say how he'd bridge partisan divides over the details or pay for the portions that must be taxpayer-funded. And in appealing to anti-abortion activists by accusing Democrats of supporting legislation "that would allow a baby to be ripped from the mother's womb moments from birth," he further undercut his appeal for bipartisanship.
After the Speech
Foreign policy and trade are areas where Trump's policies defy simple partisan framing. His desire to withdraw from years-long conflicts in Syria and Afghanistan draws support from both nationalist and isolationist elements in the Republican Party and anti-war Democrats, while Republican hawks and more centrist Democrats have raised concerns.
There's similarly widespread agreement in both parties that China doesn't play fair economically, but less consensus about how to respond -- and deep concern within Trump's own party about his tariffs on Chinese imports.
Many Republicans as well as Democrats are uneasy with Trump's efforts at rapprochement with the Kremlin and his entreaties to North Korean leader Kim Jong Un, with whom the president says he'll meet for a second time this month despite evidence Kim isn't planning to give up his country's nuclear weapons.
The White House has not announced the sort of domestic barnstorming tour past presidents have embarked upon to reinforce their State of the Union message. Trump has already visited the U.S.-Mexico border and may return. But even as he promises far-reaching policies on drugs, health care and infrastructure, the president must contend with the negotiations required to keep the government running without appearing that he's lost his battle for a border wall.
What Trump does next will prove far more meaningful than what he said in a speech that, while billed as unifying, seems unlikely even to paper over the nation's political divides.
"As much as people look for big resets from the president with these speeches, the goodwill and the rhetoric has been washed away in 48 hours," said Republican strategist Kevin Madden, a former adviser to Mitt Romney's presidential campaign.
— With assistance by Billy House, Sahil Kapur, and Arit John
Source: Bloomberg