Markets
Hello. I'm Amrith Ramkumar, your guide to the latest in markets.
Futures are rising after stocks were
little changed
Monday. We're parsing recently released earnings from Under Armour, and Activision Blizzard is slated to post numbers after the close. Investors will also be keeping an eye on Fed speakers throughout the day.
Plus, our
Stephanie Yang
looks at a soft spot in global oil demand that is worrying some analysts.
The Overlooked Soft Spot in the Global Oil Market
By Stephanie Yang, energy reporter
Oil traders focused on China's crude demand may be missing an underappreciated problem elsewhere.
That's according to Standard Chartered analysts, who argue that the real risk for oil demand is Germany. From March to November 2018, German oil demand fell every month compared with the previous year, in data from the Joint Organisations Data Initiative.
"Traders have been worrying far too much about one thing," said Paul Horsnell, head of commodities research at Standard Chartered. "Everybody was watching China and expecting the big swings to come from there. The places to watch were really the U.S. and Germany."
U.S. demand led growth from developed nations in 2018, Standard Chartered said, but the bank expects U.S. demand growth to slow from 504,000 barrels a day last year to 224,000 barrels a day in 2019, and 78,000 barrels a day in 2020.
Standard Chartered analysts warn that the weakness could spread to other parts of Europe, further undermining demand for oil.
To be sure, German demand makes up a fraction of the world's oil consumption. According to the U.S. Energy Information Administration, Germany was the 10th largest oil consumer in 2016. Signs of slowing demand in other parts of Europe have also yet to materialize, Mr. Horsnell noted.
"It doesn't suggest a broader contagion just on the back of this [data]," said Mr. Horsnell. "It's primarily confined to Germany at this stage."
The WSJ Dollar Index, which tracks the U.S. currency against a basket of 16 others, rose for the seventh consecutive session Monday, its longest winning streak since December 2017, according to Dow Jones Market Data. It is up 7% in the past year.

The S&P 500 equal-weighted index has quietly jumped past the broader, market-cap weighted S&P 500 this year, a reassuring development for analysts who have worried that stocks' gains have largely been driven by a handful of companies. The S&P 500 equal-weighted index is up 10.6% this year, while the standard index is up 8.1%.

On this day in 1970, after 178 years, the New York Stock Exchange finally elected its first African-American member, Joseph L. Searles III. Lest any of its members be embarrassed by having to decide whether to let him sit next to them in the NYSE's private luncheon club, the Exchange gave Searles his own table. Hit by the bear market of 1970, Searles was forced to give up his membership that November, but the color barrier had at last been crossed.
The U.S. job openings and labor turnover survey for December is out at 10 a.m. ET.
Fed Chairman Jerome Powell speaks about rural poverty and development at 12:45 p.m., the Cleveland Fed's Loretta Mester speaks on the economic outlook and monetary policy at 6:30 p.m. and the Kansas City Fed's Esther George speaks about the economy at 7:30 p.m.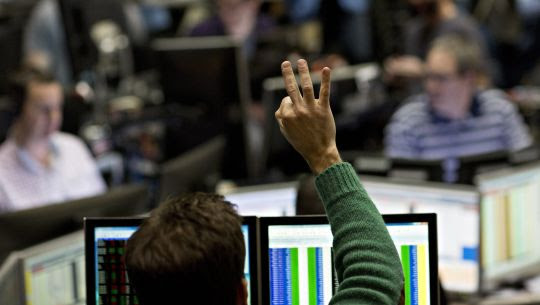 Options selling can be a factor suppressing volatility but also sometimes exacerbates it. The Cboe Volatility Index pit in Chicago last year. PHOTO: DANIEL ACKER/BLOOMBERG NEWS

What We've Heard on the Street
"The demise of big tech spending has been greatly exaggerated.... More eye-popping bills may worry investors, but falling prices of some components such as memory could help Big Tech both moderate its bills, while still expanding its networks."
—Heard on the Street columnist Dan Gallagher