Markets
Happy Monday! I'm Jessica Menton, bringing you up to speed as we start a new week. Futures are climbing. We're monitoring the Dow to see whether the blue-chip index can keep its winning streak alive for an eighth straight week.
Earnings season continues in full swing. We'll hear from about 60 S&P 500 companies this week including Coca-Cola, PepsiCo, Nvidia, Cisco Systems, Under Armour, Groupon, Activision Blizzard and Deere.

Inflation and retail data are in focus. Traders will sort through indicators from consumer prices to retail sales to American-household sentiment in the coming days. The Fed recently said an acceleration in inflation would be a factor to justify further interest-rate increases.

Global trade tensions remain on investors' minds. Wall Street is watching for developments between Washington and Beijing as U.S. officials head to China this week to continue trade negotiations before a March 1 deadline. Renewed worries have pressured stocks recently.

Meanwhile, Dow transport stocks are chugging along. I break down what's propelling this year's gains in planes, trains and shipping companies.
Dow Transports Bounce Back as Economic Indicators Stabilize
Transportation stocks were pummeled late last year on rising global-growth fears.
Shares of airlines, railroads and shipping companies are climbing, a sign the U.S. economy is on strong footing and the broader stock market can continue its
recent march higher
.
Transportation stocks are viewed as a barometer of economic activity because those companies carry the raw materials and goods that power manufacturing.
The Dow Jones Transportation Average, which tracks the performance of 20 stocks ranging from American Airlines to Union Pacific to FedEx, has jumped 18% from its
Christmas Eve low
. That's outpaced the 15% advance by the Dow industrials.
Proponents of the century-old Dow Theory believe that strength among the transports is a positive indicator for the economy and broader market. Signs the Federal Reserve will be patient in raising interest rates, along with stronger-than-expected
corporate earnings
and thawing global trade tensions, have helped reassure investors a U.S. recession isn't looming. But, after the fourth quarter's bruising selloff, some investors say they are still waiting for further evidence of a rebound before jumping back into the stock market.
"Right now, they're not quite signaling an all clear yet," said Carlos Dominguez, president and chief investment officer at Miami-based Element Pointe Advisors. "I'd like to see some of these transportation names show leadership before I say that the next phase of this bull market is in place."
One reason: The transports index is still 12% below its Sept. 14 high.
Element Pointe, which has $400 million in assets under advisement, is looking to scoop up shares of truckload carrier Knight-Swift Transportation, Mr. Dominguez said. Shares of the company, which aren't in the Dow transport index, have surged 24% this year but are still off 34% over the past 12 months.
Nancy Tengler, chief investment strategist of Tengler Wealth Management, said her firm currently owns shares of FedEx and UPS and she believes those stocks will continue to be benefit from strong e-commerce demand. She dismissed fears of rising competition from Amazon.com, which is
planning to launch
its own delivery service.
Airlines, meanwhile, have benefited from lower fuel costs and generally have given strong forecasts for the year, despite the partial government shutdown that disrupted travel in December and January. Among the carriers that reported stronger-than-expected results for the fourth quarter were United Continental, Southwest Airlines and JetBlue Airways.
To read the full version of this article, click here.
Are you a believer in the Dow Theory? Let the author know your thoughts at jessica.menton@wsj.com. Emailed comments may be edited before publication in future newsletters, and please make sure to include your name and location.
In addition to the Dow industrials, the Nasdaq and Russell 2000 have both posted gains for seven straight weeks, climbing 15% and 17%, respectively. That's the largest percentage rise for the tech-heavy index in that span since August 2009 and the best such gain for its small-cap counterpart since December 2016.

About $0.7 billion flowed out of U.S. equity funds during the week ended Feb. 6, according to a Bank of America Merrill Lynch analysis of figures from fund tracker EPFR Global. So far in 2019, investors have pulled $26 billion out of U.S. equities. Meanwhile, flows into bonds reached $11.1 billion during the week through Wednesday, the most since January 2018, the bank said.

On this day in 2000, Pets.com went public on the Nasdaq at an initial price of $11 per share. In an early warning sign that the Internet bubble may be about a burst, the stock barely budged in the first day of trading. The stock peaked a few weeks later at $14 per share. Less than nine months after its IPO, Pets.com announced that it would shut down its operations and by the end of the year it had lost 99% of its value.
U.S.-China trade talks begin in Beijing. Deputy U.S. Trade Representative Jeffrey Gerrish leads a deputy-level round of meetings starting Monday. U.S. Trade Representative Robert Lighthizer and Treasury Secretary Steven Mnuchin kick things up a notch starting Thursday.
Fed governor Michelle Bowman speaks at a community banking conference at 11:15 a.m. ET.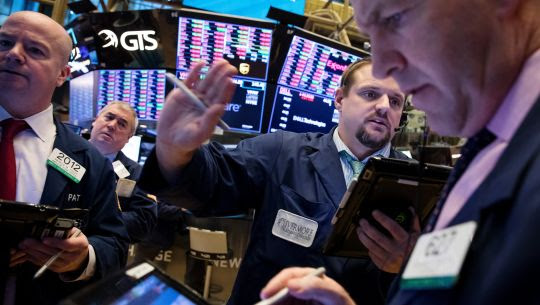 Traders work the floor of the New York Stock Exchange, Jan. 14, 2019./PHOTO: MICHAEL NAGLE/BLOOMBERG NEWS

What We've Heard on the Street
Snap
:
The Snapchat parent's stock surged 32% last week, its biggest percentage gain in a year.
Estée Lauder
:
Shares of the cosmetics company jumped $17.99, or 13%, to $154.71 last week, their largest weekly dollar gain ever.
Motorola Solutions
:
Shares of the company, which have climbed for three straight weeks, rallied 14% last week, their best such percentage gain since May 2009.