Markets
Welcome back. Amrith Ramkumar here telling you what to watch today in markets.
Alphabet, the parent company of Google, is falling premarket following
results
late yesterday. Investors are parsing just-released numbers from Viacom, and Walt Disney and Snap post figures after the market close.
Plus, I look at why some analysts are still worried about bets against volatility on the anniversary of the Dow's largest one-day point drop ever.
European stocks climbed to a nine-week high and U.S. futures gained, while most Asian markets were closed for the Lunar New Year holiday.
The view from Asia: AB InBev Explores IPO for Asia Business
Investors Still Cautious on Volatility Trades
Some remain wary that an unwind of wagers on market calm could exacerbate swings if volatility picks up again.
Stocks are trading on an upbeat note again, but some analysts caution against betting on prolonged calm in the market.
This year's rebound has boosted the appeal of a trade —known in markets as being "short volatility" or "
short vol
"—that bets stock swings will remain muted while momentum continues to drive shares higher.
An exchange-traded fund that allows investors to make the short-vol bet has jumped 16% so far this year
, after losing nearly 30% last quarter.
The catch: plenty of investors are
still scarred
by what happened exactly one year ago, when the Dow industrials plunged 1,175 points, the largest single-day point drop ever. Some analysts said the massive unwind of short-vol trades exacerbated the volatility, causing the selloff to last until Feb. 8, 2018.
This year, interest in short-vol wagers has been revitalized by the recovery in stocks
. But after last February's selloff and more turbulence last quarter, some market watchers are wary of being too bearish on volatility.
"Momentum has driven the market," said Mohit Bajaj, director of ETF trading solutions at WallachBeth Capital. "Whenever something moves in such extreme ways, it's tough to gauge if the run will continue."
The ProShares Short VIX Short-Term Futures ETF is one way for investors to make bearish volatility bets. The fund, known as SVXY, climbed 1.7% on Monday, extending its winning streak to five days. However, it remains well below its levels from early last year, before it crashed in the February selloff.
Investors can also use futures contracts tied to the the Cboe Volatility Index, Wall Street's fear gauge, or derivatives like options to make such bets
. Speculators, a group that includes hedge funds, trimmed bearish VIX bets late last year as they anticipated greater market turbulence, Commodity Futures Trading Commission data show. Because of the partial government shutdown, the latest CFTC data available is through Dec. 24.
To be sure, the current trading environment may be less vulnerable to volatility spikes. Early last year, the Cboe index, known as the VIX, had been trading near record lows, making a sudden surge more likely. On Feb. 5, 2018, it shot up 116% to 37.32. A day later, it briefly touched 50 before falling back below 30.
The one-day jump on Feb. 5 caused one short-vol product to collapse
. Credit Suisse's VelocityShares Daily Inverse VIX Short Term Exchange-Traded Note, called XIV, was
liquidated shortly after
.
This year, the VIX has declined 38%. On Monday, it fell for the fourth consecutive session to 15.73, its lowest level since early October, but still closer to its historical average.
Goldman Sachs' basket of shares of companies with strong balance sheets has underperformed its basket of shares of companies with weak ones by 1% so far this year, according to a recent research note. Meanwhile, its basket of high-quality stocks has lagged behind the S&P 500 by 0.8%. Stocks that have high concentrations among hedge funds are up 13% this year, making them the best performers among the bank's U.S. portfolio strategy baskets.

A surge in Apple shares has the iPhone maker close to regaining the title of world's largest public company. The stock added 2.8% Monday, bringing its market value to $807 billion, FactSet data show. Microsoft added 2.9% and is valued at $811 billion, while Amazon is at $802 billion. Alphabet is at $791 billion but set to fall following earnings.

On this day in 1637, "Tulip mania" hit its peak in the Netherlands, with the price of the rare Witte Croonen tulip bulb reaching 1,345 guilders per half-pound, up 2,506% in 33 days. Over the next five years, these bulbs lost an annual average of 76% of their value, until they fetched only 37.5 guilders in 1641.
Markit's purchasing managers index for services for January is out at 9:45 a.m. ET.
The Institute for Supply Management's nonmanufacturing index for January is expected to slip to 56.7 from 57.6. The figures are slated for 10 a.m.
President Trump delivers his State of the Union address.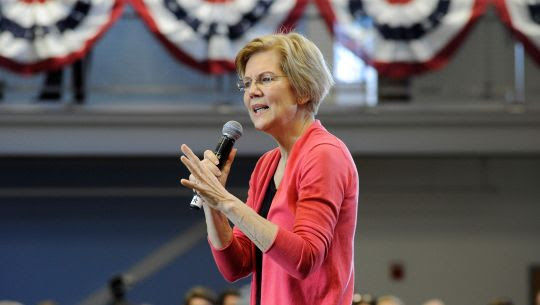 Elizabeth Warren of Massachusetts, shown Jan. 12, joined 19 Democratic senators and an independent to write SEC Chairman Jay Clayton last June, asking the commission to review how companies conduct buybacks. PHOTO: JOSEPH PREZIOSO/AGENCE FRANCE-PRESSE/GETTY IMAGES

What We've Heard on the Street
"Match Group is betting love seekers will still pay up for privacy in their dating lives. Given Facebook 's struggles over data leaks recently, that seems like a solid bet."
—Heard on the Street columnist Laura Forman