Markets
Good morning. I'm Amrith Ramkumar, getting you set for the week ahead in global markets.
Stock futures are flat, after the Dow
posted
a sixth consecutive weekly advance following strong January hiring data. We'll be keeping an eye on comments from central-bank officials this week, as well as some economic data releases rescheduled after the government shutdown.
Google parent Alphabet reports earnings after the market closes today, and GM and Walt Disney are among the big names on deck later in the week.
Global stocks were little moved after growth concerns were calmed by positive economic data, accommodative policy signals from the Federal Reserve and hints of progress in U.S.-China trade talks.
The view from Asia: The Malaise in Global Trade Is Only Getting Worse
China Jitters Linger Despite Upbeat Start to 2019
By Ira Iosebashvili and Saumya Vaishampayan, markets reporters
Investors are identifying China as a key threat to the
stock-market rebound
, a month after warnings of a slowdown in the world's second-largest economy rattled markets across the globe.
U.S. stocks posted their best January in decades, even after fears of spillover from a China slowdown
slammed
shares of Apple and other companies in the opening days of 2019. While signs the Federal Reserve would slow its pace of interest-rate increases fueled a subsequent rally, investors remain worried that China's deccelerating economy and its trade conflict with the U.S. could derail those gains.
Chinese demand is crucial for tech behemoths, global automakers and industrial firms, and a sharper-than-expected slowdown would ripple far beyond the country's borders
. Apple's stock recovered to post a 5.5% climb in January, but remains 28% from its highs.
U.S.
industrial giants
such as Caterpillar and 3M, as well as tech companies like chipmaker Nvidia, have all notched recent gains even after reporting a drag from China's slowing economy.
Among investors' worries is whether the Chinese government will be able to navigate slowing growth without a policy misstep that exacerbates its woes.
Case in point: the devaluation of the yuan in 2015, which authorities said was an attempt to make the currency more market-driven, fueled fears about Chinese growth
that
rocked markets
and triggered months of destabilizing capital outflows from China. Investors will be awaiting signals that a
possible meeting
between President Donald Trump and Chinese President Xi Jinping will take place at the end of February.
Recent history suggests they have reason to be concerned. China fears were central to several major market drops in the last few years, when episodes of elevated concern about the stability of the country's financial system shook prices for stocks, commodities and emerging-market assets.
While the Fed's
shift
has eased fears that tightening monetary policy could squelch U.S. growth, the possible halt to rate increases has also highlighted concerns that the U.S. economy may be in a fragile state and more vulnerable to a China slowdown.
Many are also worried that China's central bank may have less capability to deploy the massive stimulus programs that had slowed economic declines and eased investor worries in past years.
"Broadly, we are very cautious," said Louis Lau, director of investments at Brandes Investment Partners. "We see an economy that is running out of options."
Even with stocks steady, investors drained $15 billion from U.S. equity funds in the week ended Wednesday, according to a Bank of America Merrill Lynch analysis of data from fund tracker EPFR Global. The retreat pushed total outflows from U.S. stocks to $82 billion over the past three months, representing about 2% of the market's assets, the bank said. Investors sought safer assets, putting $9.4 billion into bond funds during the most recent week, the most since January 2018.

The last time the Nasdaq had a January as strong as it did this year was in 2001, when it rose 12%. It then fell 22% in February of that year for its third-worst month ever, according to Dow Jones Market Data. The tech-heavy index edged lower 0.2% on the first day of February Friday, after rising 9.7% in January.

On this day in 1994, without any warning, and just as investors were pouring billions of dollars into bonds, the Federal Reserve raised short-term interest rates for the first time in five years. By year-end, the Fed had hiked short-term rates by 2.5 percentage points—and Treasury bonds lost 7.8%, their worst return since 1967.
U.S. factory orders for November are expected to rise 0.1% from the prior month. The figures will be released at 10 a.m. ET.
Cleveland Fed President Loretta Mester is scheduled to speak at the 50 Club of Cleveland Annual meeting at 7:30 p.m.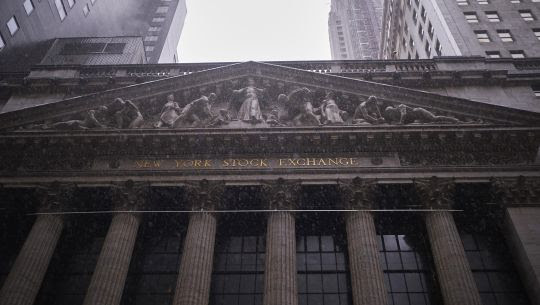 One force helping boost the stock market is faith that the Fed will leave short-term interest rates unchanged for now. PHOTO: JOHN TAGGART/BLOOMBERG NEWS

What We've Heard on the Street
Ford
: The auto maker
posted
a 7% increase in January U.S. sales, a promising start to a year in which investors expect Chief Executive Jim Hackett to show results from his turnaround plan.
Goldman Sachs
: The Wall Street firm
could withhold
millions of dollars in pay from former chief Lloyd Blankfein because of the scandal around a corrupt Malaysian investment fund.
Spotify
: The music-streaming company is
in talks
to purchase podcasting giant Gimlet Media, a move that would give a boost to its narrative-audio ambitions, The Wall Street Journal reported.
Symantec
: The cybersecurity firm rose 9% Friday, its largest one-day increase since Nov. 9, after raising its annual forecast and adding to its share buyback authorization.
Anadarko Petroleum
: U.S. crude-oil prices closed at their
highest level since Nov. 19
on Friday and have rebounded so far this year on signs of steady demand and curtailed supply from large producers. The rally has boosted energy companies like Anadarko.
Correction: Shares of 1-800-Flowers.com surged 20% Thursday to $15.95, their highest close since January 2002. Friday's stocks to watch incorrectly said the closing price was $2.61.