---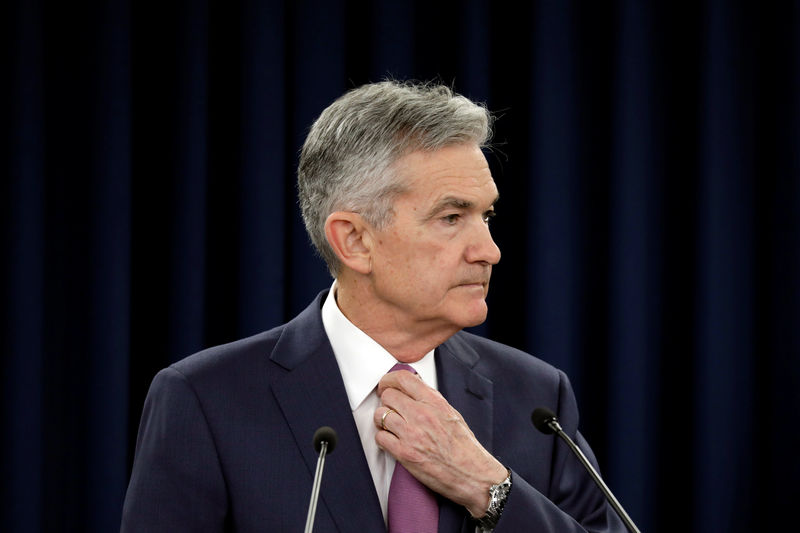 © Reuters.
Investing.com - Here are the top five things you need to know in financial markets on Thursday, Jan. 10:
1. Powell steps up with Fed in pause mode
Federal Reserve chairman will be in the spotlight on Thursday as investors await his remarks with expectations that he will reaffirm that the central bank's policy is on hold while it evaluates the slowdown in global growth and recent volatility in financial markets.
Powell will speak at an event at the Economic Club of Washington, D.C. The lunch and program portion is slated to start at 12:00 PM ET (17:00 GMT), while Powell is scheduled for a joint discussion with former Fed chiefs Janet Yellen and Ben Bernanke at 12:45 PM ET (17:45 GMT).
Powell's last appearance sent stocks soaring as he noted that the on further policy tightening. Markets currently price in that the central bank will be and put about a 14% chance that it will actually cut interest rates by the end of the year.
Presidents of four of the 12 Fed regional banks on Wednesday said they wanted on the state of the economy before extending the central bank's rate hike campaign any further.
St. Louis Fed president James Bullard, considered the most dovish policymaker, even suggested that .
Powell will not be the only Fed member on the docket Thursday as the heads of the , , and Federal Reserve Banks and vice chair all have appearances scheduled.
2. Jobless claims in focus amid government shutdown
Despite the partial shutdown of the federal government, labor market data will still be released on Thursday.
Weekly are scheduled for 8:30 AM ET (13:30 GMT) and may have an outsized impact on trading given the dearth of other numbers.
On average, economists expect that for first-time unemployment benefits dropped slightly to 225,000.
Other data such as , and will all be postponed due to the partial shutdown.
U.S. President Donald Trump cut short a meeting with House Speaker Nancy Pelosi and Senate Minority Leader Chuck Schumer over reopening the government as the impasse over building a wall on the southern border with Mexico remained firm.
Trump called the meeting "a total waste of time" and said he has the "absolute right" to declare a national emergency to obtain funding for the wall without congressional approval.
3. U.S. stocks set for breather after 4-day rally
U.S. futures pointed to a lower open in what would mark the end of a four-day rally in equities. The winning streak began on Friday as Powell gave markets the impression that the Fed would pause in gradual rate hikes and was buoyed this week as optimism emerged surrounding trade negotiations between the U.S. and China.
Investors were set to take profits as they await further developments in talks between the two world's two largest economies. At 5:50 AM ET (10:50 GMT), the blue-chip fell 89 points, or 0.37%, lost 12 points, or 0.48%, while the traded down 36 points, or 0.56%.
on Thursday as weak earnings reports dented retailers and car stocks. The pan-European dropped around 0.2%.
Asian stocks showed mixed trade although the MSCI's broadest index of Asia-Pacific shares outside Japan managed to hold slight gains, hovering near a four-week high.
4. China points to progress in trade talks with U.S.
during their recent trade talks over structural issues such as forced technology transfers and intellectual property rights, China's Commerce Ministry said on Thursday.
Three days of trade negotiations wrapped up in Beijing on Wednesday with the discussions described as positive preparation for further talks between higher level officials from both countries which are expected later this month.
Gao Feng, spokesperson for the Chinese ministry, said that the meeting was extended for an additional day because both sides were serious about reaching a deal.
5. Oil stocks fall back after 5% surge
Oil prices headed lower after jumping more than 5% on Wednesday amid optimism on U.S.-Sino trade talks.
fell 38 cents, or 0.73%, to $51.98 by 6:04 AM ET (11:04 GMT), while traded down 39 cents, or 0.63%, to $61.05.
On a parallel with U.S. stocks, investors took some profit in oil on Thursday as the end of the latest round of trade talks left bulls some time to breathe ahead of further negotiations expected later this month.
Read more: - Ellen R. Wald
Source: Investing