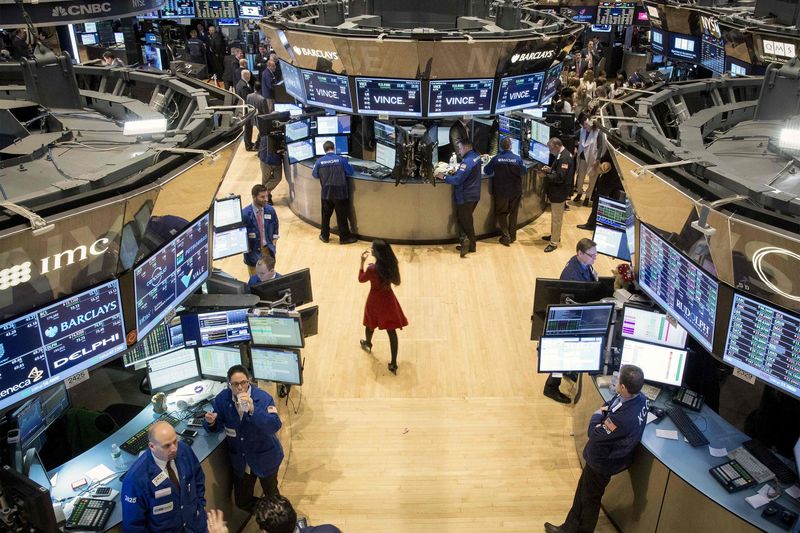 © Reuters.
Investing.com - Here are the top five things you need to know in financial markets on Wednesday, Jan. 2:
1. China's factory activity contracts for first time in 19 months
in December as the U.S.-China trade dispute and slowing economic growth weighed on manufacturers' outlook.
While purchasing managers' indexes across the region revealed a manufacturing slowdown in the final month of 2018, Chinese data showed the .
The Caixin/Markit slipped into contraction territory unexpectedly dipped to 49.7 in December. Readings below 50 indicate a contraction.
The reading confirmed Chinese government data that was released on Monday.
2. Stocks kick off 2019 in the red as Chinese data spooks investors
Following one of the worst years for global stocks in a decade, as 2019 kicked off with weak Chinese data, bringing reminders of the negative impact from the ongoing trade dispute between the world's two largest economies.
U.S. futures pointed to a negative open on Wall Street as traders returned to their desks after the New Year's holiday. At 5:50 AM ET (10:50 GMT), the blue-chip fell 353 points, or 1.52%, lost 37 points, or 1.49%, while the traded down 142 points, or 2.24%.
Read more: -Haris Anwar
Elsewhere, started the year off on the back foot with the pan-European off 0.7%, Germany's down 0.2% and London's showing a 0.9% decline.
Earlier, suffered the brunt of the losses on the back of the region's weak manufacturing activity. Hong Kong's led losses with a 3% plunge, while the ended down 1.2%.
3. U.S. Congress reconvenes amid partial government shutdown
The on Wednesday with no clear signs of a pending end to the partial government shutdown.
U.S. President Donald Trump insists that Democrats must approve $5 billion in funding for the border wall with Mexico.
"One thing has now been proven. The Democrats do not care about open borders and all of the crime and drugs that open borders bring," Trump tweeted on Tuesday.
But the president appeared to offer a more conciliatory tone just hours later as he suggested that border security, the wall and the shutdown was not where Democrat Nancy Pelosi wished to start her tenure as House Speaker. "Let's make a deal?" he asked.
4. North Korea's Kim launches "warning" to Trump
North Korean leader Kim Jong Un used a New Year's address to tell U.S. President Donald Trump that his country would if American economic sanctions were not lifted, although he also affirmed that he was open to another meeting with Trump to deal with outstanding issues.
"I am willing to sit with the U.S. president any time in the future and will strive to produce outcomes that would be welcomed by the international community. However, if the United States does not deliver its promise and misjudge our people's patience, making unilateral demands to continue sanctions and put pressure on us, we will have no choice but to seek a new path to protect the country's independence, interests and peace on the Korean Peninsula," Kim said.
5. Oil prices fall 1% as Chinese slowdown sparks demand worries
with a decline of more than 1% on Wednesday as the slowdown in Chinese factory activity stoked fears over weakening demand. China is the world's largest importer of oil.
fell 54 cents, or 1.19%, to $44.87 by 5:54AM ET (10:54 GMT), while traded down 72 cents, or 1.34%, to $53.08.
Oil prices ended 2018 lower for the first time since 2015 as the global economic slowdown cast worries over rebalancing the market.
According to a Reuters survey, economists expect oil prices to trade below $70 per barrel in 2019 as surplus production, much of it from the United States, and slowing economic growth undermine efforts led by the Organization of the Petroleum Exporting Countries (OPEC) to cut supply in an attempt to support prices.
Source: Investing