---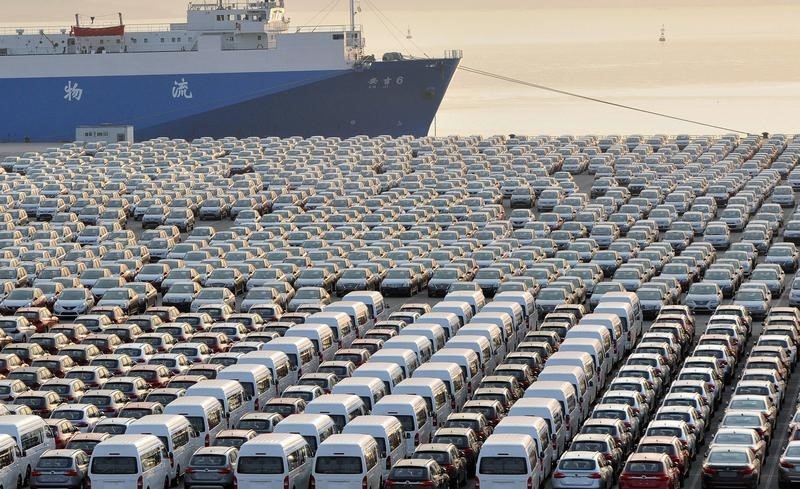 © Reuters.
Investing.com - Here are the top five things you need to know in financial markets on Monday, January 14:
1. China's Exports Shrink Most in Two Years
China's exports the most in two years in December, while imports also contracted, pointing to further weakness in the world's second-largest economy and deteriorating global demand.
China's December exports unexpectedly fell from a year earlier, with demand in most of its major markets weakening.
Imports also saw a shock drop, falling in their biggest decline since July 2016.
The disappointing numbers reinforced fears U.S. tariffs on Chinese goods were starting to take a heavy toll on China's cooling economy.
Adding to policymakers' worries, data also showed China posted its biggest trade surplus with the United States on record in 2018, which could prompt President Donald Trump to turn up the heat on Beijing in their bitter trade dispute.
2. U.S. Futures Point to Shaky Open
pointed to a sharply lower open at the start of the trading week, as worries about an economic slowdown in China weighed on sentiment.
At 5:30AM ET (10:30 GMT), the blue-chip were down 226 points, or about 0.9%, the slumped 24 points, or around 0.9%, while the tech-heavy indicated a drop of 78 points, or roughly 1.2%.
Elsewhere, started the week on the backfoot, with luxury goods and technology stocks leading the drop. Among national indices, and 40 were both down almost 0.8%.
Earlier, stocks in closed lower, with bourses in and faring the worst.
3.

Citigroup

Kicks Off 4Q Earnings Season
The fourth-quarter earnings season on Wall Street kicks off this morning, when Citigroup (NYSE:) becomes the first of the major U.S. banks to release its quarterly results at 8:00AM ET (13:00 GMT).
Analysts are earnings per share (EPS) of $1.55 on revenue of $17.5 billion. The same period of last year had $1.14 in EPS and $17.0 billion in revenue.
JPMorgan Chase (NYSE:) and
Wells Fargo
(NYSE:) are scheduled to report their earnings on Tuesday, followed by Bank of America (NYSE:) and Goldman Sachs (NYSE:) on Wednesday and
Morgan Stanley
(NYSE:) on Thursday.
Other big names due to issue results this week include Netflix (NASDAQ:), UnitedHealth (NYSE:),
American Express
(NYSE:), Blackrock (NYSE:), Delta Airlines (NYSE:), and United Continental (NASDAQ:).
4. Oil Prices Tumble Amid China Slowdown Jitters
In commodities, fell around 2%, with Brent crude slipping below $60 per barrel amid concerns over slowing demand in the wake of dismal Chinese trade data.
The Asian nation is the world's second-largest crude oil consumer.
International futures were at $59.41 per barrel, down $1.07, or around 1.8% from their last close.
U.S. futures were down $1.02, or about 2%, at $50.57 a barrel.
Read more: : Barani Krishnan
5. May Makes Final Plea Ahead of Brexit Vote
will make a last ditch effort to convince rebel lawmakers to back her Brexit divorce deal, warning that the UK's exit from the European Union is now in peril.
May will make a statement on to parliament at 10:30AM ET (15:30 GMT) before lawmakers continue their debate on her Brexit deal, Sky News reported.
The future path of Brexit is uncertain as parliament is likely to vote down May's deal on Tuesday. Possible outcomes include a last-minute deal, a disorderly exit, a new referendum or remaining in the bloc.
The pound edged lower, with dipping to 1.2832 at the start of what is expected to be a highly volatile week.
-- Reuters contributed to this report
Source: Investing