Good Morning. In today's edition, market rattles grow louder, Apple's troubles extend beyond China, Nancy Pelosi starts her second run as speaker of the House, and more.
Fears about the global economy intensified,
with downbeat news
sending U.S. stocks falling Thursday
and driving bond yields to their lowest level in almost a year. Friday brought some
recovery in global markets
, with Asian indexes finishing mostly higher and Europe up in midday trading. Futures pointed to higher openings for the Dow industrials and the S&P 500.
As of Thursday, half of investors expected the Fed to cut rates this year—up from about 10% the day before.
From reporter Amrith Ramkumar:
Investors I speak to are bracing for more companies to cut targets when earnings season kicks off the week of Jan. 14. The combination of Apple's revenue cut, ominous comments about global growth from FedEx a few weeks ago and weak manufacturing data are fueling more bets on a U.S. slowdown. The fears are only going to increase anxiety surrounding data points like this morning's jobs report, potentially leading to more market gyrations ahead.
Though Apple blamed its reduced revenue outlook on the economic slowdown in China
, saying it is denting iPhone sales, the problems
run deeper than that
.
In China, the biggest smartphone market, local rivals including Huawei sell competitive models at far lower prices. And the iPhone's share in India, the biggest untapped market, is only about 1%—and falling.
In the U.S., the company has been stung as owners hold onto their smartphones longer.

And Apple hasn't yet found a transcending product that can make up for the lost iPhone revenue.
China's consumers, a previously reliable driver of economic growth, are under stress.
That
threatens to deepen
a Chinese slowdown already rattling global markets.
With the shaky economy and trade fight with the U.S. sapping their confidence—and feeling pinched by rising costs for housing and often inadequate education and health care—consumers have cut back spending.

Apple is just the latest company to sound a warning about its outlook in a country that has become the largest market for many consumer, luxury and durable goods. Ford and GM have reported significant sales drops, and local e-commerce titans like Alibaba and JD.com have hit speed bumps.
Rep. Nancy Pelosi of California was elected House speaker for the second time as the 116th Congress convened yesterday.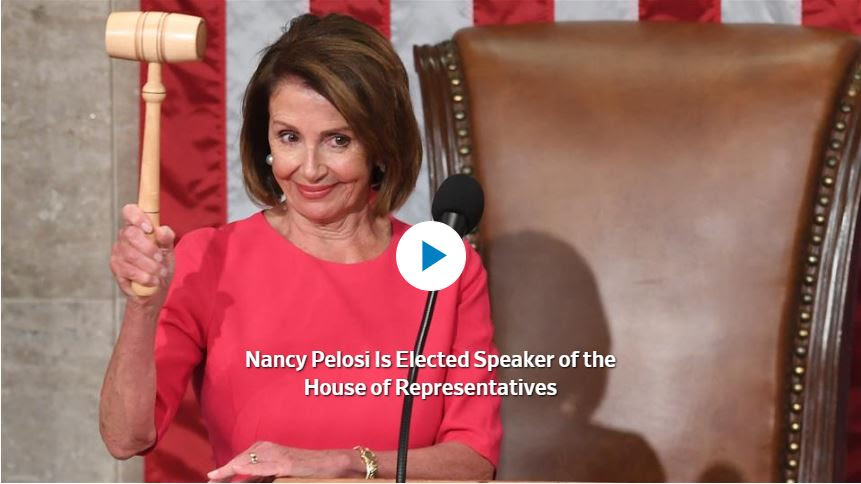 The last speaker to hold the job for more than one stint was Sam Rayburn, who got a House office building named after him. PHOTO: KEVIN LAMARQUE/ REUTERS

On their first day in power,
House Democrats passed
a spending package aimed at ending the partial government shutdown. Lacking the border-wall funding demanded by President Trump, the measures gained a handful of Republican votes, but are expected to stall in the GOP-controlled Senate.
President Trump made a surprise appearance in the White House press briefing room—his first-ever visit with reporters present—to push his case for $5 billion in border-wall funding, and declare a flood of public support for his position.

How is the partial government shutdown affecting you? Tell us your story.
Bristol-Myers Squibb's $74 billion deal for Celgene creates a powerhouse in cancer drugs,
a $123 billion world-wide market whose explosive growth and rapidly evolving science are generating
industrywide excitement
.
The agreement could signal a return to pharmaceutical deal-making, particularly in the fiercely competitive cancer-drug sector.

Competing in the cancer-drug business as price pressures grow requires not just good science, but bulk, analysts say; this deal is one of biggest pharmaceutical acquisitions ever.
A French cardinal's trial will spotlight the Catholic Church's handling of sex-abuse cases.
Archbishop of Lyon Philippe Barbarin, charged with
failing to report a crime
and endangering minors, is the first cardinal to stand trial for covering up abuse by priests.
Conviction could bring a three-year prison sentence and fines of up to $51,600. Cardinal Barbarin denies the charges.
The proceedings, starting in Lyon on Monday, will bring up the Vatican's role by calling into question communications in 2015 between Cardinal Barbarin and the head of the Vatican office that disciplines clerical sex abusers.
Pope Francis warned U.S. bishops
gathering for a retreat this week against disunity in the church. His letter follows months of conflict between the bishops and the Vatican over how to respond to the clerical sex-abuse crisis.
Trending Stories at WSJ.com
A courtroom sketch shows Vicente Zambada Niebla, left, taking the stand Thursday at the trial of accused Mexican drug lord Joaquin 'El Chapo' Guzmán, right, in Brooklyn. PHOTO: JANE ROSENBERG/REUTERS

Today's Question and Answer
In response to our question about colleges and universities nudging students into an early decision with a binding admissions option:
Mike Porembski in Illinois said: "Not just no, how about HELL NO! As a parent of one child enrolled at a university with another one headed off in a couple of years, for colleges to attempt to take away our ability to comparison shop...smacks of MORE greed. My kids will be graduating at some point with degrees and crippling debt. New dorms and dining rival top hotels! How about safe and clean lodging, top academics and at a REASONABLE price? WHERE are those schools?"
Tom Palumbo from Michigan wrote: "Nudging an 18-year-old to make a major life decision faster with less information is not a good idea. This is something I would expect from for-profit universities struggling to fill seats, but not public institutions that exist to advance public knowledge and culture."
Chris Amenson of Colorado shared: "It is absolutely appropriate for schools to seek binding commitments from prospective students, as they have capacity-planning needs just like any other functioning entity and should seek to plan that use wisely. The cost of higher education must come down and better faculty- and student-utilization ratios are a key component of that process. Colleges only use this for athlete admission today."
Question for Monday's 10-Point:
Going back to
our essay above
, what are your thoughts on the spread of legalized marijuana in the U.S.? Email us your comments, which we may edit before publication, to
10point@wsj.com
, and make sure to include your name and location.
The 10-Point was the name given to the news column that runs on the front page of The Wall Street Journal.