Markets
Global stocks resumed their early-week gains Tuesday on hopes that ongoing U.S.-China trade talks will bear fruit, even as further signs of weakness in the technology sector emerged.
The view from Asia: Chinese Bond Yields Hit Two-Year Low
Futures Curve Tracking 'Fear Gauge' Is Inverted
Gunjan Banerji, markets reporter
The rebound in U.S. stocks since Friday hasn't convinced all investors that volatility in the market is over. The S&P 500, Nasdaq and Dow each
climbed on Monday
, continuing a rally that started at the end of last week after a strong jobs report and comments from the Federal Reserve that the central bank isn't on a fixed path to raising interest rates.
But the futures curve tracking Wall Street's "fear gauge," the VIX, remained inverted Monday, with contracts expiring in the near term more expensive than ones dated further out in the future—an indication that some investors expect wild price swings to continue.
This type of relationship, known as backwardation, has lasted for 66 days—a stretch of time that is second only to the 75-day period from September to December of 2008, during the depths of the financial crisis, according to UBS data as of Monday. The data excludes the day before Thanksgiving. The bank also considers backwardation to have ended when the front-month futures contract is at least one point higher than the spot level of the VIX.
It's unusual for near-dated VIX futures or the index itself to jump above those expiring later, because investors tend to account for greater uncertainty later in time.
The inversion can signal that investors are buying VIX futures contracts to wager volatility will rise or stay elevated. For example, futures expiring this January traded about 2%
above those in February
, FactSet data Monday showed.
This volatility has boosted the returns of holders of some volatility exchange-traded products like the iPath S&P 500 VIX Short-Term Futures Exchange-Traded Note, known as VXX. The product has jumped about 50% since early October, when the inversion in futures began, according to UBS.
The volatility measure is based on options prices on the S&P 500 and tends to rise when stocks fall. Investors use options to hedge or make directional bets on portfolios.
Worries about economic growth and U.S.-China trade tensions have rattled markets in recent weeks. To be sure, other signals hint at a more optimistic outlook. The ratio of bearish options to bullish options on the S&P 500 has fallen since November even as equities have sunk, JPMorgan Chase data as of Jan. 2 show. The stock index has fallen about 8% in that period.
Do you have faith in the recent rebound in stocks? Let the author know your thoughts at
gunjan.banerji@wsj.com
. Emailed comments may be edited before publication in future newsletters, and please make sure to include your name and location.
Amazon closed Monday with a market capitalization of $796.8 billion, surpassing Microsoft to become the world's most valuable public company for the first time. The e-commerce giant jumped from fourth to first in six trading days, gaining $74.1 billion in value in that time span.

S&P 500 companies are expected to post earnings growth of 11.2% for the fourth quarter of 2018, according to FactSet. Based on the average change in earnings growth due to companies reporting positive surprises, it's likely that the index will report growth above 15% for the quarter, but below the 25% growth reported in the prior three quarters.

On this day in 1987, the Dow industrials topped 2000 more than 14 years after it crossed the 1000 mark. The blue-chip index finished Monday at 23531.35.
The Commerce Department's Bureau of Economic Analysis and Census Bureau are closed during the partial government shutdown, so international trade data for November won't be out Tuesday. Economists had expected the deficit to narrow to $54.2 billion from $55.49 billion a month earlier.
The Labor Department is funded, so we'll get November's job openings and labor turnover survey at 10 a.m. ET.
The Fed's consumer credit report for November is out at 3 p.m.
President Trump delivers a speech on border security at 9 p.m.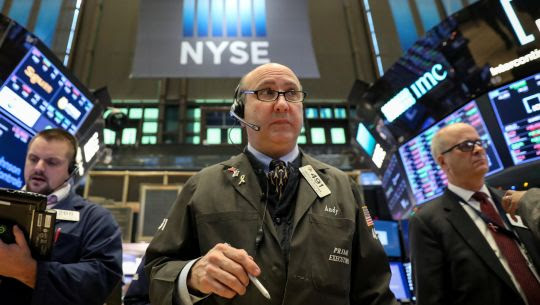 A launch would inject new competition into the heavily concentrated stock-exchange business. PHOTO: BRENDAN MCDERMID/REUTERS

What We've Heard on the Street
"Biotech stocks sold off sharply to end 2018. There is a big reason that they have more than a glimmer of hope for a rebound in the year ahead: Potential buyers of biotech companies seem indifferent to the weak market."
—Heard on the Street columnist Charley Grant
Union Pacific
:
The company hired Jim Vena, who previously worked in top leadership roles at rival Canadian National Railway, as its new chief operating officer, effective January 14.
Lennar
:
KeyBanc upgraded the home builder's stock from sector weight to overweight with a $50 price target.
Loxo Oncology
:
Shares of the company were downgraded to market perform from strong buy at Raymond James. The stock surged 66% Monday after Eli Lilly said it was
buying
the company for $8 billion in cash.