Markets
Happy New Year. I'm Amrith Ramkumar, chatting with you about the latest in markets with many investors hoping stocks rebound from a brutal December.
U.S. futures are sinking, after stocks
rose
Monday to finish off their worst year since 2008. Investors kick off 2019 waiting to see if the U.S. and China will reach a trade resolution. We'll also get a reading on U.S. manufacturing activity later this morning, after weak Chinese manufacturing data dragged markets lower across Asia and Europe.
With a number of assets coming off their worst quarter in several years, our
Ryan Dezember
looks at 2018's epic collapse in lumber prices.
Global stock markets fell on the first trading day of 2019 on deepening fears of a slowdown in the Chinese economy, extending a turbulent period for equities.
The view from Asia: China Struggles to Rein In Corporate Debt
Behind Lumber's Collapse: A Perfect Storm of Housing and Trade
By Ryan Dezember, markets reporter
Lumber futures reached a record in May that was 30% above the old all-time high set in the early 1990s. Still, lumber ended the year as one of the worst-performing commodities.
Then the wheels began to fall off the rally. Wood ordered in a panic early in the year began arriving by summer, filling lumber yards just as the housing market began to cool. A pair of devastating hurricanes slowed construction activity in swaths of the Southeast while the wettest autumn on record in Texas stymied builders there.
Meanwhile, rising interest rates and surging home prices in many of the hottest job markets strained affordability. Housing starts, which had reached a post-recession high in May, slid lower.
Lumber dealers now find themselves trying to sell wood that they piled up at high prices earlier in the year, which is preventing many from stocking for the spring building season with lower-cost wood, said Stinson Dean, managing partner of Kansas City lumber broker Deacon Lumber.
"We've got a lot of lumber we have to chew through before we can think about higher prices," Mr. Dean said. "Sawmills have to cut production."
The last time the Dow ended the year in negative territory after being positive through the first three quarters of the year before Monday was 1978, according to Dow Jones Market Data. The year was 1948 for the S&P 500 and 1987 for the Nasdaq.

In December, analysts cut their earnings forecasts for 2019 on more than half the companies in the S&P 500, according to FactSet, the first time that had happened in two years.

On this day in 1915, Wall Street had its slowest trading day of the 20th century as Europe's armies mired themselves in a bloody standstill. Only 23,505 shares traded hands on the New York Stock Exchange. This was also one of the best times to buy in the entire 20th century: By the end of 1915, the Dow had risen 82%, its largest annual climb ever.
Markit's U.S. manufacturing purchasing managers index for December is out at 9:45 a.m. ET.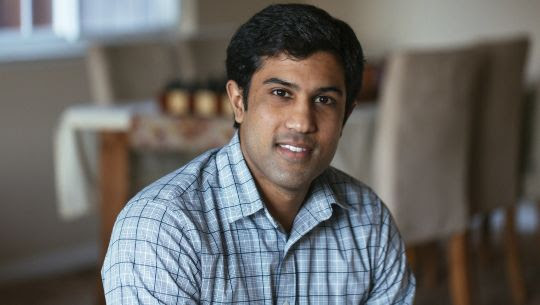 Alok Subbarao of San Mateo, Calif., is staying calm during the recent market declines. JEFF ENLOW FOR THE WALL STREET JOURNAL

What We've Heard on the Street