Markets
It's a jam-packed week. I'm Jessica Menton, giving you a rundown on what to watch in markets as stock futures edge lower following Friday's
surge
.
Today includes a crucial new round of
trade negotiations
between the U.S. and China. This morning, we're awaiting
service-sector data
, which tracks industries including health care, finance and construction, for signs of steady U.S. economic growth.
We'll parse minutes on Wednesday from the Federal Reserve's
latest meeting
, which will likely show how officials viewed conflicting signals from the economy at the end of 2018. Investors will also keep their eyes on consumer-price data Friday for clues on whether inflation is picking up.
Plus, I dive into why January is historically a strong month for stocks.
Global stocks were mixed Monday, with European indexes faltering despite strong gains in Asia, as focus shifted to U.S.-China trade talks and persistent concerns over economic growth.
Commodities: Oil Extends Rebound as Demand Fears Ease
If History Proves Right, Stocks Are Set to Climb
This month marks a historically strong period for stocks.
Friday's big rally in stocks helped erase the worst two-day start to a year since 2000. For investors who track seasonal patterns in markets, it also pointed major indexes in the right direction.
Not only is January typically a strong month for stocks—a phenomenon known as the January effect, which some analysts attribute to investors buying new shares after
tax-loss selling
in December—historical data suggests this month is poised to be even better than normal. That's because it comes in the third year of the presidential election cycle, which some analysts say is typically the best for equities.
In pre-election years since 1950, the S&P 500 has delivered its best performance in January, posting an average climb of 3.9% for the month, according to the Stock Trader's Almanac. Part of the reason: incumbents typically implement new policies, or push for lower taxes ahead of a presidential election in an effort to boost the U.S. economy, some analysts said.
One factor that could boost stocks is a thaw in
trade tensions
between the U.S. and China. Trade concerns have weighed on investors' outlook for economic growth during recent market declines, and officials for the two countries are engaged in 90-day trade negotiations scheduled to end in March.
Signs of a strong U.S. labor market and
dovish commentary
from Federal Reserve Chairman Jerome Powell helped alleviate some economic concerns and
powered a more-than 3% rally
in the Dow industrials on Friday. Easing trade tensions could propel further gains.
If the U.S. and China find a resolution, investors expect that trade-sensitive stocks like industrials, which have tumbled about 17% in the S&P 500 over the past three months, to lead a relief rally. Machinery company Caterpillar and aerospace giant Boeing have been among the hardest hit, slumping 16% and 15%, respectively, since early October.
Some investors, though, think the January trend may not hold up this year.
Congress already
cut tax rates
in December 2017, helping stimulate the economy and boost earnings growth in 2018.
One thing that could limit a further rebound: slower earnings growth. For the first time in two years, analysts in December cut their 2019 earnings forecasts on more than half the companies in the S&P 500, according to FactSet. They expect earnings for companies in the index to grow 7.4% in 2019, down from their forecast of 10.4% at the end of September, the data showed.
The S&P 500 rallied 3.4% Friday, its largest percentage gain on a jobs-report day since December 2008.

Financial-sector funds posted a collective net outflow of $17.2 billion in the final three months of 2018, their biggest quarterly outflow on record, according to fund tracker EPFR.

On this day in 1992, the technology-heavy Nasdaq Composite eclipsed the 600 threshold, finishing the day at 602.29.
The Institute for Supply Management's nonmanufacturing index for December, due at 10 a.m. ET, is forecast to slip to 58.4 from 60.7 a month earlier.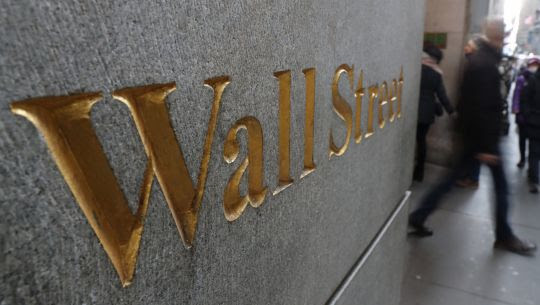 Even observers who have been cutting their targets remain relatively upbeat about the stock market's prospects this year. PHOTO: SHANNON STAPLETON/REUTERS
What We've Heard on the Street
PG&E
:
The utility operator said late Friday it plans to
shake up
its board as it responds to concerns that it could face billions of dollars in liabilities related to the recent deadly wildfires in California. PG&E shares have lost nearly 50% since early October.
Netflix
:
Shares of the video-streaming company jumped 10% Friday to their highest close since Nov. 9, after analysts at Goldman Sachs assigned a $400 price target on the stock over the next 12 months.
Alibaba
:
Shares of the Chinese e-commerce giant snapped a three-day losing streak Friday, rising 7%—their largest percentage increase since June 2017.
Advanced Micro Devices
:
The chip maker's stock was the best performer in the Nasdaq 100 Friday, climbing 11%—its biggest percentage rise since Sept. 4.
Source: WSJ