Markets
Get ready. It's shaping up to be a busy day. I'm Jessica Menton, walking you through this morning's market moves as U.S. futures point sharply lower.
Apple shares are down in premarket trade
after the technology titan
lowered
its revenue outlook for the crucial holiday quarter on tepid sales in China. The yen surged against the dollar as Apple's rare move renewed concerns over slowing global growth. Bristol-Myers Squibb has also
agreed to acquire
Celgene in a deal valued at about $74 billion.
Wall Street is also monitoring the new Congress, which will convene as a
partial government shutdown
enters its 13th day. Manufacturing and auto-sales data are also on tap.
Meantime, our
Daniel Kruger
explains the factors reducing investors' appetite for inflation-protected bonds.
Muted Inflation Makes Owning TIPS 'Painful'
Daniel Kruger, bonds reporter
Investors entered 2018 expecting strong economic growth to fuel inflation. A year later, they're still waiting for higher consumer prices.
Total returns for Treasury inflation-protected securities slumped in the fourth quarter to end 2018 down 1.4%, counting price changes and interest payments, while those for fixed-rate U.S. government debt climbed 1.9%, according to Bloomberg Barclays data.
Owning TIPS "has been a bit of a painful trade," said Donald Ellenberger, head of multiasset strategies at Federated Investors, which holds the debt.
While faster inflation poses a threat to the purchasing power of a conventional bond's fixed interest and principal payments, it typically leads to increased demand for inflation-indexed debt. Holders of TIPS receive a small yield as well as an increase in their principal equal to the annual change in the consumer-price index.
Apple could become the fourth-largest U.S. public company by market value for the first time since 2010 with a sizable drop today, according to Dow Jones Market Data. If its premarket drop holds and Apple falls 7.3% to $146.45 while other tech companies maintain their values, the iPhone maker could fall behind Google parent Alphabet. It already trails Microsoft and Amazon.com.

Investors yanked a net $84 billion from U.S. mutual funds and exchange-traded funds that track stocks over the last two months of 2018, with $75.5 billion of those outflows coming in December alone, the biggest exodus from stock funds in a single month ever, according to Lipper data going back to 1992.

On this day in 2001, the Fed surprised investors and lowered the fed-funds rate from 6.5% to 6%. Analysts who one year earlier insisted that rates were irrelevant to the value of tech stocks declared the cut in the cost of borrowing to be significant. The Nasdaq surged 14% and its daily-trading volume surpassed 3 billion shares for the first time.
U.S. auto sales for December are expected to decline to a 17.2 million annual pace from 17.5 million a month earlier.
The ADP employment report for December, due at 8:15 a.m. ET, is expected to show a net gain of 178,000 private-sector jobs.
U.S. jobless claims, out at 8:30 a.m., are expected to rise to 220,000 from 216,000 a week earlier.

The Institute for Supply Management releases its December manufacturing-activity index at 10 a.m.
U.S. construction spending for November, also released at 10 a.m., is expected to rise 0.2%.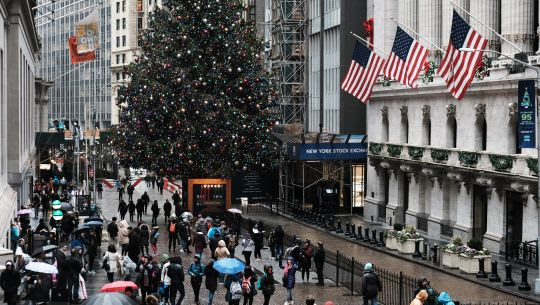 The S&P 500 fell 6.2% in 2018. Above, the New York Stock Exchange. PHOTO: SPENCER PLATT/GETTY IMAGES

What We've Heard on the Street
"China's economy is in trouble. Unless policy makers permit a meaningful rebound in the shadow-banking sector...or take the more difficult steps to improve private-sector access to bank credit, things could keep getting darker for a while."
—Heard on the Street columnist Nathaniel Taplin
Arconic
:
Shares of the aerospace manufacturer closed up more than 10% Wednesday after Bloomberg reported late in the session that Apollo Global Management is
in talks to buy Arconic
for about $22 a share in a deal that could be reached by mid-January.
GrubHub
:
Financial-services firm Stephens named the delivery service as its top pick in the restaurant sector in 2019 with a stock-price target of $155, which is 102% above its year-end closing price.
Sempra Energy
:
The company plans to sell its U.S. natural-gas storage facilities to private-equity firm ArcLight Capital Partners for $322 million in cash. Sempra's stock is down nearly 8% since early October.