Markets
Hello. Amrith Ramkumar here setting up today's trading as investors look to see if stocks can extend a
recent rebound
.
With more swings in the bond market expected as investors adjust their rate expectations, our
Daniel Kruger
explains why Wall Street analysts are saying yields have already peaked.
Why Goldman Says Yields Have Topped Out
By Daniel Kruger, bond market reporter
Goldman Sachs economists said Tuesday that weakening economic data combined with tighter financial conditions and investors' diminished appetite for risk have led the firm to lower its forecasts for interest-rate increases and U.S. government bond yields.
The Fed's tone has moderated recently, and Goldman expects policy makers to adjust their approach should data show signs of economic weakness. Because investors' risk appetite has waned recently, Fed officials and central bankers around the world are likely to adopt a more cautious tone in their efforts to adopt more traditional monetary policies, Goldman's report said.
Other investors and analysts have also said yields may already have reached their highs. Bank of America recently lowered its 2019 forecast for the yield on 10-year Treasurys to 3%, and is predicting the Fed will raise rates two more times. Janney Montgomery Scott recently said the Fed is likely to pause and may halt rate increases, the credit cycle is turning and intermediate to longer-term interest rates have likely peaked.
U.S. crude climbed for the seventh consecutive session on Tuesday, its longest such streak since July. Oil prices have bounced back 17% from their Christmas Eve lows, though they are still 35% below their Oct. 3 multiyear peak.

Less than half of Wall Street analysts tracked by FactSet have "buy" or equivalent ratings on Apple shares for the first time since the start of 2006, according to FactSet.

On this day in 1790, Treasury Secretary Alexander Hamilton submitted to Congress his "Report on the Public Credit," which proposed buying up distressed bonds to consolidate the national debt. U.S. and state bonds, which had been trading at a fraction of their value, immediately surged in price. In one of the earliest cases of insider trading, several members of Congress hired sailboats and stagecoaches to take them south faster than the news could travel by foot. They snapped up bonds at bargain prices before Southern newspapers spread the news of Hamilton's proposals.
The Atlanta Fed's Raphael Bostic speaks at the Chattanooga Chamber of Commerce's 2019 Economic Outlook Breakfast at 8:20 a.m. ET; the Chicago Fed's Charles Evans speaks on monetary policy and the economy at 9 a.m.; and the Boston Fed's Eric Rosengren speaks on the economic outlook at 11:30 a.m.
The Bank of Canada releases a policy statement at 10 a.m.
Crude-oil inventories are scheduled for 10:30 a.m. Stockpiles are projected to have fallen 1.8 million barrels last week, per the average forecast of 10 analysts and traders surveyed by the Journal.
Federal Reserve minutes from the Dec. 18-19 meeting are released at 2 p.m.
China's consumer-price index for December is out at 8:30 p.m.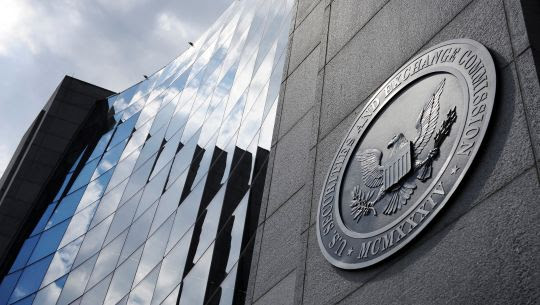 During shutdowns in 1995, 1996 and 2013, the SEC was able to draw on surplus cash to remain open. PHOTO: JONATHAN ERNST/REUTERS

What We've Heard on the Street