Markets
Brrrrr...Get ready, it's Fed day. I'm Jessica Menton, navigating the markets on this brutally cold morning in New York. Futures are rising
following
back-to-back
declines for the S&P 500.
The Fed will release a policy decision this afternoon. The central bank is expected to hold interest rates steady. Investors will parse remarks from Fed chief Jerome Powell for more clues on the central bank's outlook for rates and its shrinking bond portfolio.

Apple shares are jumping premarket. CEO Tim Cook struck a positive tone on an earnings call even as the tech giant posted its worst holiday-quarter results in over a decade. Investors are also sifting through reports from Boeing, AT&T and McDonald's this morning, and will hear from Facebook, Microsoft and Tesla after the closing bell.

Meanwhile, consumer-staples shares are feeling unloved. Below, I explain how shifting consumer habits and rising costs have continued to pressure staples companies this year.
Register for WSJ's Markets Conference Call
Join WSJ journalists on Friday as they discuss what's ahead for the financial markets in 2019.
Register here
, and send your questions on the markets to
subscribercall@wsj.com
.
Investors Embrace Risk, Leaving Staples Behind
The sector has shed 9% since late 2017 while the S&P 500 has lost 1.3%.
Investors aren't hiding out in the consumer-staples sector anymore.
Shares of companies selling everyday household goods such as cereal, shampoo and dish soap are underperforming the S&P 500 in January. That is partly due to a series of disappointing earnings reports from companies including McCormick, Colgate-Palmolive and Kimberly-Clark, along with signs that investors are willing to take on more risk in other corners of the stock market.
The S&P 500 has rallied 5.3% to start 2019 after suffering its worst December selloff since 1931. But the staples sector largely has been left behind, adding just 2.4%. Only the utilities and health-care sectors have posted smaller gains.
January's performance is a reversal from late last year, when some investors found solace in shares of staples companies. Such stocks are popular during periods of volatility because of their hefty dividend yields and the steady nature of their businesses.
Staples companies in the S&P 500 shed just 6% in the last three months of year, well short of the losses in the financial, industrials, energy and discretionary groups, which all declined at least 14%. Those four groups are back in favor in January, all surging more than 6%.
But some investors say they are maintaining some exposure to the stocks in the sector because of their defensive nature. The staples sector has a dividend yield of about 3.07%, exceeding the broader S&P 500's 1.99% yield and topping the 2.712% yield on the 10-year U.S. Treasury note.
The staples sector as a whole is expected to post among the weakest fourth-quarter earnings growth of the 11 sectors in the S&P 500. With results in from 30% of the companies in the group, profits are projected to rise 3.3%, versus an 11% expected gain for the broad index.
Despite being slightly cheaper than the S&P 500, some investors still say staples stocks are too pricey. They were trading at about 17.1 times trailing earnings as of Monday, down from 22.7 at the end of 2017, while the S&P 500 was trading at 17.4 times earnings, down from 21.9, according to FactSet.
Only three companies have listed on U.S. exchanges in the new year through Tuesday, compared with 15 initial public offerings in the first four weeks of 2018, according to FactSet. IPO activity was halted this month after the government shutdown partially closed the SEC.

Shares of GameStop tumbled 27% on Tuesday, their largest percentage loss since December 2002, after it abandoned plans to sell itself.

On this day in 2000, 17 dot-com companies each spent $73,000 per second for network television ads—a total of nearly $38 million—during Super Bowl XXXIV. By the time the big game had rolled around the next year, at least three had filed for Chapter 11 bankruptcy protection, thanks largely to the money they spent promoting themselves.
The ADP jobs report for January, issued at 8:15 a.m. ET, is expected to show a net gain of 183,000, down from the prior month's 271,000 increase.
U.S. gross domestic product for the fourth quarter will be delayed due to the partial government shutdown.
U.S. pending-home sales for December, due at 10 a.m., are expected to rise 0.5% from the prior month.
Crude-oil stockpiles are out at 10:30 a.m. and expected to have advanced by 3.1 million barrels during the week ended Jan. 25, according to the average forecast of 13 analysts and traders surveyed by the Journal.
The Federal Reserve releases a policy statement at 2 p.m. and Chairman Jerome Powell holds a press conference at 2:30 p.m.
China's purchasing managers indexes for January manufacturing and services are out at 8 p.m.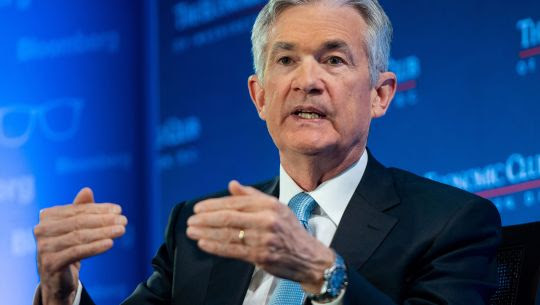 Jerome Powell, the chairman of the Federal Reserve, which raised short-term interest rates four times in 2018. PHOTO: SAUL LOEB/AGENCE FRANCE-PRESSE/GETTY IMAGES

What We've Heard on the Street