Markets
It's shaping up to be another busy week. I'm Jessica Menton, taking you through today's pre-market action.
Stock futures are sliding. We're watching to see whether the Dow industrials can notch gains for a sixth straight week after ending higher Friday.

Tech earnings dominate the calendar. Apple, Amazon, Facebook and Microsoft are among the companies turning in fourth-quarter results this week. Caterpillar is on tap this morning. A number of other industrial, consumer-products and energy companies are also due.

The Fed and the jobs report are in focus. Our Daniel Kruger explains why investors' hopes will get a fresh test in the coming days, as the central bank releases a policy statement Wednesday ahead of the closely watched employment gauge Friday.
Fed Bondholdings Take Center Stage for Markets
By Daniel Kruger, bond market reporter
Investors' hopes that the Federal Reserve will remain cautious about raising interest rates and paring bondholdings have helped spur January's rally. Those hopes will get a major test this week.
Wall Street is still grappling with the effects of the central bank's balance sheet taper on financial markets.
Investors spent much of last year wondering whether the Fed's reduction in bondholdings was
aggravating market volatility
. Stocks rose Friday after The Wall Street Journal
reported
officials were weighing a sooner-than-expected end to the Fed's runoff of its bond portfolio.
The Fed accumulated its holdings of Treasury and mortgage bonds—$4.2 trillion at their peak, or about five times their precrisis level—as part of a
series of attempts
to spur economic growth after the financial crisis, reducing the availability of safe assets and pushing investors toward riskier securities.
By many accounts, the Fed succeeded. The stimulus added about 1,100 points to the rally in the S&P 500, according to David Rosenberg, chief economist and strategist at Gluskin Sheff.
The problem for analysts and investors is there was no precedent for the effort and no one's certain about the ramifications of removing it.
Former Fed Chairman Ben Bernanke once said the
problem with quantitative easing
is "it works in practice, but it doesn't work in theory."
Some analysts said investors viewed the Fed's December forecast, which penciled in two rate increases and continued balance-sheet reductions in 2019, as a sign the central bank might continue withdrawing monetary stimulus until the economy suffered.
Fed Chairman Jerome Powell's Jan. 4 statement that policy makers would be
flexible about raising rates
and shrinking bondholdings improved sentiment, and helped power the recent rebound, said Katie Nixon, chief investment officer at Northern Trust Wealth Management. Reconsidering the balance-sheet reduction could also help lift stocks, she said.
Others were dubious about the central bank's role in recent market swings. Investors were "extrapolating too much" about the potential for Fed policy to lead to slower economic growth and overreacted, said Sharmin Mossavar-Rahmani, chief investment officer of the Goldman Sachs Investment Strategy Group. Her base case is for stocks to return about 9% in 2019 and for the Fed to raise rates once or twice.
The S&P 500 climbed 10% from when the partial government shutdown began on Dec. 22 through Friday, the index's best performance during such an impasse since at least 1976, according to Dow Jones Market Data.

About $0.5 billion flowed out of global equity funds during the week ended Jan. 23, according to a Bank of America Merrill Lynch analysis of figures from fund tracker EPFR Global. That marked the ninth outflow in the last 10 weeks.

Of the 22% of companies in the S&P 500 that reported fourth-quarter earnings results through Friday, 71% of them beat earnings-per-share estimates, in line with the five-year average, according to FactSet. The number of companies beating on revenue is below the long-term average.
The Chicago Fed National Activity Index for December is released at 8:30 a.m. ET.
The Dallas Fed manufacturing survey for January will be issued at 10:30 a.m.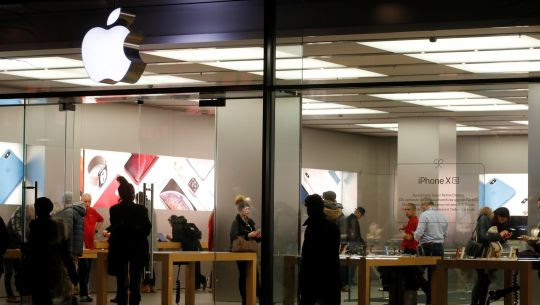 Apple is among the large technology companies investors will be watching when earnings are reported this week. PHOTO: ARND WIEGMANN/REUTERS

What We've Heard on the Street