---
10:04
UK health minister on genome sequencing.
Kalyeena Makortoff
Questions have turned to how genetic information can be used by private companies like insurers to determine costs/premiums. Hancock points out how insurance firm Sheilas' Wheels only offered insurance to women on the base that they posed lower risk. That was deemed unlawful by the EU.
Hancock says there is "absolutely" a role for government in deciding what information is and isn't valid in the provision of insurance (and presumably other services).
There's also a question of who owns genetic data, which Hancock stresses should be controlled under consent of the individual.
The health secretary said choice needs to be central to the question of genome sequencing."Not allowing people to opt out...would be a huge imposition of the state into people's lives."
Updated

10:04
Since you're here … we have a small favour to ask. Three years ago we set out to make The Guardian sustainable by deepening our relationship with our readers. We decided to seek an approach that would allow us to keep our journalism open and accessible to everyone, regardless of where they live or what they can afford.
More than one million readers have now supported our independent, investigative journalism through contributions, membership or subscriptions. We want to thank you for all of your support. But we have to maintain and build on that support for every year to come.
The Guardian is editorially independent – our journalism is free from commercial bias and not influenced by billionaire owners, politicians or shareholders. No one edits our editor. No one steers our opinion.
If everyone who reads our reporting, who likes it, helps to support it, our future would be much more secure.
For as little as $1, you can support the Guardian – and it only takes a minute. Thank you. Make a contribution - The Guardian
09:39
Greta Thunberg: it's time to panic on climate change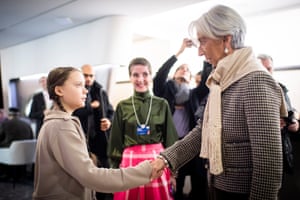 Climate activist Greta Thunberg has
lived up to her pledge to warn Davos to address the climate crisis
.
She told us yesterday that she had chosen to trek to Davos to get her message out.
And a few minutes ago, speaking on a panel session, she told delegates she was here to tell them that "Our house is on fire", due to greenhouse gas emissions and rising global temperatures.
Thunberg started striking from school last summer to press Swedish MPs to meet their Paris Agreement obligations.
At places like Davos, people like to tell success stories, but financial success has come with an unthinkable price tag on climate change.
We have failed.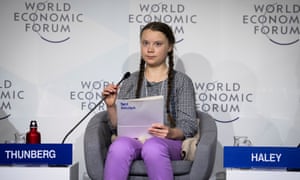 Thunberg added that the media haven't managed to create enough awareness of the urgent problems of climate change. But, it's not too late....
It's a simple issue. We need to stop emissions of greenhouse gases. Either we do that or we don't. Either we prevent 1.5 degrees of warming, or we don't.
There are no grey areas when it comes to survival.
Adults like to say that they want to give their children hope. I don't want your hope. I want you to panic. I want you to feel the fear I feel every day.
I want you to feel as it the house is on fire, because it is.

Christiana Figueres, the former head of the UN's climate change group, backs Thunberg, saying
She's right, we have not panicked enough.

Updated
09:26
You know the tax system is in trouble when even the accountants won't defend it!
Bob Moritz, the chairman of accountancy giant PcW, has told Davos that today's taxation systems are old, outdated and not fit for the future.
They were set up for protectionism, he explains, as countries fought over each other to attract companies.
You're telling us that people want to pay more tax?!
Moritz doesn't go that far, but is damning about the status quo:
We want to pay our fair share of taxes, but the reality is the tax laws and regulations we have today are absolutely antiquated and not fit for the multiple stakeholders that we have to focus on.

All very worthy. But lets not forget that PwC was roasted by MPs a few years ago for
selling tax avoidance on an industrial scale
. Talk is cheap (
well, as much as anything is cheap in Davos
)
Updated
09:12
Oxfam: Time to stop rigging economy for the rich
Winnie Byanyima, executive director of Oxfam International, has delivered a stinging blast at governments for not tackling wealth inequality.
We are now in an economy that is really rigged, so that a few get better off and others now.
With this kind of extreme inequality, many will remain stuck in poverty, says Byanyima, citing World Bank data which shows the rate of reducing extreme poverty has slowed, and continues to slow.
How bad is the situation? Very bad:
3.4 billion people are just a crop failure, or a medical bill away, from falling back into extreme poverty, because they're earning no more than $5.5 per day

.
Rich companies,
rich people, have been able to write the rules of the economy so they are winners and others are losers.
She thinks a universal basic income would do some good, but ultimately we need a wealth tax, to create fiscal space for education and healthcare (an idea that is rocketing back up the political agenda)
And she warns that austerity in rich countries is hurting women particularly badly:
Women are pulling out of work to care for the sick, of the elderly, of disabled people.
This is because governments have sat back, not done their job and allowed a few to take away the bulk of the wealth.

08:56
A quick audience poll at a Davos panel on wealth inequality shows that 61% don't support a basic income.
08:54
European markets rise after gains in Asia
Investors are in a relatively upbeat mood this morning, with European markets up across the board following gains in Asia.
FTSE 100: +0.3% at 6,837
Germany's DAX: +1.1% at 11,253
France's CAC: +0.7% at 4,905
Italy's FTSE MIB: +0.8% at 19,724
Spain's IBEX: +0.7% at 9,210
Europe's STOXX 600: 0+0.7% at 358
Michael Hewson, chief market analyst at CMC Markets:Despite the ongoing uncertainties around US, China trade markets in Europe have opened higher this morning, taking a positive lead from a strong performance for Asia markets.
It's been a decent week for markets in Asia with the Nikkei 225 closing higher for the third week in a row, the first time that has happened since October last year.

AM
08:40
Kalyeena Makortoff
Chancellor Philip Hammond has just arrived at the Congress Centre.
He wouldn't stop to talk and his team has said he's on his way to a "bilateral meeting" downstairs but would not say with who. He was with about half a dozen staff, with a camera in tow.
Hammond has pulled out of this morning's session on the global economy, which was officially blamed on work pressures. However, Davos insiders told us that the Treasury objected to him being on the same platform as the economist
Mariana Mazzucato
(which the Treasury denied).
08:35
Never mind Khashoggi, let's make money!
That, I'm afraid, is Saudi Arabia's message to Davos - as illustrated by this massive poster outside the congress centre.
It's a timely reminder that money counts for more than morals round here. Just months after Jamal Khashoggi's brutal murder, Saudi delegates aren't being cold-shouldered here.
As Bloomberg put it
:
At an event where success is often measured by who's seen at a reception or speaks on a panel, the Saudis aren't getting the cold shoulder any more. James Gorman, the head of
Morgan Stanley
, spoke on Thursday in a debate alongside two Saudi ministers. And the likes of Jamie Dimon of JPMorgan Chase & Co. and John Flint of
HSBC Holdings Plc
attended the annual Davos party thrown by Saudi oil giant Aramco, according to a person present.
"I don't think Saudi Arabia is in the penalty box," Gorman said in an interview with Bloomberg TV. Khashoggi's murder "was utterly unacceptable and the world including the Saudis want to understand exactly what happened. In the meantime, Saudi is a country of 32 million people. These folks deserve a shot," he said.

08:15
In case you missed it, here is the full story on our interview with Greta Thunberg, the 16-year-old climate change campaigner, who will be addressing delegates in Davos later this morning:

Updated
08:04
Agenda: Christine Lagarde and the global economy
Good morning, and welcome to our rolling coverage of the final day of the World Economic Forum in Davos, and other events across the economy and the markets.
In Davos, the global elite will be looking nervously to the future today - with sessions on inequality, bioethics and the global economy.
IMF chief
Christine Lagarde
will chair a discussion on the world economy. The global slowdown, the US-China trade war and Brexit have all loomed over WEF this week, so we'll hear what World Bank chief Kristalina Georgieva, South Africa's central bank governor Lesetja Kganyago, Japan's central bank governor Haruhiko Kuroda, and economics professor Mariana Mazzucato have to say.
Delegates will also by digesting George Soros's stinging attack on China last night, when he accused president Xi of using technology such as artificial intelligence to control his population.
Swedish 16-year old climate change campaigner Greta Thunberg is bringing her campaign to Davos. She'll be giving a speech to delegates, and conducting her weekly school strike.
Yesterday she told us:
I have said that every Friday I will sit outside the Swedish parliament until Sweden is in line with the Paris Agreement, and now this Friday I can't be there. So I will have to do it here, and send a message that this is the only thing that matters.

The agenda:
9.15am GMT / 10.15am Davos: Session on "What if everyone had their genome sequenced at birth?"
9.15am GMT / 10.15am Davos: UK health secretary Matt Hancock will be attending the panel on bioethics
9.30am GMT / 10.30am Davos: Session on the cost of inequality with primatologist Jane Goodall and Oxfam's Winnie Byanyima
10.30am GMT/11.30am Davos: Session on the global economy with Christine Lagarde, Kristalina Georgieva, Lesetja Kganyago, Haruhiko Kuroda, and Mariana Mazzucato
10.15am GMT/11.15am Davos: Greta Thunberg gives speech on the urgent need to combat climate change
Updated