---
Given the reduction in government incentives, the pace of growth of plug-in cars is now falling significantly behind the EU average.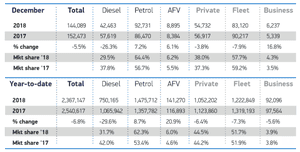 That includes a 5.5% year-on-year drop in sales in December.
Diesel sales crashed by 29.6% in 2018, as drivers were deterred from buying a new model (or trying to sell their old one) by
the aftermath of Volkswagen's emissions scandal
.
The SMMT says the industry suffered "a turbulent year", with consumer and business confidence falling (thanks, Brexit!), plus model changes, regulatory upheaval and continued anti-diesel policies.
Mike Hawes, SMMT
chief executive, says:
Mike Hawes, chief executive of the SMMT, said the drop was due to a combination of new emissions tests leading to supply bottlenecks, diesel drivers holding on to their cars for longer and low consumer confidence.
"Brexit is an issue," he said, but he added that it would be "unfair to attribute [the decline] wholly to Brexit." He said Dieselgate — the scandal that revealed widespread cheating in emissions testing by manufacturers — was probably the most significant factor as it was the only category in which sales dropped.

The Independent
has highlighted the dangers posed by Brexit:
The SMMT said that its members had spent some time examining what might happen under a disruptive no-deal Brexit, but many car imports are through specialist centres such as Immingham rather than the traditional cross-channel routes. There seems to be little sign, as yet, of consumers buying cars in advance of possible shortages, but the SMMT said that a first-quarter sales boost in 2019 was possible. It added that its members had not been stockpiling new vehicles.
On the other hand, UK manufacturing operations have very little scope for warehousing new parts and any disruption to the 1,100 trucks a day coming to deliver parts to assembly lines across Britain would mean line stoppages, a rapid escalation in costs and a threat to future production and investment.

Sky News
points out:
Updated