What's Next



Good Afternoon
Welcome to What's Next, a Sunday newsletter from the folks who deliver your essential weekday What's News briefing. We won't overload you: just a quick look at the week ahead and great stories you ought not to miss.

Week Ahead


The work week is coming. Be ready.


Scandal over dead journalist jolts heir to Saudi throne. Crown Prince Mohammed bin Salman, secure for now, is scrambling to contain global backlash over the killing of government critic Jamal Khashoggi in Saudi Arabia's Istanbul consulate.
U.S. Treasury Secretary Steven Mnuchin travels to Saudi Arabia Monday to solidify a pressure campaign against Iran. Before leaving, he said it was too early to discuss potential sanctions against the Saudi kingdom over the death of Khashoggi.
Mr. Mnuchin and many business leaders pulled out of a major investment conference next week in Riyadh. A Washington consultancy set up a website called Stopfii.com and listed a "Wall of Shame" of officials still planning to attend.

Voter interest in the midterm elections has surged to records. The increase is helping to drive up President Trump's approval rating while maintaining the Democrats' lead as the party most preferred to lead Congress, a new Wall Street Journal/NBC News poll has found.

Earnings season heats up this week. Some of the biggest names in tech and Dow components are reporting. Google parent Alphabet, Amazon and Twitter all release results on Thursday. Verizon and Caterpillar will report on Tuesday.

Third-quarter gross domestic product data come out Friday. In the second quarter, GDP rose at a 4.2% seasonally adjusted annual rate, powered by gains in consumer spending, net exports and business investment. A widening trade gap could be a drag on third-quarter GDP, which economists expect grew 3.4%.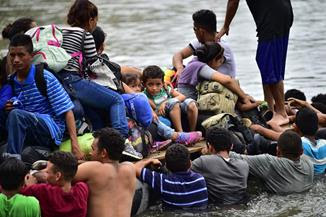 Migrants stranded at Mexico's southern border consider their options. Hundreds of Honduran migrants stranded at a crossing began to return home, while others sought to cross the muddy river that divides the countries.





Long reads and smart WSJ analysis curated by our editors

Will tech leave Detroit in the dust?

As IPO proposals value Uber at an eye-popping $120 billion, auto makers are racing to gain ground in everything from car sharing to driverless technology. At stake:

who will control the future of transportation

.

A private-equity firm raised billions pledging to do good—then it fell apart.

Western investors piled into Abraaj Group, whose founder, Arif Naqvi, pledged to make money by helping the poor in developing countries. Now it's the

world's largest insolvent private-equity firm

.

The crisis in U.S.-China relations

. The Trump administration has staked out an aggressive position, but its critique of Chinese behavior is widely shared and

points to the need for a new strategy

, writes Richard N. Haass.

Why superstars make lousy bosses.

LeBron James wants to turn the Los Angeles Lakers into an NBA dynasty, but five decades of management theory suggest

he's doomed to fail

, writes columnist Sam Walker.

U.S. colleges clash on new playing field: voter turnout.

On campuses this fall,

voting is a competitive sport

. Organizers play on academic and athletic rivalries between schools to lift chronically-low student voting rates for the 2018 midterm elections.


How autonomous vehicles will change our world. Self-driving cars are just one piece of the puzzle, as everything around us—our roads, our warehouses and even our definition of what a car can be—will change. A former New York City traffic commissioner explains.


The minefield of talking with children about sexting. Parents face a daunting task educating teens, tweens and even grade-schoolers on the hazards of sexually explicit photos or videos, but these strategies can help.

UltraFICO could help those with lower credit scores. The new measure factors in bank account activity as well as loan payments. Experian will compile consumers' banking information with help from financial-technology firm Finicity and will distribute the new score to lenders.

You want 20% for handing me a muffin? Countertop payment tablets can turn gratuities into an awkward ordeal. Consumers face that disconcerting ritual at bakeries, food trucks and other businesses that use tablet credit-card readers such as Square.



You're a bad investor? That can be good. What makes people successful is different from what makes them a good performer.



Chart of the Week



Add caption

Pope's handling of sex-abuse cases fractures a Catholic stronghold. The future of the Catholic church, and Pope Francis' handling of the sex-abuse scandal, is playing out in Chile. "We want a new and clean church," said one Catholic Church abuse victim, "without criminals."

This Day in History

Oct. 21, 1991

Jesse Turner Freed After Years of Captivity


"An American hostage was freed by Lebanese captors, the U.N. said. Officials at the U.N. said the hostage, 44-year-old Jesse Turner of Idaho, was en route to Damascus after being released in Beirut," the Journal reported the following day. "U.N. chief Perez de Cuellar said the governments of Iran, Libya and Syria helped to bring about the release. He also thanked Israel for freeing 15 Lebanese prisoners earlier in the day."









THE WALL STREET JOURNAL
—Compiled and edited by Josee Rose in London and Phil Nobile in New York