Good evening. Here's the latest.
Pool photo by Alex Wong
1. There was furious lobbying in Washington to sway President Trump from his plan to impose new tariffs on steel and aluminum.
He's expected to sign off on the tariffs

on Thursday

. Foreign governments, businesses and key Republicans all argued against them. But they were left without an important ally after the resignation of Gary Cohn, above, formerly Mr. Trump's economic adviser.
Mr. Cohn's departure exposed a rift between Mr. Trump and establishment Republicans, and it has Wall Street worried.
____
Jim Wilson/The New York Times
2. "California, we have a problem."
That was Attorney General Jeff Sessions announcing that the Justice Department is suing California over its so-called sanctuary laws. (Those are measures designed to make it more difficult for federal immigration agents to operate there.) Above, protesters outside the hotel where Mr. Sessions spoke in Sacramento.
Gov. Jerry Brown fired back, saying Mr. Sessions was "going to war" against the state, and calling the suit "pure red meat for the base."
____
The Blue House, via Agence France-Presse — Getty Images
3. It was an eye-catching diplomatic debut for an enigmatic young dictator.
South Korean envoys were not prepared for how "forthcoming and daring" Kim Jong-un would be as he welcomed them to Pyongyang. They reported that Mr. Kim, third from left in the photo above, was open to negotiations with the U.S. over its nuclear program, and that he would suspend nuclear and ballistic missile tests during the talks.
On "The Daily," we discuss what happened to the threat of nuclear war.
____
Hein Htet/European Pressphoto Agency
4. The U.S. Holocaust Memorial Museum revoked a prestigious human rights award it had given to Daw Aung San Suu Kyi, Myanmar's civilian leader.
The museum faulted Ms. Aung San Suu Kyi for failing "to condemn or stop the military's brutal campaign" against the country's minority Rohingya population.
It's perhaps the strongest condemnation yet of Ms. Aung San Suu Kyi, a Nobel Peace Prize laureate. For many of her onetime admirers, her handling of the Rohingya issue has been a grave betrayal.
____
Matt Dunham/Associated Press
5. The British authorities confirmed that a former Russian spy and his daughter had been poisoned by a nerve agent in England this week. Suspicion is now rampant that the episode was an assassination attempt — and that Russia may be responsible.
The former spy, Sergei Skripal, 66, and his daughter, Yulia, 33, remain in critical condition. Above, the scene near the park bench where they were found.
____
Stephen Speranza for the New York Times
6. The second major winter storm in less than a week hit the northeastern U.S.
Schools were closed throughout the region and the governors of Massachusetts, New Jersey and New York declared states of emergency. Parts of New York shook with "thundersnow." Above, a scene in Brooklyn.
More than 2,600 flights were canceled across the country, and the evening commute was expected to be messy. Here's the latest.
____
Ruth Fremson/The New York Times
7. A Utah lawmaker introduced a bill that would rename the state's most scenic highway in honor of President Trump, as a thank-you for the administration's decision to shrink two national monuments there. Above, Zion National Park, which is near the highway.
An opponent of the bill countered with his own proposal: a "Stormy Daniels rampway." The pornographic-film actress, who says that she had an affair with Mr. Trump, filed a lawsuit claiming that a "hush agreement" was void because Mr. Trump didn't sign it.
____
Roger Kisby for The New York Times
8. "I'm on the edge of crazy when I'm laying brick."
That was the defending champion of the Spec Mix Bricklayer 500, the world's largest competition of bricklayers, in Las Vegas.
The trade seems to be at risk for a robot takeover — despite rising wages, there's a shortage of workers. But the bricklayers we talked to aren't worried.
"There's a human element to a craft that you don't get from a robot," the head of a contractors' group explained.
____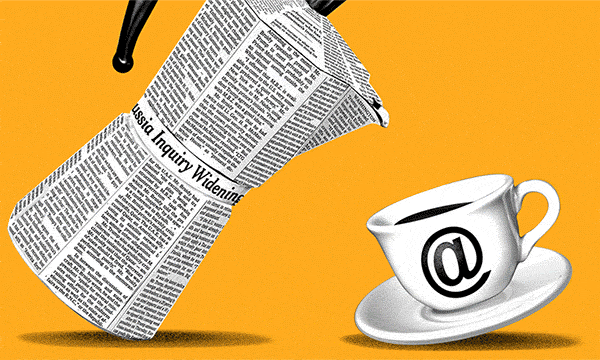 Doug Chayka
9. Our tech columnist skipped digital news for two months, reading print editions of three newspapers each morning instead.
"It has been life changing," he reported. "Turning off the buzzing breaking-news machine I carry in my pocket was like unshackling myself from a monster who had me on speed dial, always ready to break into my day with half-baked bulletins."
The digital version of his column, somewhat paradoxically, was among our best-read articles

on Wednesday

.
____
Paul Hebert/ABC
10. Finally, if "The Bachelor" is love, let's all die alone. That was our recap team's take on the show's "most dramatic finale ever."
And on the late-night shows, Conan O'Brien weighed in on this week's headlines from Washington. "President Trump claimed there is no chaos at the White House," he noted. "Just then, a pair of chimpanzees crashed through the Oval Office on a stolen snowmobile."
Have a great night.