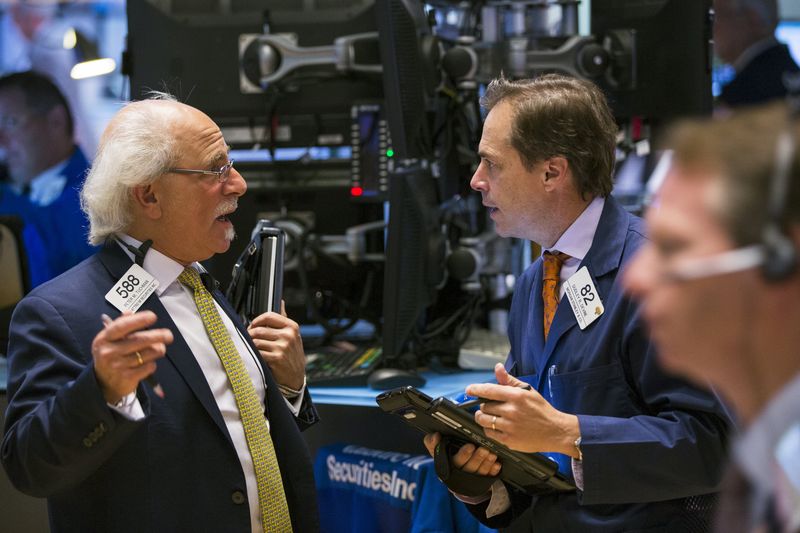 © Reuters.
Investing.com - Here are the top five things you need to know in financial markets on Thursday, December 13:
1. U.S. Futures Point to Slightly Higher Open
pointed to a slightly higher open, as investors were hopeful about U.S.-China trade relations.
At 5:30AM ET (10:30 GMT), the blue-chip were up 26 points, or about 0.1%, the tacked on 5 points, or around 0.2%, while the tech-heavy indicated a gain of 28 points, or roughly 0.4%.
The moves in premarket come after Wall Street rallied on Wednesday, with the closing up nearly 160 points, as signs that the U.S. and China will be able to resolve their differences boosted sentiment.
Elsewhere, rose for a third day running, with most major bourses across the region in positive territory.
Earlier, closed higher, with shares in Greater China leading gains across the region.
2. U.S. Dollar, Treasury Yields Slip
The , which measures the greenback's strength against a basket of six major currencies, dipped 0.1% to 96.92.
The dollar has been on the backfoot this week, weighed by expectations of fewer rate hikes by the Federal Reserve next year
In the bond market, U.S. Treasury yields inched lower, with the benchmark note standing at 2.89%, while the yield on U.S. government bonds with maturities was at 2.76%.
On the data front, investors are likely to closely monitor the latest at 8:30AM ET (13:30 GMT), with for November scheduled to be released at the same time.
The Fed is widely expected to announce its fourth rate hike of 2018 next week, but investors are beginning to question how many increases it can implement next year.
3. UK PM May Heads to Brussels
In Europe, British Prime Minister heads to Brussels for a two-day of all the bloc's 28 national leaders that will be dominated by Brexit.
While the European Union will not renegotiate the current Brexit deal, it "stands whether any further assurance can be provided" to Britain over the Irish "backstop".
The was 0.2% higher at 1.2660 (). It had bounced off a 20-month low of 1.2478 in the last session to end up 1.1% after May survived a no-confidence vote.
Any respite for sterling was expected to be brief, however, as May appeared no closer to getting her Brexit agreement through parliament, raising the risk of a chaotic exit in March.
4. ECB Policy Meeting
Today marks the end of an era for the , which is set to formally announce the end of its four-year long, €2.6 trillion easing program, a key move in dismantling crisis-era stimulus.
An is due at 7:45AM ET (12:45 GMT), with a press conference by President scheduled for 45 minutes after the policy decision.
The ECB will release updated growth forecasts and investors expect it to again lower its GDP projection after an exceptionally weak third quarter, as the region's economy struggles to cope with global trade conflicts, Italian politics and messy Brexit negotiations.
The ECB has previously pledged to keep interest rates at current levels well into 2019. However, slowing growth, weak business sentiment, and rising political instability have seen markets dial back bets on a December 2019 rate hike.
Money market pricing suggests investors expect roughly a 75% chance of an ECB rate hike next year, down from 100% just a few weeks ago.
The was little changed ahead of the decision.
5. Oil Prices Decline
In commodity markets, oil prices fell after the (IEA) warned that U.S. shale's influence over global crude markets is only going to get stronger.
"While the U.S. was not present in Vienna, nobody could ignore its growing influence," the IEA said in its December report, published earlier.
U.S. futures slumped 27 cents, or roughly 0.5%, to $50.87 a barrel.
International futures declined 35 cents, or about 0.6%, to $59.80 per barrel.
Read more: : Ellen Wald
-- Reuters contributed to this report
Source: Investing