---
22:30
There was a reason for
Scott Morrison
looking at the giant helicopter.The Liberal and Nationals government will invest $26m to boost aerial firefighting capabilities across Australia, support a new national fire rating program and extend funding for a community alert system.
· $11m for the National Aerial Firefighting Centre, delivering more large specialist firefighting air tankers to communities across Australia, bringing our total contribution to $25.8m this financial year; and
· $2m to support the national Emergency Alert SMS system.
· $5.85m to implement a new national fire danger rating system to help fire authorities communicate bushfire risk to the community by drawing on data such as diverse vegetation types, national fuel load, weather conditions, and the latest developments in fire behaviour science;
· $5m to establish the Prepared Communities Fund to support high-priority state or territory initiatives that improve community preparedness and resilience, including bushfire shelters in high risk communities;
· $1.5m to expand a public safety mobile broadband trial across Australia during 2019 and establish a national project office to implement this technology; and
· $750,000 to review new and emerging telephone-based emergency warning technologies which will support the introduction of a new emergency alert warning system by developing and testing options for the future of this capability in Australia.

Updated
22:27
Remember how I said the religious discrimination battle wasn't over?
Well, I'm sad to report that is proving true.
Labor put forward the motion, and won, after Centre Alliance, after supporting the government to kill it, then supported Labor to bring it back on.
But Centre Alliance have indicated that they will be supporting a government amendment to the motion, which says
(1) Nothing in this Act renders it unlawful to engage in teaching activity if that activity:
(a) is in good faith in accordance with the doctrines, tenets, beliefs or teachings of a particular religion or creed; and
(b) is done by, or with the authority of, an educational institution that is conducted in accordance with those doctrines, tenets, beliefs or teachings.
(2) In this section:
teaching activity means any kind of instruction of a student by a person employed or otherwise engaged by an educational institution.
Labor sources say that amendment renders its own useless - because it is too wide and in the party's view, will widen discriminations.
So if the amendment passes, Labor will be in the position of having to vote against its own bill.
Stay tuned.

22:27
We have some news…
… three years ago we set out to make The Guardian sustainable by deepening our relationship with our readers. The same technologies that connected us with a global audience had also shifted advertising revenues away from news publishers. We decided to seek an approach that would allow us to keep our journalism open and accessible to everyone, regardless of where they live or what they can afford.
And now for the good news. Thanks to the one million readers who have supported our independent, investigative journalism through contributions, membership or subscriptions, The Guardian has overcome a perilous financial situation globally. But we have to maintain and build on that support for every year to come.
Sustained support from our readers enables us to continue pursuing difficult stories in challenging times of political upheaval, when factual reporting has never been more critical. The Guardian is editorially independent – our journalism is free from commercial bias and not influenced by billionaire owners, politicians or shareholders. No one edits our editor. No one steers our opinion. This is important because it enables us to give a voice to the voiceless, challenge the powerful and hold them to account. Readers' support means we can continue bringing The Guardian's independent journalism to the world.
If everyone who reads our reporting, who likes it, helps to support it, our future would be much more secure. For as little as £1, you can support the Guardian – and it only takes a minute. Thank you. Make a contribution. - The Guardian
22:23
The Senate accepted a report, the first of its kind, into stillbirth in Australia last night, and it made for some heartfelt and emotional scenes, where, for a moment, people mattered more than politics. As it should.
Lorena Allam reports:
A landmark report into stillbirth in Australia has found that, unlike comparable countries around the world, Australia's stillbirth rate has not changed in more than 20 years, and the rate among Aboriginal mothers is twice as high.
There were emotional scenes in parliament on Tuesday night as Labor senator Malarndirri McCarthy tabled the report in a wooden coolamon, traditionally used in Indigenous families for carrying babies.

Other members of the Senate committee, the Liberal senator Jim Molan and Labor senator

Kristina Keneally

, both held back tears as they spoke of how stillbirth had affected their families, and Keneally carefully read aloud the names of every baby stillborn to parents who had given public evidence to the inquiry, concluding with her own daughter, Caroline.

"I grew angry doing this work," Keneally said.

"My anger came from frustration, because there are simple steps to take to prevent stillbirth.

"I didn't grow angry in a partisan way. The anger I felt was … just grief, that babies had died in this country when we could have saved them.

"It's a particular sadness, a singular grief.""
22:20
Why are you so obsessed with me?
A report in the Australian this morning
had the tidbit that Bill Shorten had been in contact with Malcolm Turnbull, which it says was about the national energy guarantee.
Shorten has confirmed he spoke to Turnbull, and in a statement, said he also spoke to
Tony Abbott
, after he lost the prime ministership, as he had a "great respect" for the office, if not always the politics of those who held it.
Christopher Pyne
gave the
Regina George
get over it message.
"
Bill Shorten
has contacted
Malcolm Turnbull
to make sure he's OK. That sounds like a good thing to do, as far as I'm concerned. And Malcolm Turnbull has taken his calls," he told Sky News.
"He is not colluding with
Bill Shorten
. And the Australian should stop its obsession with Malcolm Turnbull "
21:49

Gareth Hutchens
Alastair MacGibbon, the head of the Australian Cyber Security Centre, was on the ABC's AM program earlier this morning to defend the government's cyber security bill.
He said the bill will help law enforcement and security agencies protect Australians and fight crime, and he tried to allay fears about how onerous it is.
He said law enforcement agencies have always been able to intercept telecommunications with a warrant, but technology has evolved in recent years with encryption and it has put lots of telecommunications out of reach of authorities.
He said a lot of the commentary around this bill has forgotten the fact that security agencies will still require various warrants under the new legislation to access the telecommunications.
"What it's doing is allowing those warrants to work in a modern society," he said.
He said US-based big tech companies have for years considered themselves beyond the reach of other countries' laws and "social expectations."
"Nothing in this [legislation] is unreasonable, nothing in this is building systemic weaknesses, that's one of the other arguments that's been put, that this is about breaking encryption," he said.
"The bill is rightfully called 'access and assistance', it's not called the 'encryption bill', it's not about breaking encryption. It's about helping agencies get access to, and assistance from, these tech companies."
He said the UK has much tougher laws than this law, and the major tech companies have managed to survive over there.

Updated
21:49
The government seems very happy with the line it has settled on when it comes to the energy battle with Labor: "Whose side are you on?"
That's always gone well, especially when your own side has had as more positions on energy than Trump has had on trade.
But Scott Morrison has doubled down.I'm not surprised that the energy sector would not be happy about the government increasing the powers of the customer in the market which will hold them to account.
I'm not the surprised that the big energy companies are squealing because as a government we have decided to stare them down.

That's what I'm doing, that's what our government is doing. And the

Labor party

is not standing up for customers. They want to line up with the big energy companies. Now, already as a result of staring the electricity companies now, around 500,000 Australians are getting a better deal.

They have started to drop their prices. See, I think the laws are stacked against the customer in the energy market.

That's what has caused it and allowed those prices to go up amongst many other factors and I'm seeking to right that balance and to stand up for the customer and if the Labor party doesn't want to support me, well, shame on them.

Absolutely shame on them."
It's going to be a shouty QT. I can feel it in my waters.
Updated
21:39
'As leader I made a call'
Scott Morrison, standing in front of a giant helicopter, has spoken on his decision to intervene in the NSW preselections, and save Craig Kelly.
"As the party leader, I made it pretty clear – I wanted them endorsed, and I wanted them on the ground, fighting the next election, and not getting distracted by anything else," he said.
"That's my main mission, that's their mission, and as leader I made a call, I said I want them endorsed, and the party backed me and I appreciate the support."
As for Jane Prentice, who lost preselection, he says he wasn't the prime minister then, and "that matter was dealt with, many, many months ago".

Updated
21:10
Good morning
We are two days out from parliament being done for the year, and it actually looks like there is movement at the station when it comes to legislation.
Encryption
looks like being a done deal, with Labor and the government coming to an in-principle agreement on the legislation.
And Labor won the battle to have the religious discrimination legislation put back on the table, but it has to be said, it is still not guaranteed it will pass before the end of the year.
Then there is energy, because, well, this is Australia and there is always energy.
Christopher Pyne
is on a tear because of
this ABC story
,
Scott Morrison
started the morning looking at a giant helicopter and Labor and the Greens have come together to
block the government's proposal to underwrite power, if it comes from coal.
All in all, it's a normal day in the Australian parliament.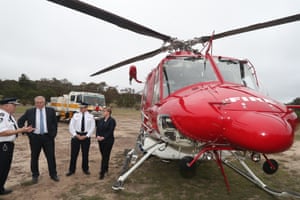 Mike Bowers
has been out and about early this morning and you have Guardian Australia's brainstrust on deck as well. Because they never sleep. I am already on coffee number two and looking for coffee number three. There has never been a better time to be caffeinated and watching
Australian politics
.
Ready, let's get into it.
Updated